Sixteen-year-old from Murshidabad gets bravery award for saying 'no' to marriage
Neighbours alleged that after Nurbanu Khatun stopped her marriage this April, she had been beaten up and reprimanded by her family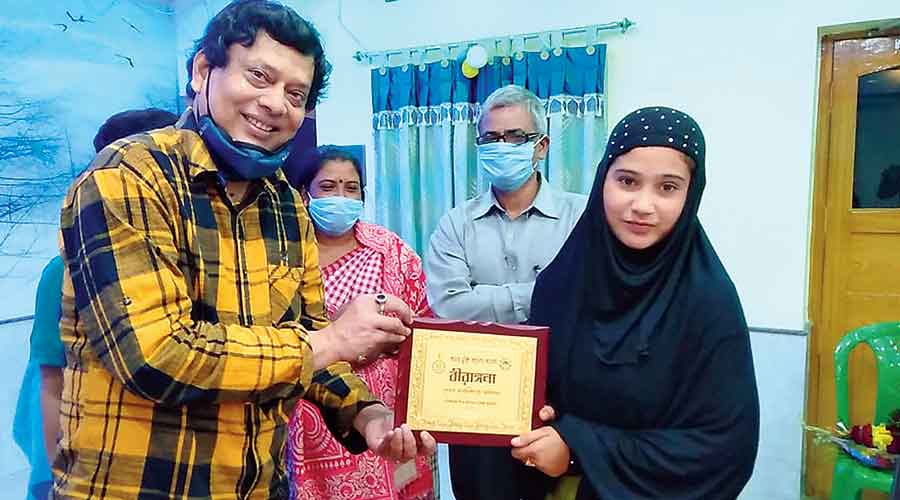 Nurbanu Khatun receives the "Birangana" award from BDO Raja Bhowmick on Tuesday.
(Alamgir Hossain)
---
Published 26.11.20, 03:42 AM
|
---
A 16-year-old village girl from Murshidabad, who complained to the BDO against her parents for arranging her marriage this April after her Madhyamik exam, received the state Birangana (bravery) award. 
With Covid lockdown norms stringent in April and no mode of transport from her village in Pradipdanga to the office of the BDO in Hariharpara 12km away, Nurbanu Khatun, 16, walked the entire stretch to try and prevent her impending marriage. The BDO led a team to her home and got her father Bakkar Sheikh to pledge that she would not be married off before the legal age of 18. 
Nurbanu's courage did not go unrecognised. Block officials in Hariharpara, 22km from district headquarters Behrampore, nominated her for this annual honour of the West Bengal Commission for Protection of Child Rights. 
Though the award ceremony was held at Calcutta's Rabindra Sadan last Friday, Nurbanu, now a Class XI student of Nischintapur High School, could not make it to the event. Late on Tuesday, Nurbanu received the award when block officials — including BDO Raja Bhowmick — felicitated her at her village home. 
An official said this was the second time Nurbanu complained against her parents to prevent her marriage. The first time was in 2018 when she was 14, and she was in Class IX. Nurbanu did not flinch then or now.
She told this paper she would get married only by "choice" and not before she graduated from college and spent years in "social work".
The eldest of three siblings, Nurbanu comes from a very poor farming family. She is also the first in her family to pass her Madhyamik this year, an official added.
Her neighbours alleged that after she stopped her marriage this April, she had been beaten up and reprimanded by her family for acting this way. 
Sheikh told The Telegraph that he was unaware of the law that forbade the marriage of girls before the age of 18.
Reminded that this was his second attempt at getting Nurbanu married off before 18, the father said: "It is difficult for us to get a good match. See, we are very poor people and so we decided to get our eldest daughter married off because we had got a good match." The poor farmer, however, added that he had pledged to the BDO not to get Nurbanu married off before 18.
"We are constantly in touch with her and are taking care of her educational needs and expenses," said BDO Bhowmick.