Sisir Adhikari removed from Digha board
The 79-year-old Contai MP is the father of Suvendu Adhikari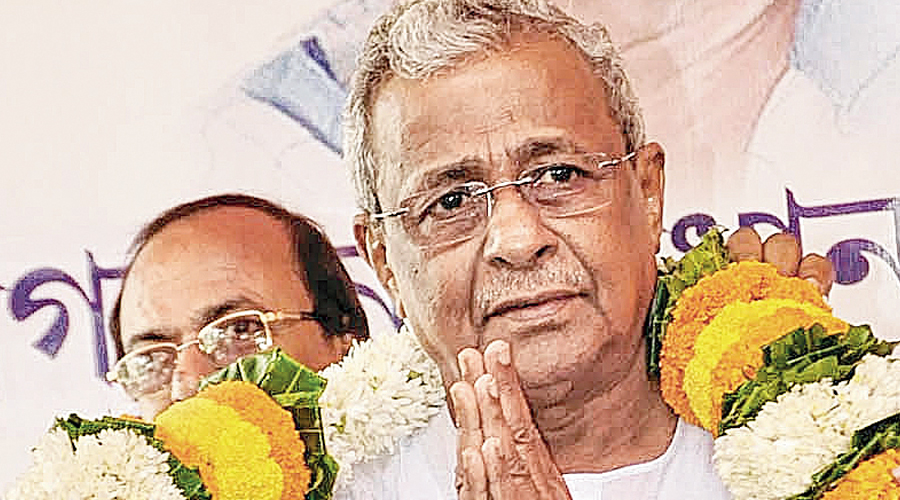 ---
---
State urban development department on Tuesday removed Trinamul Congress MP Sisir Adhikari as the chairman of the Digha-Sankarpur Development Authority in East Midnapore.
The 79-year-old Contai MP is the father of Suvendu Adhikari who had left Trinamul and joined the BJP in December last year.
"I have done no action in this regard so I have no reaction," Sisir, who was reportedly in Calcutta for a cataract operation, told The Telegraph over the phone.
Ramnagar MLA and Sisir's deputy in the development authority, Akhil Giri, was elevated to the post of the chairperson. Tarun Jana has been appointed the vice-chairman0.
Sisir — along with his sons Dibyendu and Soumendu — is perceived to have snubbed the Trinamul Congress as they did not attend major rallies organised by the party in East Midnapore in November and December in the midst of rumours about Suvendu switching over to the BJP.
"The state government has taken the right decision. Sisir babu had not been executing his duties properly, that too in the run up to a crucial election," said Trinamul leader Sheikh Sufian on the removal.
"He seemed to have become a reluctant leader ever since his son Suvendu left our party. His role has been disappointing for us," Sufian added.
MLA Akhil Giri said he "was not aware" of the reasons behind Adhikari's removal.
"All I know is a lot of work is pending and I will execute it to my best capability. We have not had a meeting in a long time," said Giri.
Although Sisir was in Calcutta, his son and Trinamul MP Dibyendu kept himself away from the worker's meeting of the party held in Tamluk on Tuesday in preparation of chief minister Mamata Banerjee's January 18 mega rally in Nandigram.
Two administrators in Tamluk and Egra were replaced on Tuesday for their perceived closeness to the Adhikaris. Rabindranath Sen in Tamluk was replaced by Dipendranarayan Ray and Sankar Bera in Egra by Swapan Nayak.