A space that enables all
A visit to an activity centre for the differently-abled in Singapore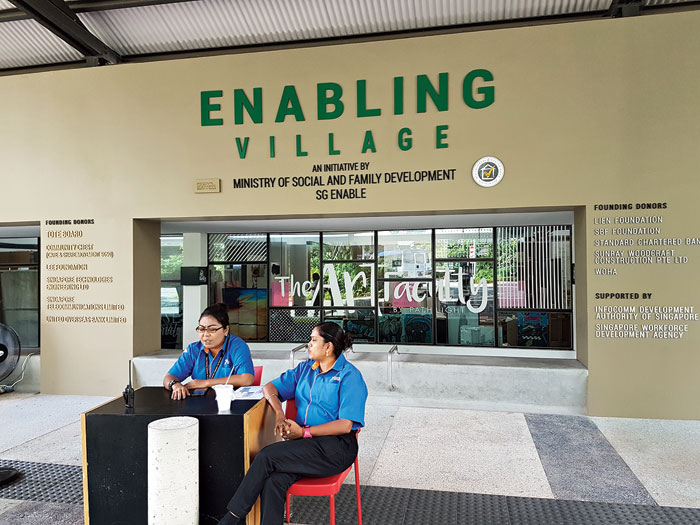 ---
---
Don't let what you can't do interfere with what you can," the guide had said, showing me around Singapore's Enabling Village. The three-hectare estate was the most inclusive space I had seen. It had the both the physical infrastructure and software to let people with disabilities (PWD) move about.
They had a playground and play school for PWD but didn't stop there. They had a supermarket, gym, restaurant and even office for and by them.
The supermarket had sliding doors and wider walkways to accommodate wheelchairs, bigger fonts on signage for those with low vision, shopping trolleys that could be pushed by wheelchairs…. At the cash counter, a mechanism lifted the trolley to the level of the cashier for easy check-out.
At the restaurant, Soul Food, 10 out of its 14 employees were PWD. "What would take a regular person a day to learn may take someone with intellectual disability four months but thereafter they're great workers," the owner had said. "Plus, knowledge of the kitchen is a life skill, especially if PWD want to be independent."
A vocational section taught those with autism scanning, data entry, packing etc. "Those with autism find comfort in repetitive tasks so they are good at these," the trainer had said. "We don't play the sympathy card. We ask companies to come, recognise their abilities and hire them. PWD can contribute to the economy." The centre also displayed different kinds of gadgets employers can install to be a PWD-friendly work place.
My most memorable section was the Etch Empathy programme that let "normal" visitors get in the shoes of PWDs. You could be given ear-muffs and asked to "speak" to a hearing-impaired person about a topic. You could be made to wear a heavy "ageing suit" and go shopping so you understand how difficult it is for the elderly to go about. I was blindfolded, given a cane and asked to find my way to another room.
I was at sea. Despite receiving verbal directions from the instructor, I was constantly worried about running into people or walls. The exercise sensitises one.
The trip to the Enabling Village had been organised by the Singapore International Foundation in 2017. They must have added more features now but even in its basic form, it was an inspiration. A one-stop centre for children and adult PWDs, their care-givers, employers... It was a miniature form of what a caring society should be like.