Siliguri: Truck loses control, crashes into shops, four die
Local residents, who expressed outrage over inadequate lighting and the traffic system, blocked the road on Friday morning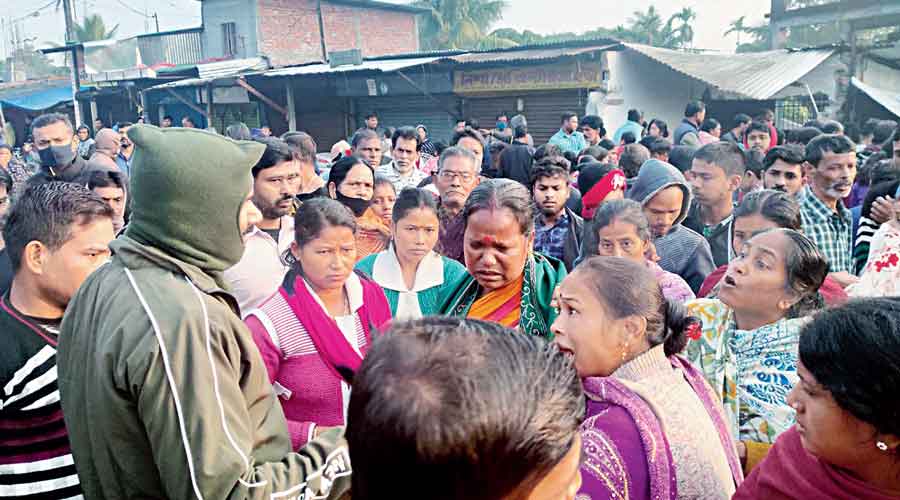 People during the road blockade in Siliguri on Friday.
Passang Yolmo
---
Siliguri
|
Published 27.11.21, 02:28 AM
|
---
A truck laden with boulders lost control and ploughed through three shops before overturning in the Jaleswari market area along Eastern bypass in Siliguri on Thursday night, killing four people and injuring five.
The deceased were a shop owner, two customers and a pedestrian.
A fire brigade team reached the accident spot and used a crane to remove the toppled truck, under which several people lay trapped.
The injured people were admitted to Siliguri district hospital and North Bengal Medical College and Hospital here.
"Two persons were declared brought-dead at the district hospital, while two others succumbed to their injuries at North Bengal Medical College and Hospital," a police source said.
Sources said the truck had scythed through a tea stall, fruit shop and a stationery shop around 8.30pm. The deceased were Ranjan Singha, Bapi Sarkar, Jagadish Debnath and Joydeep Modak. Their age could not be immediately confirmed.
According to the sources, the truck driver lost control of the vehicle, following which it overturned.
"The truck lost control and collided with the divider of the road and crashed into three roadside shops," said a source. Among the injured was the truck driver.
Local residents expressed outrage over inadequate lighting and the traffic system. They blocked the road on Friday morning and expressed outrage.
"We have been witnessing accidents in the bypass area for a long time. There are no adequate lights in the area and trucks and other vehicles go very fast as the traffic system is not good," said a local resident.
Siliguri police commissioner Gaurav Sharma visited the spot on Friday morning.
"It was a very unfortunate incident. A truck was going from Salugara. When the truck entered the Jaleswari market, an eyewitness said, the driver could not control it and crashed into roadside shops. We will sort out traffic issues so that this kind of incident does not happen anywhere in Siliguri in future," he said.
Siliguri Jalpaiguri Development Authority chairman Sourav Chakraborty visited the injured people on Friday.
"The chief minister has asked the administration to look into the matter. The state government will bear the cost of the treatment," he said.