Siliguri residents flock to Tindharia
Hailstorm turns Siliguri into white blanket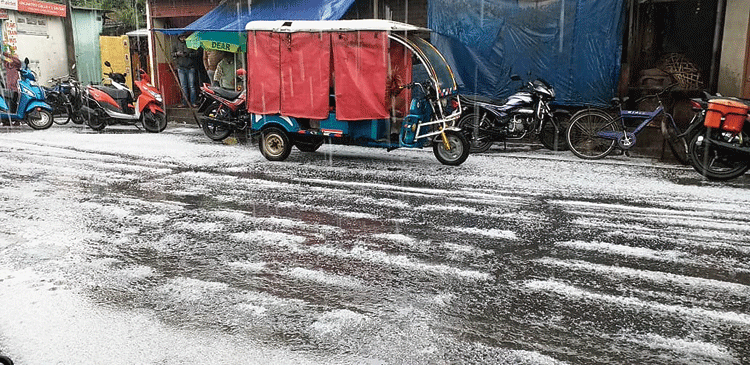 A Siliguri street covered in hailstones
Pictures by Passang Yolmo
---
Siliguri
|
Published 27.12.19, 08:34 PM
|
--- An intense hailstorm hit north Bengal on Friday morning, leaving behind white blankets in Siliguri and the surroundings, along with many places in the Darjeeling hills.
"The hailstorm happened because of incursion of moisture from Bay of Bengal and passage of western disturbance over the region. The low temperature made the atmosphere congenial to the hailstorm," said a source in the Met Office.
The hailstones which accumulated on surfaces left a number of roads and streets white in Siliguri. But the most spectacular scene was at Tindharia, located around 25km from here. The town was wrapped in a white blanket. Immediately after the hailstorm, many youths here ascended to the hills.
"It was a great experience. Some of our friends drove till Kurseong and the landscape was spectacular. In recent times, we have never witnessed such a scene in the lower reaches of the hills. We were anticipating snowfall but the hailstorm was no less an attraction," said Sourav Joardar, who is from Siliguri.
The region also witnessed rainfall which brought down the mercury.
In Darjeeling, the minimum temperature reached 1.4 degrees Celsius on Friday, said Met Office sources. In Siliguri, the minimum temperature was 6.7 degrees.
On Friday, it snowed in some parts of north Sikkim and upper reaches of Kalimpong.
The minimum temperature was 3.9 degrees in Gangtok, 4.5 degrees in Kalimpong and 8.4 degrees in Jalpaiguri.
The Met Office said there might be light to moderate rainfall and snowfall in the higher reaches of the hills in the sub-Himalayan region. "There is also a forecast of further hailstorm," said the source in the Met Office.