Siliguri Municipal Corporation plans new water intake point
The move has been taken in the backdrop of the current crisis in drinking water supply across the city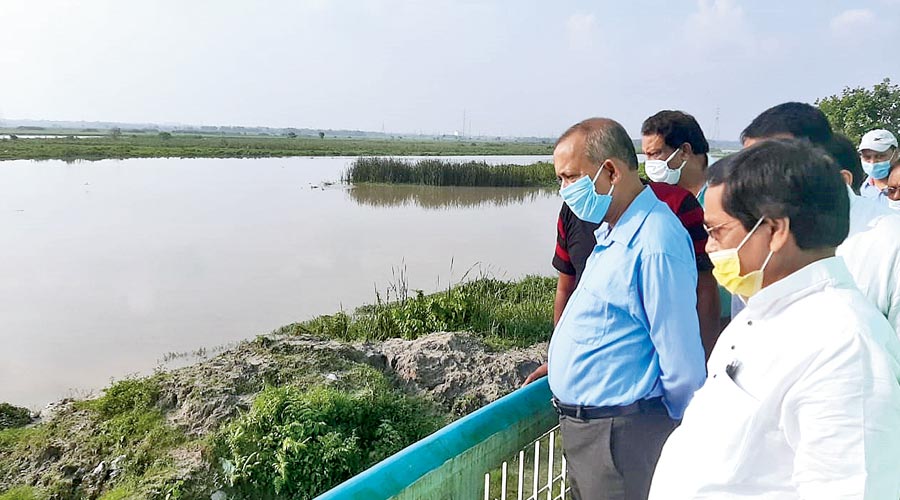 File picture of chairperson of SMC board of administrators Gautam Deb at the Fulbari water treatment plant.
Passang Yolmo
---
Siliguri
|
Published 07.09.21, 02:42 AM
|
---
The Siliguri Municipal Corporation has come up with a proposal for the installation of an alternative intake point through which water from the Mahananda canal can be routed to the treatment plant at Fulbari and sought the state public health engineering (PHE) department's approval.
The move has been taken in the backdrop of the current crisis in drinking water supply across Siliguri. Since August 30, the supply has remained erratic and it worsened in the past couple of days. Thousands of people are left with no option but to buy drinking water.
The principal cause of the crisis is huge silt deposit at the existing intake point through which water is drawn into the plant from the canal for treatment.
Although the PHE department has cleaned it to a considerable extent, SMC sources said it would take at least a couple of days more for the water supply to become normal.
"Meanwhile, we have drawn up a project for building an alternative point through which water can be drawn if there is any problem at the principal entry point as it has happened. Around Rs 6.9 crore is required to build this point. We have already submitted the proposal to the PHE department and are waiting for the approval," said Gautam Deb, the chairperson of the board of administrators at the SMC.
On Tuesday, a group of engineers from the PHE will arrive here from Calcutta to check out the water treatment plant. They are also likely to recommend how the water supply can be restored in a fullfledged manner across the city.
Deb said the previous Left Frontrun civic board should have put in place the proposed arrangement. "We are in constant touch with the minister and officials of the PHE department and hope the project will be approved in due course," he said.
Asok Bhattacharya, the former Left Front mayor, has blamed the state government for the water problem which the residents has been facing for the past seven days.
"Ever since I had assumed the mayor's office in 2015, I had approached the state government many times, seeking the approval of the new drinking water project. But the government acted in a biased manner as we were in power at the civic body and did not approve it. It is because of this delay that the people are suffering now," said the veteran CPM leader.
Shankar Ghosh, the BJP MLA of Siliguri, also criticised the government.
"It is unfortunate that the civic authorities could not even provide drinking water to residents of the city. If there is no improvement in the situation soon, we will launch a movement across the city," said Ghosh.