Shove thy neighbour: Muslims find it difficult to rent houses in Calcutta
The mindset that advocates the CAB-NRC necessity operates at micro levels, often so invisibly, it is insidious. It could be operating next door to you in Calcutta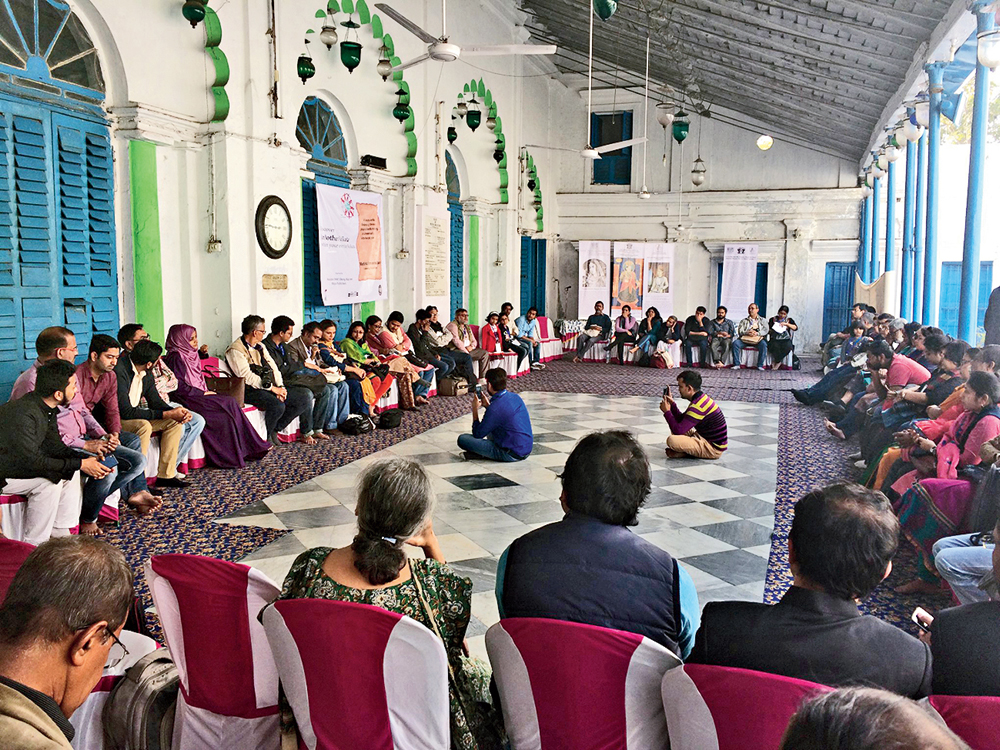 A community interaction programme at Sibtainabad Imambara in Calcutta's Metiabruz
Courtesy: Know Your Neighbour
---
Published 14.12.19, 08:30 PM
|
---
Towards the end of November this year, a solidarity festival was organised on the streets of Mominpur in southwest Calcutta. Called Calcutta 23: Celebrating Diversity, the two-day festival constituted talks and panel discussions and also a walk through the lanes and bylanes of Mominpur. Says Sabir Ahamed, who is the organiser of the Know Your Neighbour walk and a research scholar with the NGO, Pratichi Trust, "We visited old institutions of the area such as St. Stephen's Church, St. Thomas' School, Mahalaxmi Temple, St. Barnabas' Church, Sola Ana Masjid, Shahani Begum Masjid..."
Mominpur is perceived as a Muslim-only neighbourhood. The point of the heritage walk was to underline a more nuanced reality. Says Ahamed, "Mominpur is adjacent to the dockyard and witnessed the advent of Germans in the early 19th century. Today, people from other states work in the German bakeries that endure. We have people speaking at least seven different languages here."
The larger point of the festival was to facilitate peaceful co-existence, according to Ahamed. He adds, "In the present times, the National Register of Citizens and the Citizenship Amendment Bill are the priority for the Government of India, and the dominating discourse is Ek Bharat, Shresth Bharat, Akhand Bharat, One Bharat, everything is one. But we are focusing on the diversity of India, as that is the core principle of Indian democracy."
Ahamed's solidarity walk is no standalone initiative. Last July, a citizens' group, Sanhati Abhijan – Campaign for People's Unity, came forward when four Muslim doctors were heckled by residents of an apartment building in south Calcutta's Kudghat area, where they were staying.
At the time of the incident, The Telegraph spoke to one of the doctors, Aftab Alam, who had to say that a Brahmin neighbour was the first to object. Said Dr Alam, "Initially, he had a problem with the fact that we were all bachelors. It was only later that he made religion the issue. In fact, he demanded that even friends who came visiting us had to show their identity cards to the security personnel at the gate. The next thing we knew, other residents had joined the clamour." He adds, "They did not use the 'T' word but the rallying point became — 'Who will be responsible if some untoward incident takes place?'"
It was when Dr Alam wrote a Facebook post on the incident that the matter made headlines. This was also how the incident came to the notice of Sanhati Abhijan, which had been working to resolve such issues in the city.
A little more than a year since the incident, Dr Alam has shifted to a hostel, and the other three — Mojtaba Hassan, Nasir Shaikh and Sawkat Shaikh — have left the city. Dr Alam says he has not faced such an incident again, and seems prepared to offer benefit of doubt over the conditions in which he had to move out. "Even at that time our landlord had no problem with us; he was supportive. It was possibly a stray incident," he adds.
Kasturi Basu, who is one of the founding members of Sanhati Abhijan, does not quite agree with Dr Alam on this. She says, "In the last two years, we have come across instances wherein Muslim tenants were harassed, either by landlords or neighbours."
The first case Basu was alerted about was from Kalikapur in south Calcutta. Some Muslim students had been forced to vacate their accommodation after people of the locality raised objections. By the time Sanhati Abhijan could swing into action, the students had already moved out.
Not many in the neighbourhood were forthcoming with the details. Says Basu, "We tried to trace them, but we couldn't. And that is when we decided to form Sanhati Abhijan." Its foregrounded purpose is to "carry out a socio-cultural campaign in West Bengal against communal polarisation and towards building people's unity". Co-founder Deborshi Chakraborty talks about a Facebook group, "Open A Door", which they launched soon after to help potential tenants.
Sanhati Abhijan's first meeting was held in Jadavpur. "At least 10 people — landlords and tenants — narrated their experiences," says Basu. Sayantani Khan (a Hindu) narrated how once a Hindu tenant refused to share his room with a Muslim student. "At first I tried to counsel him and when he didn't relent, I asked him to leave. Thankfully, the matter was solved amicably," she said.
But not every situation lent itself to a peaceable ending. Anindya Roy Ahmed's mother is Hindu and father, Muslim. He had rented an apartment in Jadavpur in south Calcutta. He says, "By the time the owner of the apartment realised that I am Muslim, I had already paid the advance. She did not let me move in and returned the money, which she put in a nylon bag strung on a rope and lowered from the top floor. She didn't even want to come near me." Says Basu, "Some think single Muslim men are a 'double jeopardy'. But Muslim women also experience this problem."
Sanhati Abhijan tries to help by engaging and interacting with people in neighbourhoods from which such problems have been reported. Says Basu, "In case of the doctors of Kudghat, we avoided going to the police. Instead we went to the local Puja committee, the local club offices and spoke about what was happening." These clubs and Puja committee then went with them to the apartment building and spoke to the residents. Dr Alam says, "Yes, after that people did not harass us. A lot of people would come for medical consultation instead."
The responses of the political parties are typical. The CPI(M)'s state spokesperson, Sujan Chakraborty, says, "It is really embarrassing and also dangerous to see what Calcutta is becoming. During the three decades of Communist rule in Bengal, Muslims felt safe to stay here just like all other communities. It is a shame that people are now enquiring after a prospective tenant's faith." Ahmed Hassan Imran, the Trinamul's Rajya Sabha MP, says, "People are provoking communities to fight against each other."
Mohammad Reyaz, who heads the department of journalism and mass communication at Aliah University, talks about the rent issue and correlates it with the tendency towards ghettoisation. He says, "Before Partition, the cityscape was divided on the basis of class and not faith. Then there was a shift towards ghettoisation. [Rajabazar, Kidderpore, Park Circus, Metiabruz are some of the Muslim-dominated areas of the city.] Muslims who are educated, have studied in universities, do not want to live in ghettoes any more. But they have no choice, as Hindus do not want to let out their houses to them."
Kumar Rana who works with the Pratichi Trust says, "One community staying together, that is not the definition of a ghetto. It is only when a community is forced to stay in a particular area that it becomes a ghetto." Rana talks about two settlements in Boston, US. "One called Dorechester, which is a Black settlement. The Blacks are living in a ghetto. In another settlement, the North End, Italian migrants began arriving more than a century ago and stayed on. Today, the place has merged with greater Boston while keeping its Italian demography intact... This merger has not happened in Calcutta."
Pratichi's Sabir Ahamed says, "Mominpur has got typecast as a Muslim area. An area peopled by beef eaters. People who hoist the Pakistani flag when India loses to Pakistan in a cricket match. Banks refuse to advance loans even when all paperwork is in order just because the pincode is Calcutta 23."
And yet in Mominpur, Muslims head the local Puja committees. Reyaz says, "People associate Kidderpore with Muslims. But how many are aware that there is a temple here, almost 270 years old, as old as this city."
Nazmul Haq, who has a PhD in geography, was at the time a fellow at the Centre for Social Sciences in Patuli in south Calcutta. When he started to look for a place to take on rent in Patuli, two of the owners refused him outright citing his Muslim name. His third stop was a housing society.
Rana, who narrates Haq's experience says, "Talks were finalised but as he was moving in, the broker called to say the residents of the housing society did not want a Muslim neighbour." He talks about a Muslim schoolteacher from Birbhum who tried to buy a plot in Santiniketan but couldn't. In the geography shaped by Tagore's vision and ideology, no one was willing to sell a plot of land to a Muslim.
Reyaz is of the opinion that the exhibition of bias might be new but not the bias itself. He says, "One good thing is that Prime Minister Narendra Modi has brought people's biases out of the closet. Now, people are proud to be biased. Earlier, they would attempt to string together an excuse, pretend to be liberal, now there is no need for that cover."