SFI activists 'purify' venue of Nathuram Godse memory event
They used chemicals to sanitise the gateway to the premises in a symbolic gesture against the event that had commemorated the assassins of Mahatma Gandhi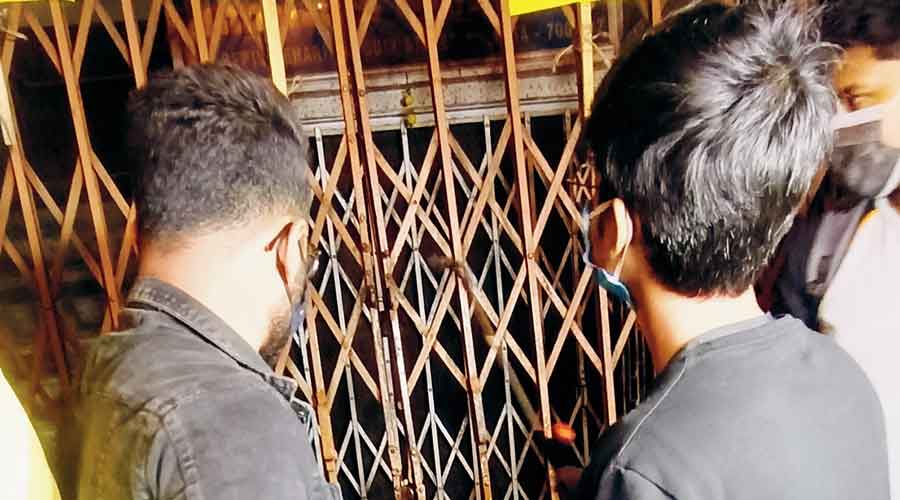 SFI members 'sanitise' the gates of the hall in Calcutta on Wednesday.
---
Calcutta
|
Published 18.11.21, 01:44 AM
|
---
The Student's Federation of India staged a protest in front of the Indian Association Hall in Calcutta on Wednesday, two days after a fringe Hindutva outfit had observed the death anniversaries of Nathuram Godse and Narayan Apte at the same venue.
SFI activists used chemicals to sanitise the gateway to the premises in a symbolic gesture against the event that had commemorated the assassins of Mahatma Gandhi.
"The RSS, BJP and other Hindutva outfits from the Sangh Parivar are deadlier than the coronavirus. This is why we sanitised the gates of the Indian Association Hall today," said Debanjan Dey, the president of the SFI's Calcutta district committee. Wednesday's event was organised by the Calcutta district unit of the outfit.
On November 15, a year-old fringe Hindutva outfit, "Hindu Darpan", had observed what they called the "martyrdom" of Godse and Apte. This was ostensibly the first time in the history of Calcutta that such an event took place officially.
On November 15 1949, both Godse and Apte were hanged for assassinating Mahatma Gandhi.
Nearly 40 people took part in the event in the Indian Association Hall, where one of the speakers was Lokenath Chatterjee, the co-convenor of the legal cell of the Bengal BJP. A lawyer by profession, Chatterjee was the BJP candidate for the Assembly polls from the Ballygunge constituency.
In his speech, Chatterjee had accused Gandhi of running the Congress as an "autocrat" and questioned his policies He hailed Godse and Apte instead as "flag bearers" of their ideology.
On Wednesday, SFI leaders said "every time" communal forces such as the RSS, BJP and their associates tried to "engage in divisive politics" in Bengal, the SFI would protest against it. SFI leader Dey also asked why a "revered" organisation like the Indian Association was allowed to be used for such an event.