Science Day tribute to Periodic Table
Prof Susanta Lahiri of Saha Institute of Nuclear Physics spoke to students about the history, formation and elements of the periodic table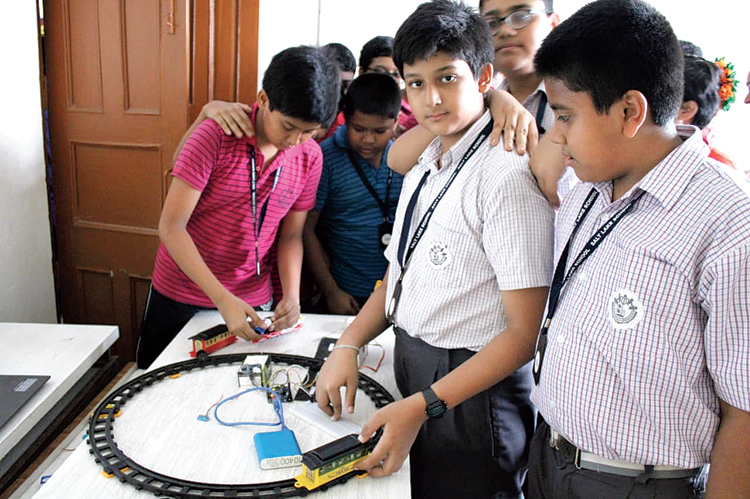 Students demonstrate an automatic railway gate at the ATL Tinkering Lab in Salt Lake School
The Telegraph
---
Calcutta
|
Published 01.11.19, 01:34 PM
|
---
Quiz, debate, skits — Salt Lake School celebrated National Science Day and World Environment Day together with all these activities and more.
Prof Susanta Lahiri of Saha Institute of Nuclear Physics spoke to students about the history, formation and elements of the periodic table. "Many facts discussed today are not in school books but the students tried to answer whatever I asked and even got some right," he said. The school's chemistry teacher Shekhar Chandra Pal said that they planned the talk around the subject as 2019 was the 150th year of the Periodic Table, first published by Russian chemist Dmitri Mendeleev in 1869. "The United Nations has declared this year as the International Year of the Periodic Table of Chemical Elements," said Pal. "This was a landmark achievement in science and we have chosen to celebrate it."
Next was a science quiz in which four houses — Sunflower, Bluebell, Lily and Rose — fought it out. There as a "Who am I?" round where the teams were given clues to guess a person related to the field of science. The most interesting round was the one related to DC and Marvel Comics. Bluebell shouted out a direct answer the instant they were asked to name a "recognisable marvel artefact made of Uru metal ore": "Thor's hammer!" They won full points, although it was team Sunflower that won the quiz. "We were discussing the answers amongst ourselves before attempting the answers. We enjoyed the game thoroughly," said Ahana Bhattacharjee of the winning team.
The quiz was conducted by Samaroha Ghosh. "I enjoy taking part in quizes but hosting one in my own school was special, all the more as this is my final year," said the Class XII student. There was a group dance by 30 students of classes VI and VII to the song Dakcheh akash dakchhe batash, on the theme of the environment followed by a debate on the feasibility of Gandhian principals for sustainable development, in presence of Rita Kundu, botany professor from Calcutta University. "I was a teacher in this school for many years and so it's wonderful to be back here hearing students speaking on such a unique topic. All the speakers were strong and confident," she said.
The concluding event was a skit titled Not for all Seasons, which shared the message of not overusing scientific gadgets. "We won second prize for this skit at a competition held at BITM but this is the first time we are performing it at school," said Rajonna Dey, one of the actors.
Later, students also displayed their experiments in the ATL Tinkering Lab.