Schools to reopen with different timings from November 16
Students of Classes IX and XI will report at 9.30am for classes from 10am to 3.30pm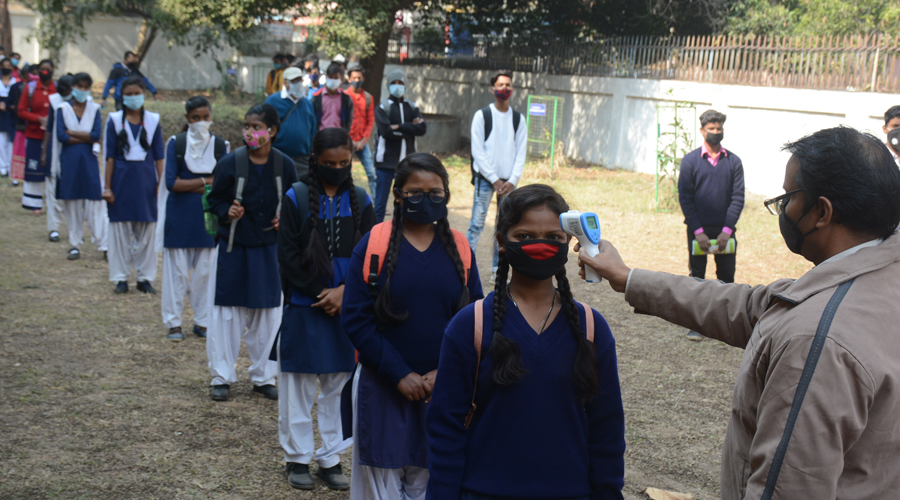 Classes will be held in separate sessions for physical distancing.
File photo
---
Kalyani
|
Published 30.10.21, 02:53 AM
|
---
The West Bengal Board of Secondary Education on Friday issued a formal notification to reopen schools with revised academic hours from November 16.
Classes will be held in  separate sessions for physical distancing. Students of Classes IX and XI will report at 9.30am for classes from 10am to 3.30pm. Students of Classes X and XII should report at 10.30am for classes from 11am to 4.30pm. This schedule will be followed from Monday to Saturday. "As students from Classes V to VIII will not attend school now, there will be sufficient room for students of Classes IX to XII in small groups," an official of the WBBSE said.
Classes were suspended owing to Covid-induced lockdown in March last year. Recently, the state government decided on physical classes  from November 16 but only for students from Classes IX to XII in separate academic hours.
The state school education department also directed district magistrates to appoint an additional district magistrate as the nodal officer in districts to ensure smooth reopening of schools from November 16.
The department has also instructed the district inspectors of school to contact the ADM and DM  concerned for any action required to run schools physically after a gap of 20 months.
Sources in the school education department claimed  the objective behind the appointment of nodal officer was to ensure implementation of Covid protocols in real time so that students do not fall victim to complacency in the implementation of health protocols.
"District inspectors will keep in touch with the ADM for instructions and coordinate with headmasters to ensure cleaning and sanitisation are done before allowing students in, according to instructions of the board," an administrative official in Nadia said.
Board president Kalyanmoy Ganguly said besides theoretical classes, practical classes for students of Classes IX to XII can be taken from November 16. "Covid safety protocols prescribed need to be followed strictly for arranging practical classes," he said.
Revised timings from 9.30am to 4.30pm have angered teachers who have termed the development "inconvenient", especially for those who use suburban trains.
"It would have been better if the board left the timing decisions to school authorities. The revised timing is illogical and will be a problem for teachers who depend on local trains to commute. We demand the board consider implementing old and usual school timings from 10.30am to 4pm and on Saturday's stick to the half-day schedule," said Chandan Maity, state secretary of the Advanced Society for Headmasters and Headmistresses.