Sabitri Lodge, former royal family home, to be renovated
Once a home of the Cooch Behar king's cousin, building will be turned into an historical attraction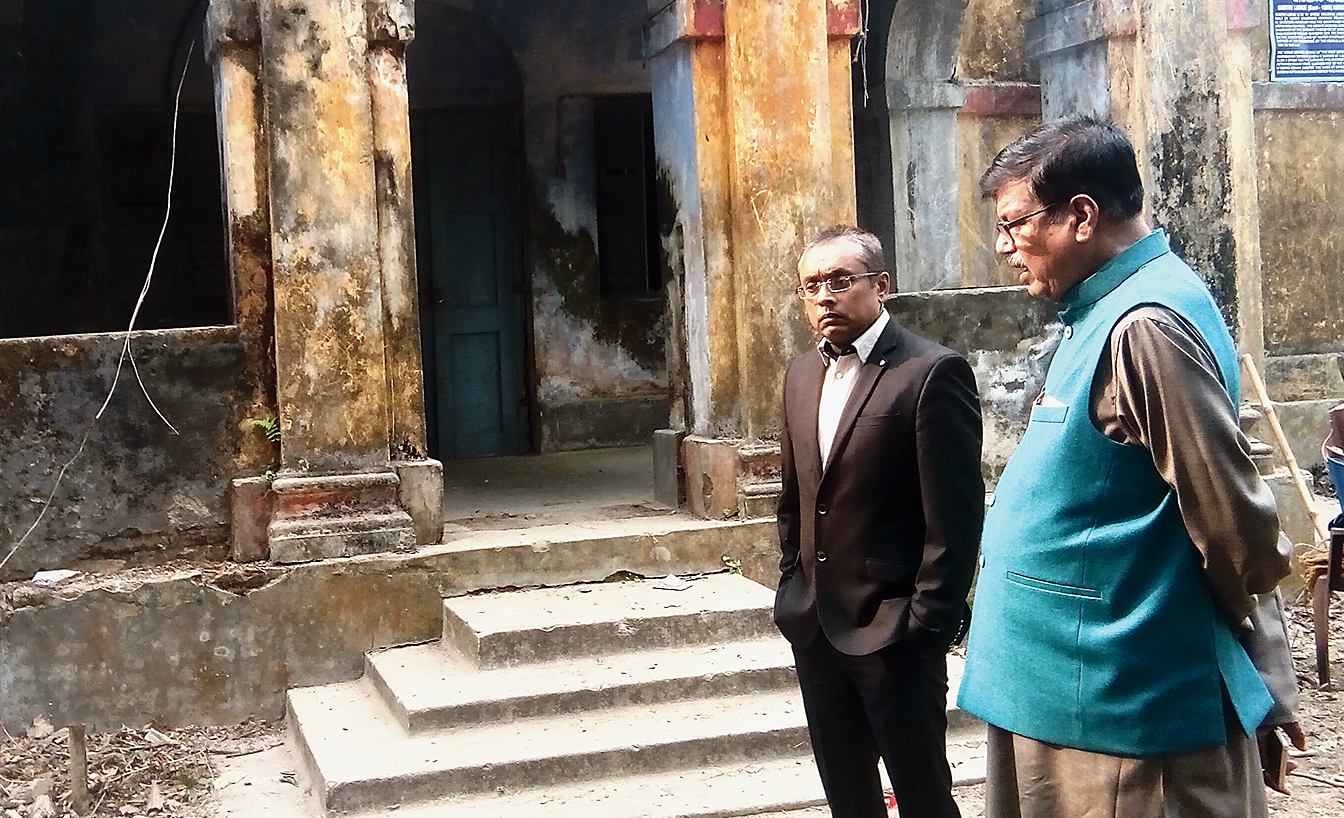 North Bengal development minister Rabindranath Ghosh with district magistrate Kaushik Saha in front of Sabitri Lodge in Cooch Behar on Friday.
Picture by Main Uddin Chisti
---
CoochBehar
|
Published 28.12.18, 09:36 PM
|
---
The district administration in Cooch Behar has finally taken the task to clean and renovate Sabitri Lodge, a heritage building in a shambles.
Established in 1885, the lodge was the home of Kumar Gajendra Narayan (Senior), a member of the Cooch Behar royal family and Sabitri Devi, the daughter of Nababidhan Brahmo Samaj reformist Keshab Chandra Sen. It was also an important centre of the Nababidhan Brahmo Samaj.
"It was built by Kumar Gajendra Narayan (Senior), a cousin of King Nripendra Narayan. He and his family had stayed here till 1916. During those days, Keshab Chandra Sen and Deshbandhu Chittaranjan Das had also visited and stayed at the house," said Kumar Supriyo Narayan, a descendant of the royal family.
"It was built in the designs of British colonial architecture and in due course, it got deserted and is in a pathetic state. We have time and again demanded renovation of the building so that it can be an attraction for historians and people in general," said Kumar Supriyo added.
The lodge, named after Sabitri Devi, who was the sister of Suniti Devi, a queen of erstwhile Cooch Behar state, is located near the DM's bungalow.
On Friday, NB development minister Rabindranath Ghosh reached the lodge with Kaushik Saha, the DM, for an inspection.
"The NB development department has allotted a sum of Rs 5 lakh for cleaning and renovation of the building. The district administration has been asked to draw up a comprehensive plan and make an estimate of total costs. Once it is done and submitted in our department, we will allocate the required fund. After the renovation, we will make a decision as how this heritage building can be used," said Ghosh.
A section of residents in Cooch Behar want the building to be developed into a museum.
DM Saha said they will consult experts of the Archaeological Survey of India. "We will consult with them to ensure that the renovation is done without making any change in the designs to retain the heritage look," said Saha.