Resort workers protest against 'rude' manager
'She insults us in derogatory language and hands a showcause notice if anybody protests'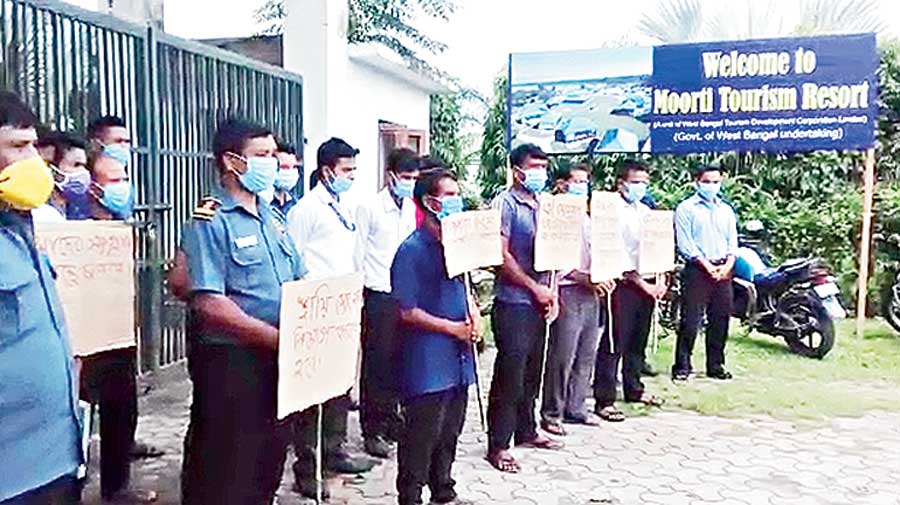 ---
---
Twenty-one employees of a tourist resort run by West Bengal Tourism Development Corporation (WBTDCL) at Murti on the fringes of Gorumara National Park here on Wednesday locked the property's entrance and protested with placards against their manager's alleged misbehaviour.
In recent years, this is the first time that employees of a state-run report have walked out and resorted to such a protest.
Employees of Moorti Tourism Resort at Murti also refused to let manager Gouri Ghosh enter.
Shital Bansfore, one of the employees, said: "Gouri Ghosh, the manager, regularly misbehaves with us. She insults us in derogatory language and hands a showcause notice if anybody protests. We are facing this mental torment for months now. We can no longer bear it. That is why we locked the resort and started this demonstration."
Another employee said Ghosh always threatened to fire them.
"We have told her she should not misbehave with us but there has been no change. We will continue our protest and not resume duties till she is transferred," the employee said.
Ghosh was brief in her reaction. "I have told my superior officers about the situation. I won't make any further comment," she said.
A senior officer of WBTDCL said they were collecting information on the case. "We will also speak with the employees and the manager. Work will soon resume at the resort," the official said.