Residents return with 'fit certificate' in Bowbazar
People back in 5 buildings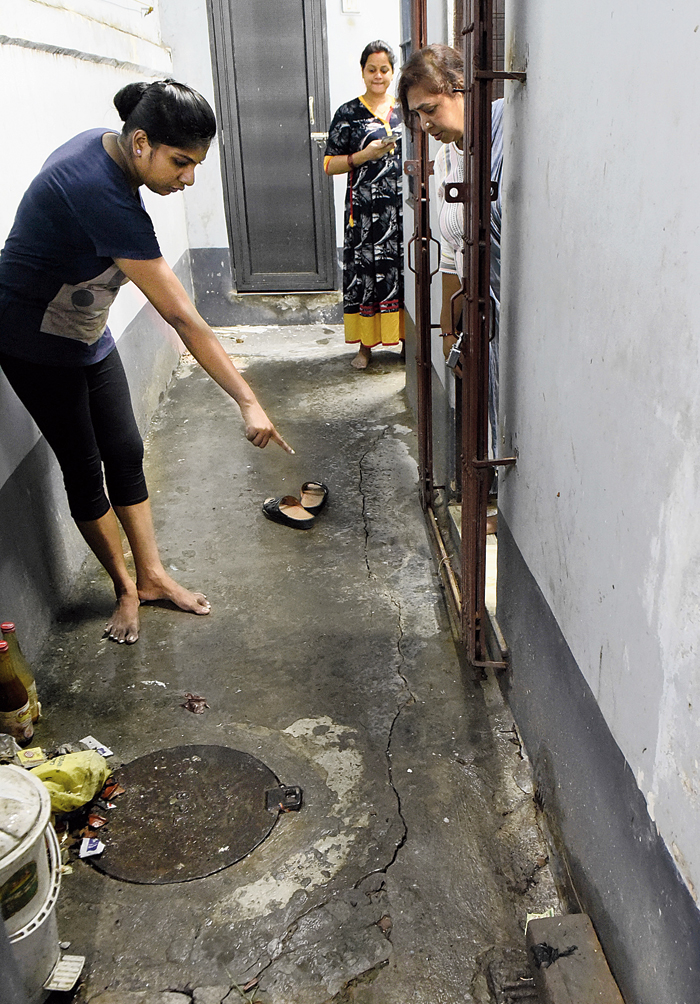 ---
|
Kolkata
|
Published 25.09.19, 08:16 PM
---
Residents of five of the 68 damaged buildings in subsidence-hit Bowbazar returned home on Wednesday, but not before the East-West Metro authorities issued them a "fit certificate" for the structures.
The five buildings — all in Gaur De Lane — are among the 14 spread across three lanes whose residents were issued a "statutory notice" on Tuesday to return home.
The residents who returned said Kolkata Metro Rail Corporation (KMRC), the implementing agency of the Metro project, were initially reluctant to issue them the certificate, an allegation that officials of the agency denied.
"There was no reluctance on our part to issue the fit certificate. It was decided earlier that such certificates would be issued," said a KMRC official.
Many residents said they had reached the temporary KMRC office in Bowbazar by 11am but could only set foot in their homes around 4.30pm, the long wait necessitated by the alleged reluctance of KMRC officials to issue the certificate.
The 68 buildings were damaged after a machine boring a tunnel of East-West Metro had hit an aquifer in Bowbazar on August 31, resulting in subsidence. As many as 688 people had to be evacuated from the buildings — in Durga Pituri Lane, Syakrapara Lane and Gaur De Lane — and almost all of them were accommodated in hotels.
The 16.5km East-West Metro will connect Salt lake Sector V with Howrah Maidan and run under the Hooghly.
KMRC officials said the five buildings whose residents returned on Wednesday are away from the epicentre of the disaster and the residents need not walk past crumbling and leaning structures.
Late on Tuesday, KMRC handed over a "statutory notice for return" to residents of the 14 buildings, asking them to leave hotels by 9 in the morning. The notice reads they "may return to their premises on and from September 25".
The families, however, said on Wednesday the notice was not an assurance enough for them to resume living in their homes, whose walls and floors are riddled with cracks.
"We asked KMRC officials to state in writing that the buildings are safe to stay in," said Paltu Jaiswal, a tenant at 5/2 Gaur De Lane. "They refused to issue such a document and we refused to enter our homes. After hours of wait outside the temporary control room of the KMRC, the chief engineer finally issued a notice saying the 14 buildings are 'fit for occupation at present'."
Nilam Keshari, who lives on the ground floor of 5/2 Gaur De Lane, said: "KMRC officials had spotted 72 cracks in our building before we were evacuated. What would happen if a wall or the ceiling collapses?"
She said the family was back because they couldn't stay at hotel any longer. "But we are still scared. What if a chunk falls on the head of a student?" said Nilam, who gives private tuition.
Dwarik Dutta of Syakrapara Lane was among those who had received the notice on Tuesday night but did not return. "There is still no light or electricity in our lane. We told KMRC that we would return only when water supply and power are restored," he said.