Bagdogra airport to suspend flight services for fortnight from Monday
Tourism stakeholders pointed out that the move is going to deal a blow to the sector as massive losses were already incurred for two years because of the pandemic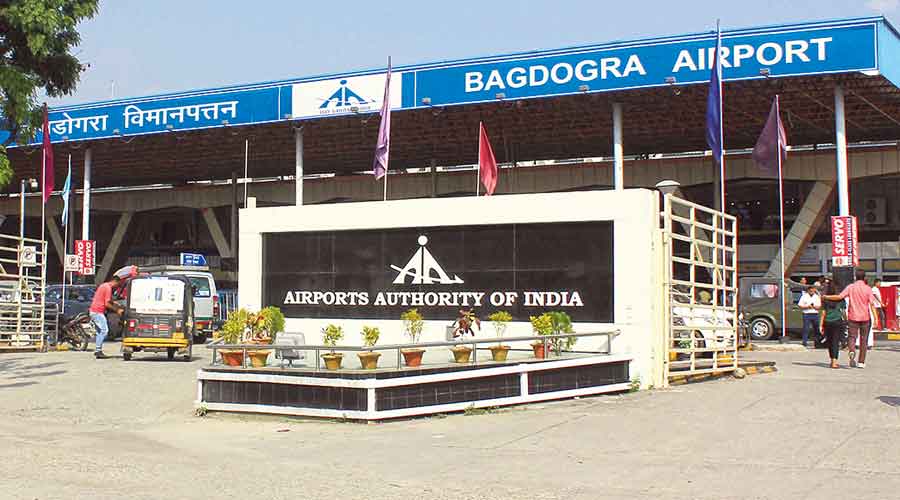 Bagdogra airpot.
File photo.
---
Siliguri
|
Published 11.04.22, 02:43 AM
|
---
Flight services at Bagdogra airport, Bengal's second largest airport, will come to a halt for a fortnight from Monday for runway repairs, the timing of the move coming as a blow to tourism stakeholders of north Bengal and Sikkim.
Based on the Airports Authority of India (AAI) notification, flight operations will completely remain suspended at the airport from April 11 to 26 as the Indian Air Force (IAF), will re-carpet the sole runway.
In north Bengal and Sikkim, April and May are two important months for the tourism industry.
In Sikkim, tourism is the mainstay of the Himalayan state's economy. Many stakeholders pointed out that the sector had suffered massive losses for two years because of the pandemic and the Bagdoga airport closure comes just as things had started to look up.
Roshan Raj Shrestha, the president of the Sikkim Hotels and Restaurants Association, said hotel bookings had already taken a nosedive because of the airport's closure.
"From tomorrow (Monday), occupancy rate in hotels will reduce to a mere 10 per cent from about 73 percent, the average occupancy rate this season. Before the pandemic, the occupancy rate used to be over 90 per cent," he said.
Shrestha said the AAI should have factored in the possible impact of the closure to the tourism-driven economy of Sikkim before the announcement. "Runway repair could have been done during the lockdown two months ago. This closure right now has hit us enormously," he added.
Agreed Samrat Sanyal, the general secretary of the Himalayan Hospitality and Tourism Development Network. "The airport's closure has prompted several tourists, most of whom were supposed to fly in from other states or abroad, to cancel their trips. Only some tourists from Calcutta or the south Bengal districts, who usually travel by train, will be arriving in the region during the next fortnight," Sanyal said.
However, the pause in flight services at Bagdogra prompted private airlines SpiceJet to introduce an extra flight from Calcutta to Pakyong, Sikkim's sole airport.
Sources said it received good response from tourists seeking to visit Sikkim.
The Northeast Frontier Railway (NFR) has also decided to run four summer special trains from April 13, two of which will connect Howrah and Sealdah with New Jalpaiguri, the largest railway station in north Bengal and a key transit point to the hills.
"These trains will run once a week. Also, two other summer specials will run between Sealdah and Kamakhya and between Rangapara North (in Assam) and Puri. People intending to visit north Bengal can also take these trains. All these four trains will run till July 1," said an official of the NFR.
The North Bengal State Transport Corporation (NBSTC) will also run additional buses north Bengal and Calcutta during this fortnight. Partha Pratim Roy, the chairman of NBSTC, said two additional buses will run between Calcutta and Siliguri every day from April 11 and a third extra bus will run between Cooch Behar and Calcutta.
"We made the decision as flights will not operate from Bagdogra for 15 days," Roy said.
These new arrangements are not enough to help shield the tourism sector from losses during this period, stakeholders added.
"Every day, 6,000 to 8,000 fliers use the Bagdogra airport. Most are tourists. People from other states want to save time and so take flights. How many will take special trains or buses?" asked Debasish Maitra, the president of the Eastern Himalaya Travel and Tour Operators' Association.