Remove vats, punish litterbugs: Mayor
Firhad Hakim asked officials to start issuing notices to people who throw waste on roads and dirty a clean place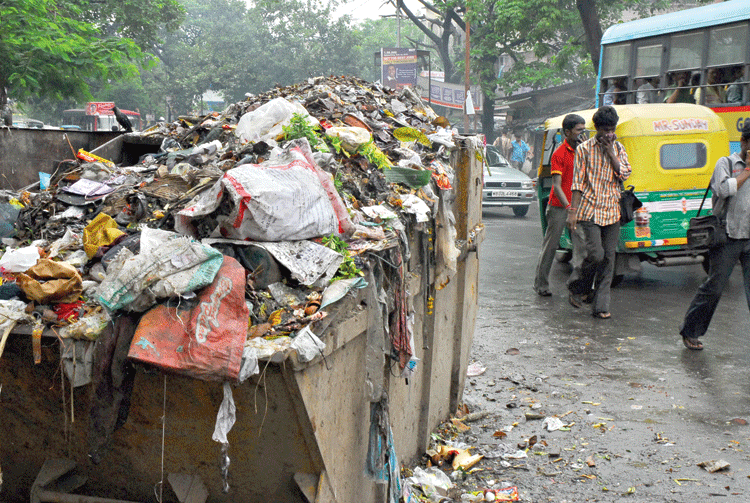 ---
|
Calcutta
|
Published 14.12.19, 08:19 PM
---
Calcutta should not have any garbage vats, mayor Firhad Hakim said on Saturday. He asked engineers and officials to ensure that vats were shut down wherever they were in use.
He asked officials to start issuing notices to people who throw waste on roads and dirty a clean place.
Hakim spoke against using vats when a caller from Behala's Shakuntala Park complained about an overflowing vat in the neighbourhood during the weekly phone-in programme — Talk to Mayor.
Only those who have garbage vats in front of their homes know how painful the stench can be, he said.
"Why should there be garbage vats? We are buying so many waste compactors. Why are there vats even now?" he asked officials and engineers, who are present during the programme. "We should not have vats. Please see to it that the maximum number of vats are shut down at the earliest," the mayor told the chief engineer of Calcutta Municipal Corporation's solid waste management department.
There are close to 655 garbage vats in the city, 400 of which have already been shut down, a CMC official said.
The rest are in lanes that are too narrow for large vehicles to enter and where only hand-pushed carts are used to collect garbage.
Waste compactor stations have machines that compress waste and squeeze out the air and fluid in them.
Compactor stations remain covered and vehicles that transport the compacted waste to the Dhapa dumping ground are covered. "Compactor stations and vehicles do not allow the stench to travel in the air because everything is covered," a civic official said.
Some waste management experts have spoken against the rampant use of compactor machines because it only compresses the waste. The compression prevents the segregation of plastic from the waste at Dhapa, which used to happen because of ragpickers doing it informally, the official said. The model is segregation of waste at source so that recyclable waste goes to the recycling plants and the wet waste that include vegetable peels and meat is sent to compost plants to produce manure.
Waste segregation at source also reduces the volume of waste going to a dumping ground.
Another caller said though the CMC had removed the garbage vat from in front of his house, people were still dumping waste there. Hakim looked baffled for a few seconds and then said: "Issue notices to people who dirty roads. Bring them to the municipal magistrate's court. Let them realise that they cannot get away by dumping waste on the road."
Hakim then asked officials to issue notices to those who dump waste anywhere they feel like.
Civic officials said it was an uphill task. Unless there are CCTV cameras covering such places, it is difficult to identify the culprits. "We don't get to know who dumped the waste. Everyone will refuse, saying he/she did not do it," an official said.