Rare fog in Bengal's Darjeeling
Geographers call this phenomenon an advection fog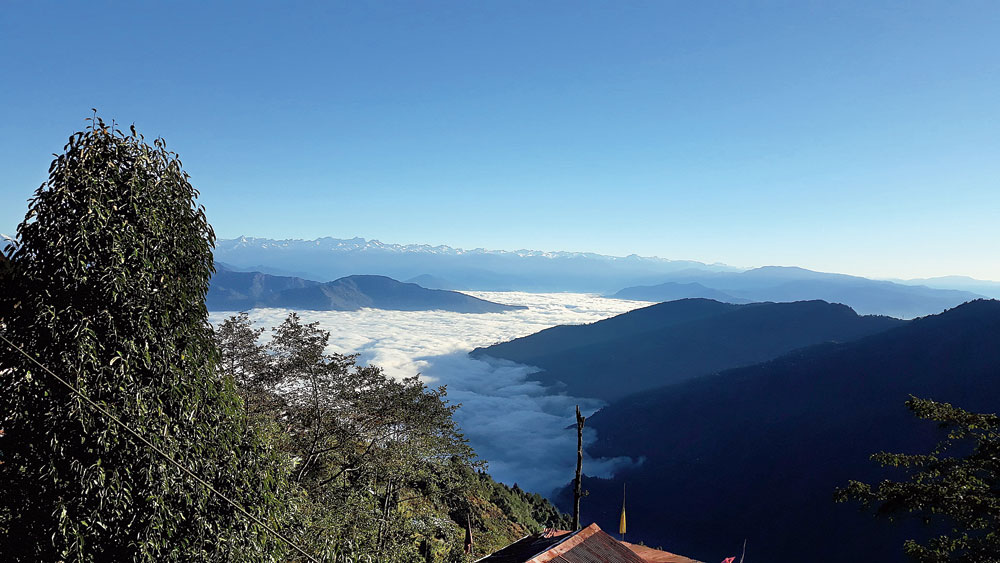 Social media was flooded with images of the picture-perfect hills
Telegraph picture
---
Darjeeling
|
Published 19.12.18, 08:35 PM
|
---
A sea of fog blanketed valleys in Darjeeling on Wednesday, a day after Sandakphu had been enveloped in white following snowfall.
The rare phenomenon, which geographers call advection fog, provided a joie de vivre moment to tourists and local people alike.
Rajesh Thapa couldn't stop exclaiming "joie de vivre!" when he looked down from the Mall in the Darjeeling town, though the man in his late 40s always lived in the hills.
While Mt Kanchenjungha was glistening against an azure sky, the fog hovered over valleys from Darjeeling to Namchi in Sikkim.
Geographers explained that the snowfall at Sandakphu (12,000ft) and on higher mountains had acted as a catalyst. Sandakphu, the highest point in Bengal, had received a three-inch snowfall on Tuesday morning.
"This is a classic example of advection fog," said Nima Doma Lama, head of the postgraduate geography department at Siliguri College.
The teacher has said the temperature drops as one gains altitude during normal conditions. "For every one kilometre ascent, there is a drop of 6 degrees Celsius in temperature. This is the normal lapse rate," she added.
However, when the ground gets colder than the higher slopes and moist air passes over the cool surface, advection fog is formed, said Doma Lama. "We are used to seeing it in text books; it was beautiful to see it in our hills," she added.
The Darjeeling residents said although fog had formed near the massif in the past too, it was never on the scale of one witnessed on Wednesday.
The social media was flooded with images of picture-postcard hills.
The sky remained clear from morning to evening in the hill town though the fog dissipated by around 10am.
Asked about the difference between cloud and fog, Doma Lama said: "Clouds form at different elevations, starting from the ground level, all the way up to more than 30,000ft. Fog, to put it very simply, is clouds near the ground, where visibility is reduced to less than 1km. When visibility is more than 1km, it is 'mist'."
The day was relatively warmer than Tuesday with the noon temperature hovering around 7 degrees Celsius.