Rare bird sighted at Senchal Wildlife Sanctuary after 170 years
It is classified near-threatened by the International Union for Conservation of Nature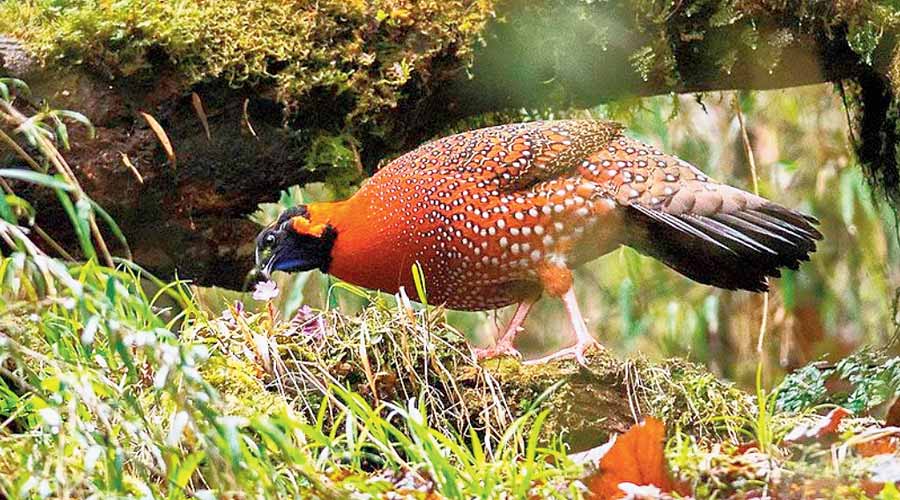 A male Satyr tragopan.
Picture courtesy: The Press Information Bureau
---
Siliguri
|
Published 21.04.22, 02:29 AM
|
---
Scientists of the Zoological Survey of India (ZSI) have sighted the Satyr tragopan, a rare bird also known as the crimson-horned pheasant, in the Senchal Wildlife Sanctuary in the Darjeeling hills after a gap of 170 years.
A statement issued by Dhriti Banerjee, the ZSI director, on Tuesday called the rediscovery of the Satyr tragopan after so long in the Senchal sanctuary encouraging. 
ZSI sources said the Satyr is found in the Singalila National Park, Darjeeling, and the Neora Valley National Park, Kalimpong. 
It is classified near-threatened by the International Union for Conservation of Nature. 
These birds reside in moist oak and rhododendron forests with dense undergrowth and bamboo clumps. They range from 2,400 to 4,200 metres (from sea level) in summer and 1,800 metres in winter," said a source.
In her statement, ZSI director Banerjee also said that in Senchal, they carried out a long-term study funded by the National Mission on Himalayan Studies and found 17 large and medium-sized mammals in the sanctuary area.
"A good number of melanistic (black) barking deer and common leopard have been found in the sanctuary," the source added.
According to ZSI scientists, among the species spotted in Senchal, three animals — the Asiatic black bear, the common leopard and the mainland serow — have been categorised as vulnerable, while three others such as the golden cat, the marbled cat and the black giant squirrel have been tagged near-threatened by the IUCN.
Some other mammal species at the Senchal sanctuary include the wild boar, the large Indian civet, the leopard cat and Malayan porcupine, said the statement issued by the ZSI.