Rainfall disrupts life and livelihood in three coastal districts after Yaas
Thousands of people being rendered homeless for a second time after they had suffered damages to their homes in the aftermath of the cyclone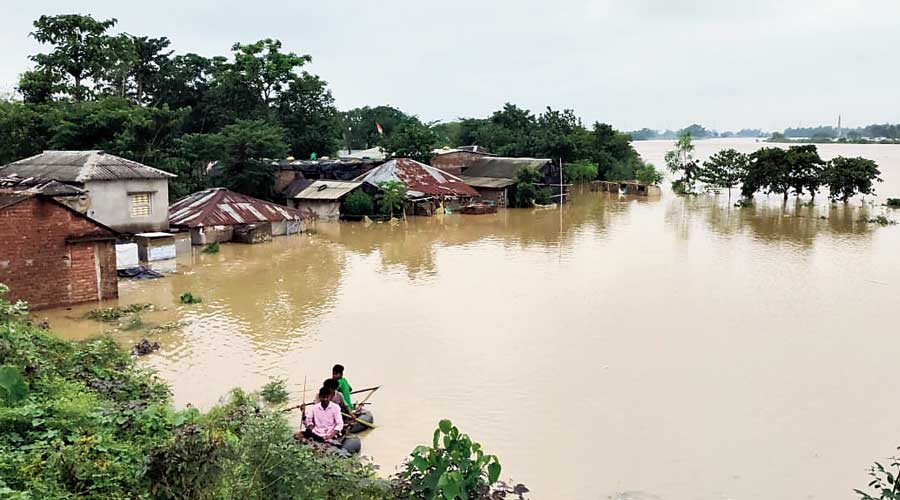 ---
|
Calcutta
|
Published 19.06.21, 02:23 AM
---
Continuous rainfall over the past few days has disrupted life and livelihood in the coastal districts of East Midnapore, North 24-Parganas and South 24-Parganas with thousands of people being rendered homeless for a second time after they had suffered damages to their homes in the aftermath of Cyclone Yaas on May 26.
Sources said, apart from Calcutta the coastal districts like South 24-Parganas and East Midnapore also witnessed a heavy rainfall in the past two days which affected the livelihood most. A large number of people are residing in tarpaulin tents in villages of Sagar of South 24-Parganas and in Digha of East Midnapore since they lost their homes to Cyclone Yaas. These people are also facing a fresh crisis because of the recent spell of incessant rain and a high tide that is scheduled to hit the coastline on June 26.
Incessant rain has inconvenienced several of these people who had started to repair their homes after areas around their homes dried up after saline water receded from these areas.
"My house was submerged when saline water flowed over the embankment when Yaas had lashed the state. I started to repair my home but the rain has hit my plans. I hoped that I would be able to repair my home before high tide, but now that looks unlikely," said Amarendra Mondal, a fisherman from Kuyemari village of Patharpratima in South 24-Parganas.
Sources in the Met office said, South 24-Parganas witnessed 254 mm rainfall in the past two days whereas East Midnapore received around 172 mm rainfall till 6am only on Friday.
Swapan Mondal, another fisherman from Jalda village of East Midnapore, faced the same problem as he had begun working on rebuilding the damaged mud wall of his house.
"Along with 50 other families we had been staying in tarpaulin tents on the road since Yaas had hit our homes. We had started to repair our homes but the continuous has impeded work," said Mondal, who continues to live in a makeshift tent on Balisari-Tajpur road at Jalda.
Chief minister Mamata Banerjee on Thursday alerted people living in areas like Khanakul and Arambagh in Hooghly and Uluberia in Howrah about forecast of heavy rainfall and the upcoming high tide of June 26.
The Hooghly district administration on Friday evacuated around 400 families from Khanakul after the water of Dwarakeshwar river inundated a stretch of the area. The Hooghly district magistrate Deepa Priya P on Friday visited Khanakul and other flood-prone areas of Hooghly to enquire about the arrangement to combat the situation.
"We expect the situation will become better from Sunday as the rainfall is likely to stop. However, we have already evacuated people living in the lowline area," said the Hooghly district magistrate.
At least two dozen villages and Ghatal town in West Midnapore went underwater on Friday after water was released from dams in Durgapur and Panchet. Sources said, a wooden bridge, which used to connect Jhargram and West Midnapore, was washed away by river water, disrupting communication between two jungle mahal districts.
Several places in Asansol and Durgapur were inundated since Friday morning after two canals overflowed following heavy rainfall since Thursday. Asansol witnessed around 140mm of rainfall till Friday morning.
"A wooden bridge on Damodar connecting Asansol and Bankura's Saltora was washed away on Friday. Operation at a unit of Eastern Coalfields Limited was stopped after water entered the plant. We have rescued many people by using our volunteers from the waterlogged areas of both industrial towns," said an official in West Burdwan. Following heavy rain in Jharkhand, the Durgapur barrage released around 35,000 cusec water on Friday. Officials said they would have to release more water if dams in Jharkhand release water.
On the other hand, the Birbhum district administration has issued a red alert in the villages located in embankment of river Ajay after Sikatiya dam in Jharkhand released around 30,000 cusec water and likely to release more water in the night.
"We have started campaigning in embankment areas of river Ajay and a red alert was issued. The local administration asked to keep a close vigil on the water level and directed to evacuate the people in need," said Bidhan Roy, the Birbhum district magistrate.