Rail escalator ache in Bolpur
The escalators connect the entry gates and Platform No 1 to the 2nd and 3rd platforms through a foot over-bridge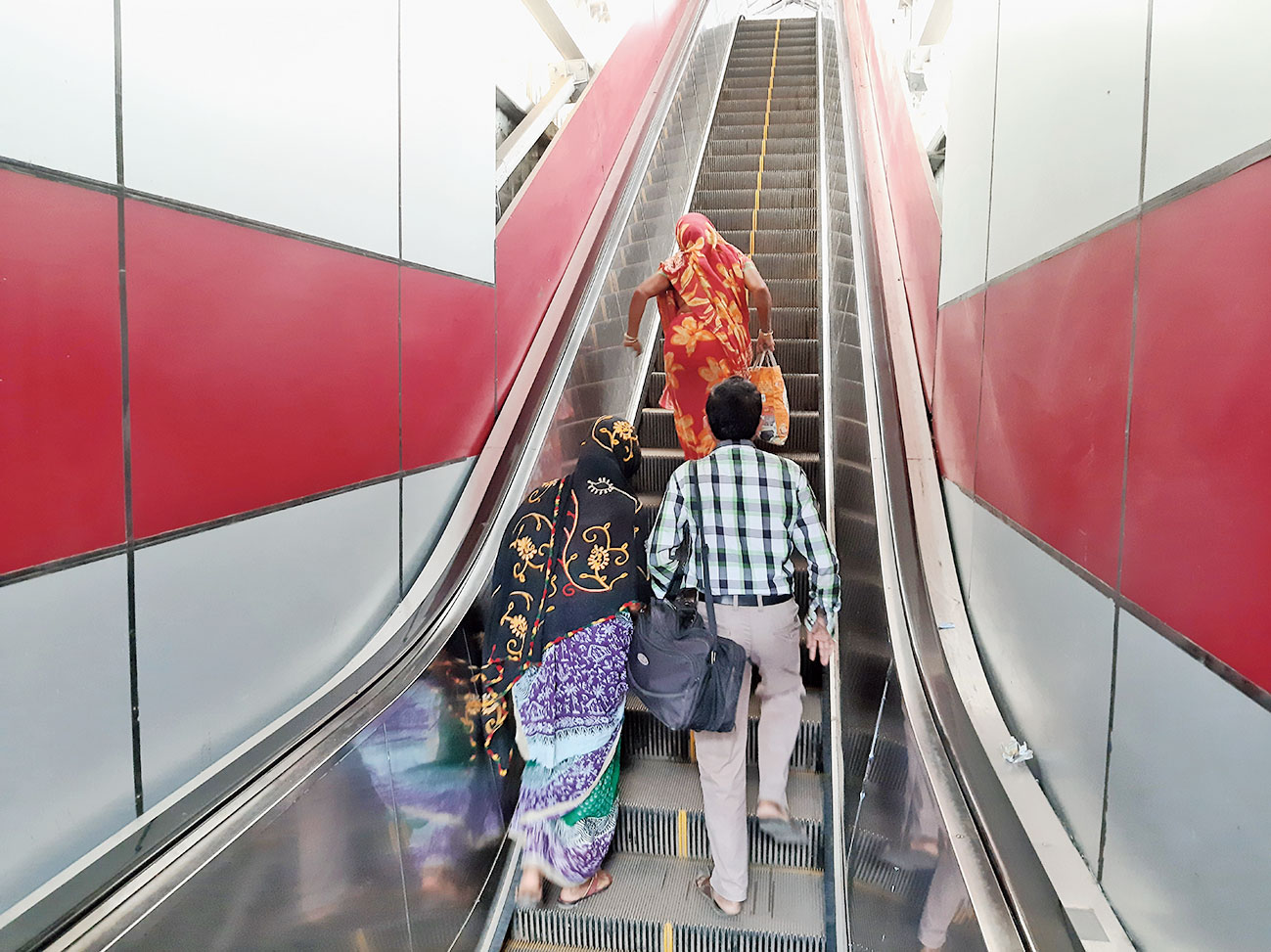 ---
---
Passengers have complained that escalators at Bolpur station often remain "switched off" during rush hours, causing severe inconvenience to the elderly and daily commuters.
A group of senior citizens from Bolpur and Santiniketan and a section of the commuters have met rail officials and told them that the non-functioning escalators cause "harassment".
The escalators connect the entry gates and Platform Number 1 to the second and third platforms through a foot overbridge.
The problems, according to the passengers, become worse when the Santiniketan Express — the most popular train to Santiniketan or the "Abode of Peace" — arrives and leaves from Platform Number 3 instead of Platform Number 1 earlier.
"Most people visiting Santiniketan prefer the train…. But it has become hectic for the passengers to go out of the station because of the non-functional escalators as they need to exit through Platform Number 1," said Sujit Chatterjee, a resident of Santiniketan.
Kinsuk Pal, a teacher of Sainthia Town High School who travels from Bolpur every working day, complained that their pleas had gone unheard so far.
"We met the station authorities repeatedly to let them know about the problems but it is yet to be solved. As the alternative to the escalators is a ramp — which demands a long walk to get up and down the overbridge — we face trouble when the escalators do not function," said Pal.
Railway officials claimed some passengers often pushed the "emergency switch" to stop the escalators so that they could use the steps both ways — to get down and get up the over-bridge. "It is not the fault of the railways at all…. They (some passengers) do it as they need to walk a long way over the ramp to get down," said a senior official.
"Once an escalator is stopped, we do not get to know about it till someone informs the station master. We immediately contact the technicians but they take time to reach and restart the escalators," the rail official added.
Asked about the complaint, Nikhil Kumar Chakrobarty, the chief public relations officer (PRO) of Eastern Railway, said he "would enquire into the matter". "We will take immediate action to ensure that the escalators run smoothly," Chakrobarty added.