Farmers protest in Nadia against new farm laws
Pandemic and lack of funds prevented villagers from going to national capital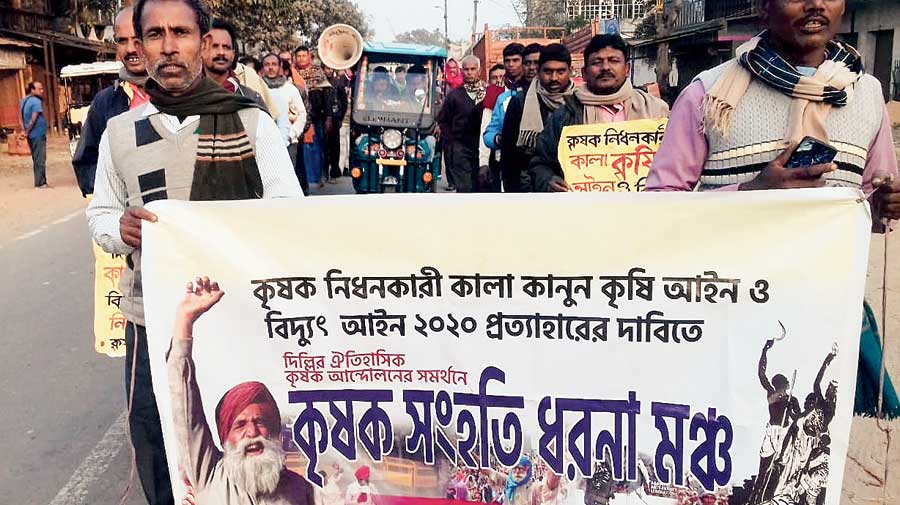 ---
Nadia
|
Published 31.12.20, 01:45 AM
|
---
A group of farmers in Debagram are protesting for the past 16 days against the Centre's farm laws.
Setting aside their political differences, farmers of a few villages formed the Krishak Samhati Dharna Manch to demand the scrapping of farm laws. The relay dharna, which began on December 15 near Debagram's old bus stand, found supporters from many, including homemakers and students, they said.
"We initially planned to join the agitation in Delhi but because of the lack of money and the raging pandemic, the plan changed. We decided to join the agitation from here itself," said Mahiuddin Mondal, a convener.
Asked what prompted them to form a Manch when a joint forum of farmers was leading the struggle nationally, Mondal said they were in solidarity with the nationwide movement but also wanted to do something on their own.
Mondal said people had been coming forward to support their agitation in every way possible. After talks between the farmers' unions and the Centre remained inconclusive on Wednesday, Mondal said their fight would continue till the new farm laws were scrapped.
"These farms laws will leave farmers at the mercy of big corporate houses," said Kamaluddin Sheikh, a peasant and core committee member of the Manch.
"While the Narendra Modi government claims that the minimum support prices (MSP) regime will stay unchanged, the laws do not say it. The Centre has lost its credibility. It is trying to cheat farmers. Though MSP is not even to meet the actual cost of production, farmers do not get the meagre support price they are entitled to," Sheikh added.
A farmer said that the protesters in Delhi were "absolutely right". "There is no room for any compromise, the laws must be revoked," said the farmer.
Solidarity convention
The Platform for Education-Theatre-Culture, with Pather Panchali and Sanskriti Samanway, will host a convention at Barrackpore Sukanta Sadan on January 3 to express solidarity with farmers.
Theatre activist and playwright Chandan Sen said: "It is an apolitical endeavour...We have requested peasant leader Hannan Mollah to address the convention." Painter Wasim Kapoor, actors Paran Bandyopadhyay and Kaushik Sen, lawyer Bikash Bhattacharya, litterateur Swapnamoy Chakraborty, singer Subhendu Maity, music composer Kalyan Sen Barat, poet Mandakranta Sen and others would attend the event.