Protect Kashmiris 'especially students', Centre to state
Hostel authorities asked to promptly inform police if they found any Kashmiri student either feeling intimidated or harassed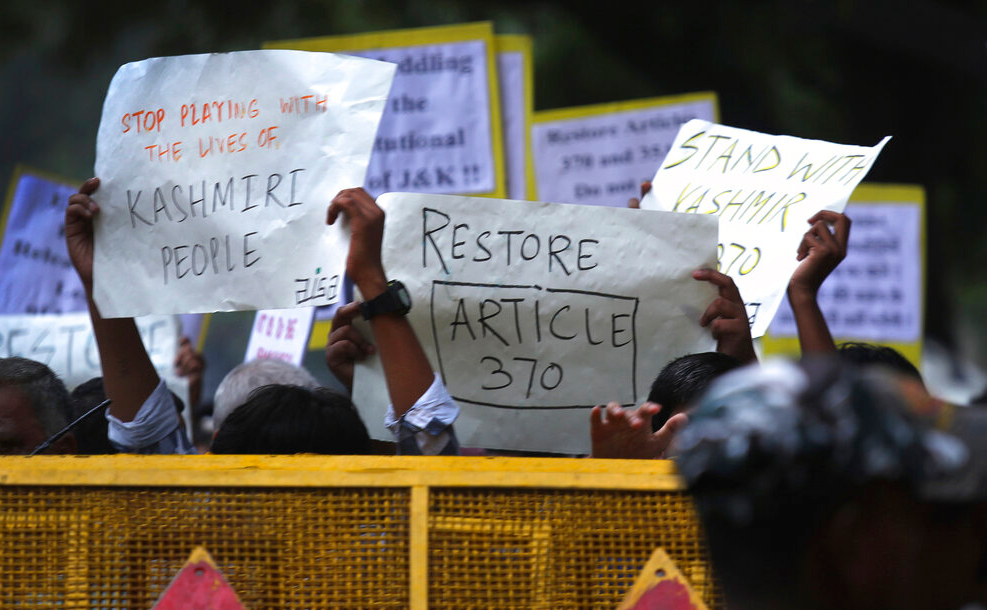 Left party supporters and students hold placards during a protest against the government revoking Kashmir's special constitutional status in New Delhi, India, Monday, August 5, 2019.
(AP)
---
Calcutta
|
Published 05.08.19, 08:25 PM
|
---
The Centre on Monday wrote to all states asking them to ensure the safety and security of people from Jammu and Kashmir, "especially students".
The Centre has also asked the states to maintain a vigil against circulation of false, unverified news and rumours on social media aimed at disturbing peace and inciting communal discord.
The ministry of home affairs addressed the letter to the chief secretaries and to director generals of police of all states/Union Territories and to the commissioner of police in Delhi within hours of the introduction of the bill bifurcating Jammu and Kashmir.
The letter says: "It is requested to take special care to ensure the safety and security of residents of Jammu and Kashmir, especially students hailing from Jammu and Kashmir, in various parts of the country."
The government has also said that adequate publicity may be given to the measures taken by the state governments and the UT administrations to "inspire confidence in the sections concerned and to sensitise the public against any mischief or breach of peace".
Within hours of receiving the directive from Nabanna, senior officers at city police headquarters at Lalbazar sent it to all police stations across Calcutta with a word to every officer-in-charge about taking immediate "preventive steps".
Officers were asked to check with colleges and universities within the jurisdiction of the respective police stations and find out about Kashmiri students and their places of stay, including hostels.
Hostel superintendents have been asked to promptly inform police if they find any Kashmiri student feeling intimidated or harassed.
"Beat officers have also been asked to visit Kashmiri residents in their areas and talk to them to allay fears in the wake of Tuesday's decision," said an assistant commissioner of police. "All officers have been told to be very vigilant and display sensitivity while dealing with any complaint against a Kashimiri resident in Calcutta," he said.
The letter from the ministry of home affairs says: "State governments and UT administrations are also requested to issue suitable instructions to their law enforcement agencies to maintain vigil against circulation of false, unverified news, rumours and unscrupulous messages on social media aimed at disturbing peace and public tranquillity and inciting violence and communal discord."
A request has been made to issue "immediate instructions" to security forces and law enforcement agencies in the states and UTs in the letter signed by S.C.L. Das, joint secretary, internal security-I division, home ministry.
"…immediate instructions may be issued to security forces and law enforcement agencies in you State/UT to put them on maximum alert so as to pre-empt and prevent any breach of security or public order. It is further requested that all requisite measures may be taken to ensure that peace and communal amity is maintained in all parts of the country and special attention may be paid to communally sensitive and fragile areas," the letter states.
The letter requests "prompt and effective measures may be taken" by state governments and administrations of Union Territories.
The letter also says: "…the Union Cabinet has taken some important decisions today concerning Jammu and Kashmir, in the overall national interest and to strengthen national security. It is essential that this occasion is not allowed to be misused by inimical and anti-social elements to cause breach of security, peace and public harmony in any part of the country."