Prod to Bengal government for NH10 repair
Although a national highway, the NH10 division of state PWD maintains the road from Sevoke, some 25km from here, till Rongpo in Sikkim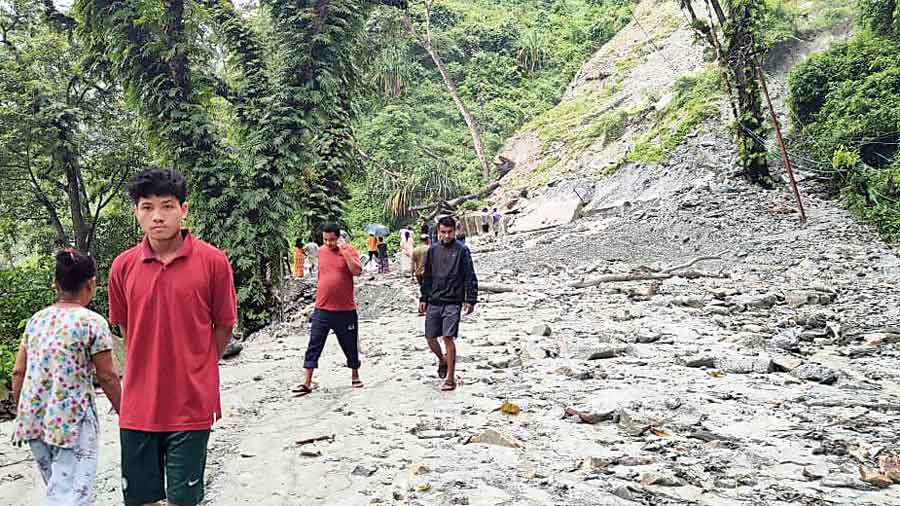 29th Mile, some 60km from Siliguri, which is the most landslide-prone zone along NH10.
File picture
---
Siliguri
|
Published 13.09.21, 12:50 AM
|
---
The dilapidated condition of several stretches of NH10, worsened by the battering from recurring landslides, has prompted state PWD officials to send a proposal to Nabanna, seeking funds for immediate repairs. 
The Narendra Modi government is supposed to send funds to maintain NH10, which connects the Himalayan state of Sikkim and Bengal's Kalimpong, and the Sino-Indian border. 
Although a national highway, the NH10 division of state PWD maintains it from Sevoke, some 25km from here, till Rongpo in Sikkim. Funds for the highway's upkeep, however, flow from the Centre as the state PWD works solely as an agency. 
"Puja holidays are ahead, and vehicular load on the highway will only increase. Considering the situation in some stretches of NH10, we can't sit idle. As no move has been made by the Centre for revamp, we have sent a proposal to the state stating some immediate measures are required to prevent halt in traffic owing to landslides," said an official of the NH10 division of state PWD.
Last month, Raju Bista, the BJP MP of Darjeeling, had claimed the Union ministry of road transport and highways headed by Nitin Gadkari would spend Rs 800 crore to rebuild NH10. "As far as funds allocation and initiation of repair work are concerned, there has been no development," a PWD official said. He added that since July-end, traffic halted on NH10 around 15 times because of landslides.
Last Tuesday, a slide blocked the highway and traffic was restored after around five hours. The most precarious stretch is in 29th Mile, around 60km from here, with frequent slides.
Sources said debris, comprising mud, boulders and pebbles, piled around 300 feet above the level of the highway falls on it regularly, especially after a bout of rain.
"This pile needs to be emptied from the area to keep the road clear. We are fortunate that so far there has been no casualty," said a source.
In the proposal, the officials have said that a protection wall at the spot can be useful. "Also, we need to explore whether an alternative alignment of the road can be built at the stretch," the source added. 
The slides have also made residents of Sikkim and Kalimpong question why no concrete initiative is being taken to repair the highway. 
"NH 10 is one of the key road routes to the Sino-Indian border and is strategically important for the country. Also, being residents of this country, we deserve a decent national highway. We also pay road tax and other government charges. Then why will we have to face such problems every year?" asked Girish Lama, a Kalimpong resident.
The NH10's dismal state, with hardly a month left for Puja holidays, have left tourism stakeholders perturbed. "The pandemic situation is under control now and going by reservations, we are expecting a good tourist season ahead. But if tourists get stranded, it will have a negative impact," said Santanu Choudhury, who runs a travel house in Siliguri. 
He said that it normally takes around four hours to reach Gangtok from Siliguri via NH10. But if one has to make a detour, it would take two-and-a-half hours more to reach the state capital of Sikkim.
Another senior tour operator in Siliguri said the ban on Bangladeshis entering Sikkim was lifted in 2018 and since then thousands of Bangladeshi residents visit the Himalayan state.
Recently, air connectivity resumed between India and Bangladesh. "We expect a steady inflow of tourists from Bangladesh. It is high time that the Centre and the state take up thorough repair along the affected stretches of NH10 to ensure that foreign tourists don't feel discouraged to visit this region," he said.