Private hospital doctors shut OPDs in solidarity
At some of the private hospitals there were patients but no doctors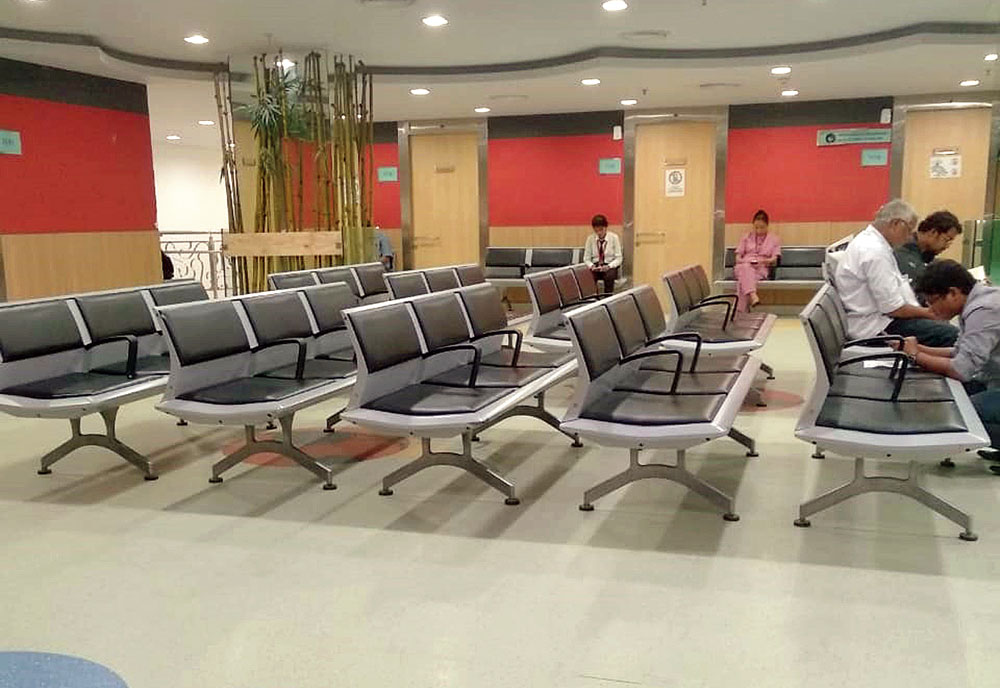 Deserted outpatient departments at AMRI Mukundapur
A Telegraph picture
---
Calcutta
|
Published 13.06.19, 01:40 AM
|
---
Outpatient departments of private hospitals were paralysed on Wednesday as doctors did not attend to patients as a mark of protest against the attack on two junior doctors of NRS hospital.
At some of the private hospitals there were patients but no doctors. At some, the OPDs wore a deserted look and there were neither patients nor doctors.
The empty seats at the OPD of Woodlands hospital in Alipore outnumbered the occupied ones around 11am. "Most of the doctors are not attending to outdoor patients. The footfall is lower than usual," a hospital official said.
Dipak Ghosh, a Bandel resident, was among the few who had turned up at Woodlands. Ghosh was with his wife who suffers from high blood sugar and related ailments. She was at the hospital to consult an endocrinologist.
The slot had been booked in the last week of May. But Ghosh who had read reports of the clash at NRS did not take any chance. "I had called up the hospital to check if the doctor would be available. I left home only after getting a confirmation," he said.
A few blocks away, the CMRI hospital was no different. Most seats on the ground floor OPD were empty.
"Usually, there are more than 30 doctors at the OPD on a weekday. Today, it is fewer than five. Not even 25 patients had registered till noon. On other days, a few hundred turn up by 11am," an executive at the registration desk in the OPD said.
Doctors said it was a spontaneous protest in solidarity with the injured doctors of NRS. "We saw only emergency patients and patients who came from far-off places," Gautam Mukhopadhyay, surgical oncologist and secretary of Bengal Oncology Foundation, said.
"We can't tolerate violence inside hospitals. The state and central governments must think of ways to increase security at hospitals so that doctors are not attacked," he said.
At BM Birla Heart Research Centre, operated by the same group that runs CMRI, the OPD had more patients, but doctors were hard to find.
"I had booked an appointment for a family member on Wednesday morning. But when we reached the hospital, the cardiologist was not there. His secretary said he would not attend the OPD and gave us another slot on Thursday," a septuagenarian Alipore resident said.
At private hospitals across the city, doctors attended to patients at various wards but kept off OPDs. Hundreds of patients with prior appointment hadn't turned up, following reports of the shutdown call given by doctors' bodies.
The CPM-backed Service Doctors Forum had called for a shutdown of OPDs at all private and government hospitals on Wednesday to protest the attack on junior doctors at NRS on Monday. The BJP-backed doctors' cell, along with some medical practitioner, too, had called for a shutdown of OPDs to protest the assault.
The OPDs at private hospitals off the Bypass were more deserted. At Ruby General Hospital, around 1.30pm, most of the patients at the OPD were medical representatives.
Mehnaz Hasan had arrived from Dhaka with her mother, a neurological patient.
"A doctor saw her yesterday (Tuesday) and she underwent some tests. I have come to collect the reports and show them to the doctor," Hasan, who works with a medical tourism company that has offices in Bangladesh and Calcutta, said.
Hasan was told at the OPD reception to wait in front of the neurologist's chamber when The Telegraph met her. She had no idea when the doctor would turn up. "There is no other option because I will leave for Dhaka on Thursday," she said.
At AMRI Mukundapur, there are 50-odd seats in the OPD on the first floor. Hardly five were occupied. "The OPD footfall on a weekday is between 350 and 400. But today, the number barely crossed 50. The number of doctors is above 20 at any given point of time. Only a couple of doctors were there today," a hospital official said.
The official responses of hospitals were similar. "We condemn any act of violence in a hospital. However, we would like to inform patients and public at large that all our departments are functioning normally. This includes surgeries, emergencies and daily consultancy. There is a possibility that some doctors may not be available," a spokesperson for CK Birla Hospitals that runs CMRI and BM Birla Heart Research Centre said.
"All our departments, including emergency services, are operational today (Wednesday). Hospital occupancy is very high. OPD footfall is less than other weekdays," an official of Ruby General Hospital said. "All our doctors and the hospital authorities condemn the attack on doctors and hospital staff."