Power turned off in flood zones in East Midnapore
Several residents raised a blockade to protest against their continuing predicament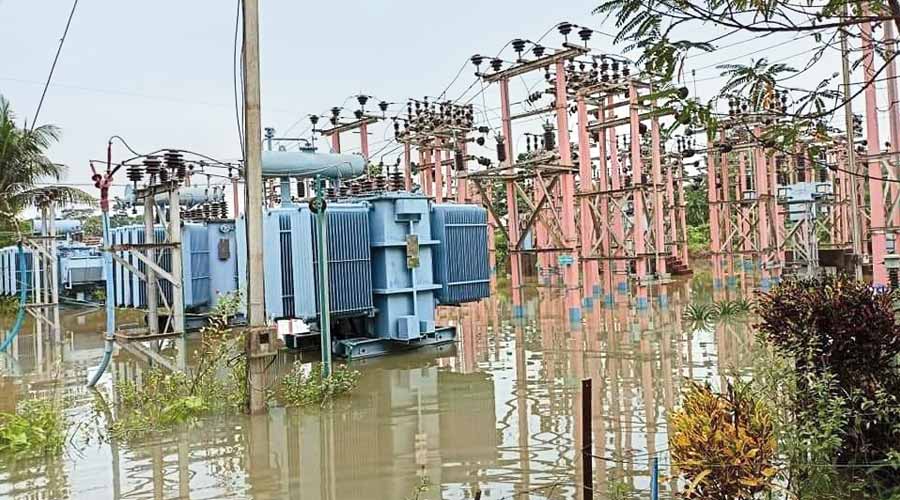 A flooded substation at Bhagabanpur in East Midnapore
Telegraph Picture
---
Tamluk(EastMidnapore)
|
Published 24.09.21, 03:15 AM
|
---
Rain-related woes continued into Thursday in East Midnapore, where a 10-day spell of near continuous rain battered dykes and caused widespread inundation, displacement and fatalities related mostly to electrocution.
Bhagabanpur and Patashpur blocks remained largely without power till Thursday.
"Most substations in the blocks have been submerged. Although there were no fresh incidents of electrocution, substations that did not get submerged have been turned off for safety," said a West Bengal State Electricity and Distribution Company Limited (WBSEDCL) official.
"That brings the total number of days without electricity in the blocks to four as of Thursday. Over one lakh people have been without power," the official added.
On Thursday morning, residents of Bhagabanpur and Patashpur raised a blockade on the Egra-Bajpur state highway near Manglamaro to protest against their continuing predicament. "It is an injustice. It does not take one week to fix power lines, even if the damage has been substantial. We now believe the only way out for us is to create a scene about it, unfortunately," said Chinmay Das, one of the nearly 1,000 protesters.
Sources said the Keleghai river, which reportedly caused widespread damage, was still flowing above the normal level on Thursday.
Following the electrocution of two relief workers in Bhagabanpur's Itiberia on Tuesday, the Contai divisional area manager (transmission) and Madhakhali station manager were showcaused by the power utility.
"As there is no electricity, pumps are not functioning and we are facing an acute drinking water crisis. We have been forced to buy water," said a resident of Bibhishanpur, where one electric tower was reportedly angled into caving slush on Wednesday.
Another resident of Bibhishanpur echoed his neighbour and vented ire against the administration for forcing them to live without power for days.
"We can't even charge our cellphones to make important calls. We have to travel a few kilometres from our waterlogged homes to pay and recharge our mobile phones from trucks equipped with generators," she said.
"We are aware of the protests. A committee is being formed to survey the areas in person so as to restore electricity in a safe manner," said WBSEDCL regional manager Shyamal Hazra, adding that the committee would consist of the BDO, the local officer-in-charge, a substation manager and a panchayat representative.
One more life was lost to waterlogging at Kajlaghar village in the district's Bhagabanpur area early on Thursday. A child aged a little over one year was sleeping along with his parents when he fell from the bed into flood water that had entered the room. By the time the parents realised that the child had slipped off the bed, he had died of suffocation, police sources said.