Popular city square empty for two days in Italy
The authorities are cancelling any gathering for now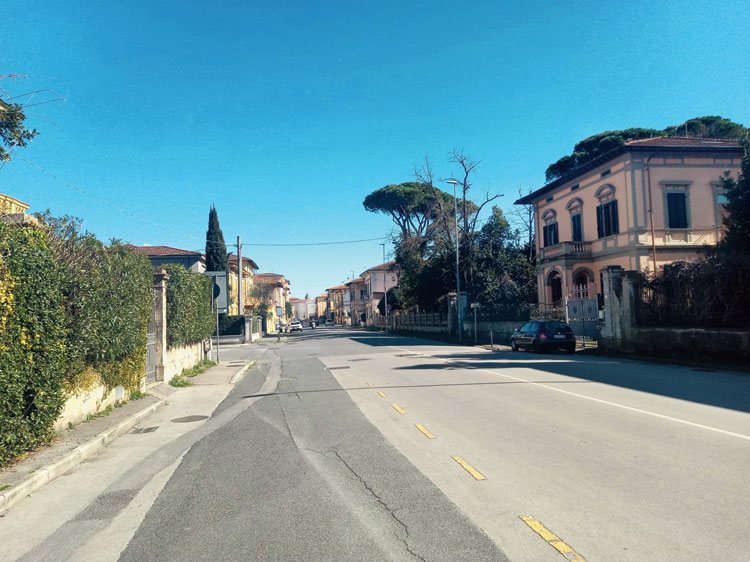 An empty street in Pisa.
Picture by Deep Roy
---
Calcutta
|
Published 11.03.20, 09:07 PM
|
---
Deep Roy, 27, is pursuing a PhD at the University of Pisa. The South Point alumnus, who did his BTech and MTech in civil engineering from Jadavpur University, is in the final year of his research on water resources engineering. He was to come home to Haltu in August. But the coronavirus outbreak has cast a cloud on homecoming. Deep recounts his experience.
I was supposed to collect my residence permit from police on Tuesday. But I got a message saying it could not be done in the next one month.
There would have been scores of Indians lining up for their permits. The authorities are cancelling any gathering for now.
I live in Pisa, part of the Tuscany region in central Italy and around 300km from Rome. The northern region of Lombardy, where the contagion came to light in February, is far worse and has been put under a complete lockdown.
In Pisa, Internet and telephone lines are normal. Office and supermarkets are open. But the coffee-shops-cum-pubs, which are usually busy in the evening, are empty. Pisa is not a large city and can be covered on foot. After work, people like to take a stroll by the river (Arno) or head to the city centre or meet friends for a drink.
All that is missing.
Piazza Garibaldi, the popular square at the city centre, is normally bustling in the evening but has been virtually empty for the past two days. So has been the Tower of Pisa, the iconic tower in the cathedral complex known for its four-degree tilt.
At my university, large classes have been kept on hold for now. Instead, videos of lectures are being circulated on the Internet.
My department is called Destec, an abbreviation for the department of energy, systems, territory and construction engineering. As the name suggests, it is an interdisciplinary department. The university has campuses across the city. My home is near my department. I am meeting my guides on the campus regularly. But many researchers and students who live far away are staying home.
The rector of the university had sent a detailed mail to all students, briefing them about the crisis. There is a dedicated government helpline.
Everyone is talking about the coronavirus. They are hoping the worst is over. Italy has a very high life expectancy and there is a steady population of senior citizens. They are very worried.
Talks of piling up essential items — out of fear that the crisis would escalate — is doing the rounds.
What has impressed me is the organised response in the face of an escalating crisis of this scale. Since Prime Minister Giuseppe Conte's Monday address, people are not stepping out but for essential travel.