Police 'watch' youth drown in Asansol
Family said the youth, who did not know swimming, jumped into the pond to escape the police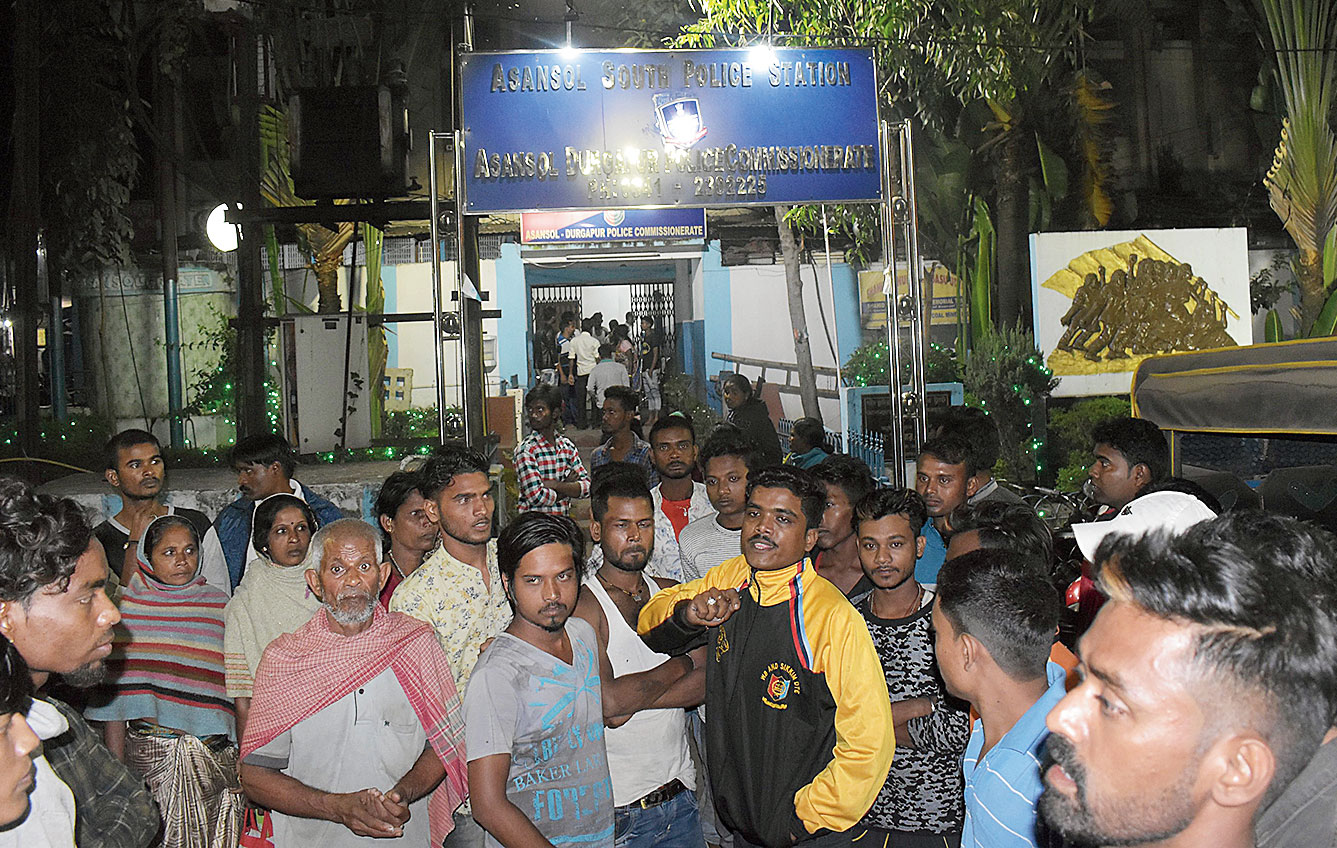 The agitation in front of Asansol South police station on Wednesday.
Picture by Santosh Kumar Mandal
---
Asansol(Bengal)
|
Published 01.11.18, 08:07 PM
|
---
An Asansol youth fleeing from a gambling den during a police raid on Wednesday night jumped into a pond and drowned as cops stood on the edge allegedly ignoring his calls to be rescued.
The family of Akhilesh Paswan, a 28-year-old vegetable vendor, claimed he had not been gambling.
"My brother was just watching the gambling. When the police arrived, all of them, including my brother, began running," Akhilesh's brother Rahul Paswan said.
Akhilesh's family said the youth, who did not know swimming, jumped into the pond to escape the police.
"He shouted out to the police for help several times but they remained mute spectators. The police stood on the edge of the pond, waiting for him to come out," Akhilesh said. After around half an hour, the police left.
Local people pulled Akhilesh out of the water after the police left and took him to the district hospital, where he was declared dead on arrival.
"My brother had breathing problems since childhood and could not survive after remaining in water for so long. It is because of the police that I lost my brother," Rahul said.
Akhilesh's family members and neighbours gheraoed Asansol South police station on Wednesday night. They demanded that the guilty be punished and the family compensated.
The police denied leaving Akhilesh to die. They said they had gone to the area after receiving a tip-off that a gambling session was in progress.
"Our police team had raided a gambling den. We do not know when and why the youth jumped into the pond," said a police officer in Asansol.
Police sources said the allegations were being probed.