Police no to Uluberia rally: BJP moves High Court, Judge questions date
Saffron party's meeting coincides with TMC's July 21 rally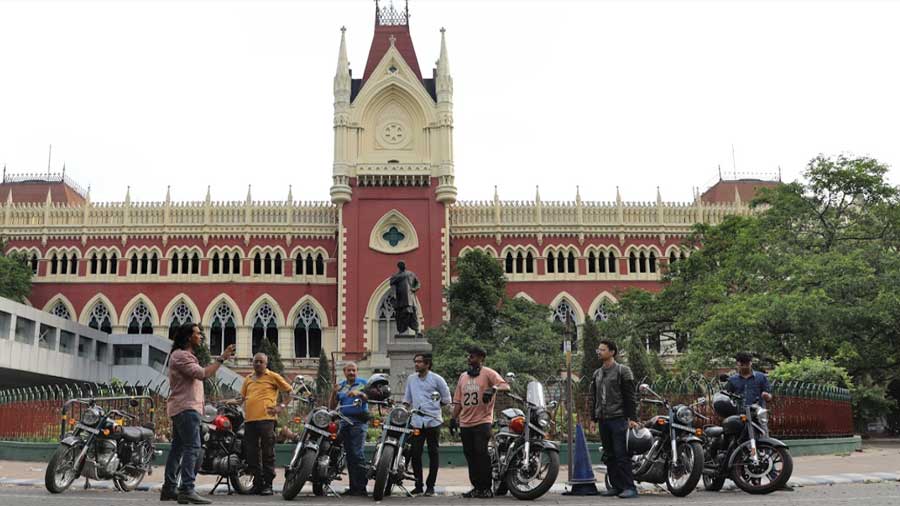 The Calcutta High Court
File Picture
---
Calcutta
|
Published 20.07.22, 12:25 AM
|
---
The BJP on Tuesday moved Calcutta High Court against Howrah police's denial of permission to the party to hold a rally at Uluberia on July 21 but the judge asked why the event could not be held a day or two later.
"The court wants to ensure peace and tranquillity of the people. Why July 21? Is there something special about it? Why not July 22 or 23?" Justice Moushumi Bhattacharya asked lawyers representing the BJP.
The BJP's Howrah rural district committee had moved the court seeking its directive to the police to allow the party to organise the event at Uluberia on July 21.
Replying to Justice Bhattacharya's queries, the BJP lawyers said the event had been planned to propagate the success of various schemes of the Narendra Modi government. They added that leaders from Delhi would participate in the event.
Justice Bhattacharya didn't appear to be satisfied with the reply and said it wasn't the birth anniversary of Rabindranath Tagore and hence, the event could be organised on any other day. Visibly at a loss for words, the BJP's counsel was asked to return to the court with a proper reply later in the day.
However, even after a second chance, the BJP counsel's reply failed to satisfy the judge. She then questioned the state advocate general S.N. Mukherjee if the BJP could be allowed to hold the event at 8pm on July 21.
Mukherjee has been asked to submit the state's reply by Wednesday, after which the court shall pronounce its verdict.
Reacting to the development, leader of the Opposition Suvendu Adhikari said: "We will follow whatever instructions the court gives us."
A BJP-affiliated lawyers' body of the high court filed another PIL in the court urging it to request the Trinamul Congress to either organise the July 21 Martyrs' Day event virtually or issue a set of Covid-19 guidelines to be followed.
The petitioners were also asked to share an estimate of the number of people that the event would draw and the kind of police arrangements that have been made for the event.
The lawyers claimed that the fourth wave of Covid-19 had arrived in the state where a large number of people were being affected regularly.
A division bench headed by Chief Justice Prakash Shrivastava is hearing the petition.
Opposing the prayer, advocate general Mukherjee informed the court that the police had given permission to the Trinamul to hold the rally after taking all necessary precautions in order to ensure that the disease doesn't spread further.
Taking a dig at the July 21 event, Adhikari said that the state government and its administration was helping the Trinamul to organise its martyrs' day event. Trinamul spokesperson Tapas Roy, however, said that Suvendu must prevent himself from making such derogatory comments about July 21.