PM comes to Bengal with projects: Nadda
BJP national president also criticised chief minister Mamata Banerjee for objecting to Modi's visits to the state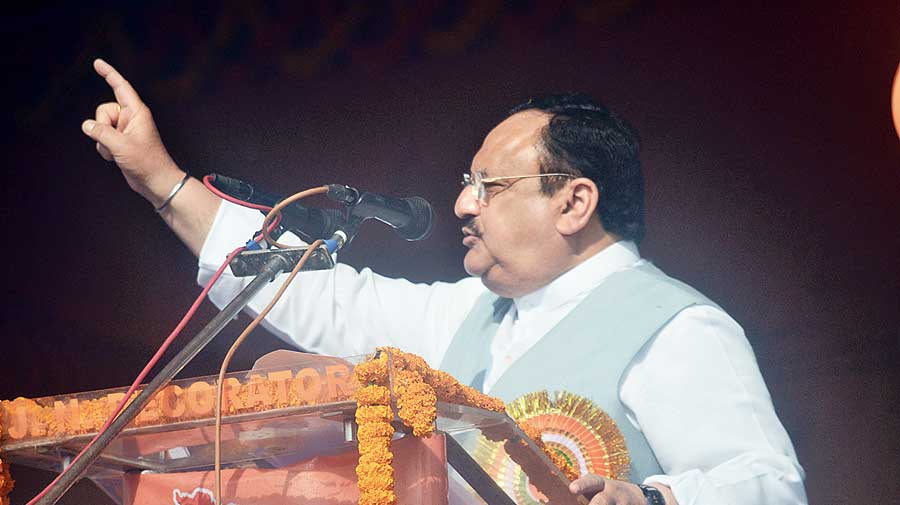 ---
Tarapith
|
Published 10.02.21, 02:32 AM
|
---
BJP national president Jagat Prakash Nadda on Tuesday said Narendra Modi would make several trips to Bengal to bring development projects to the state and criticised chief minister Mamata Banerjee for objecting to the Prime Minister's visits.
"Mamata Banerjee always objects to the visits of the Prime Minister and the home minister. But why will the Prime Minister not come here? The Prime Minister came on February 7 and inaugurated a refinery worth Rs 4,700 crore. He never comes with empty hands. He brings projects to Bengal. It will not be a one-time affair, but our Prime Minister will visit Bengal several times with development projects for the state," said Nadda before flagging off its second Parivartan Yatra from Tarapith in Birbhum.
Sources said Nadda speaking about the Prime Minister making frequent visits to the state showed that in the absence of a credible local leader in the BJP, Modi would be the party's bet to counter Mamata.
"Nadda proved the BJP has no face in Bengal to counter our chief minister. So, they are depending on Modi," said Anubrata Mondal, Trinamul's Birbhum president.
Although Nadda made a pitched cry for change and coined a new slogan — "Onek hoyechhe Mamata (di), parivartan chaichche janata (It has been enough, Mamata, people want change)", the not-so-impressive gathering at Tarapith will surely have reason for the BJP leader to be worried about the outcome of the 2021 polls.
Nadda had to leave a meeting with representatives of tribal cultural activists in Jhargram as the attendance was very low. Sources said he had reached Jhargram around 5.30pm to attend the programme but he found only a few persons were sitting and most of the chairs were empty.
"Naddaji went to local party office and waited for half an our for the cultural representatives. But they were stuck in traffic jam and could not reach in time. As Naddaji had a busy schedule he could not wait more," said Raju Banerjee, a BJP state vice-president..
Trinamul leaders, however, said the low attendance was a result of how people were rejecting BJP.
"People understood what is BJP. People did not attend the programme to send them a message that they will not allow them more in our area," Dulal Murmu, Trinamul president in Jhargram.