Plaster from ceiling of govt high school falls on teachers and students
The incident raises questions about the quality of construction as the building is less than six-months' old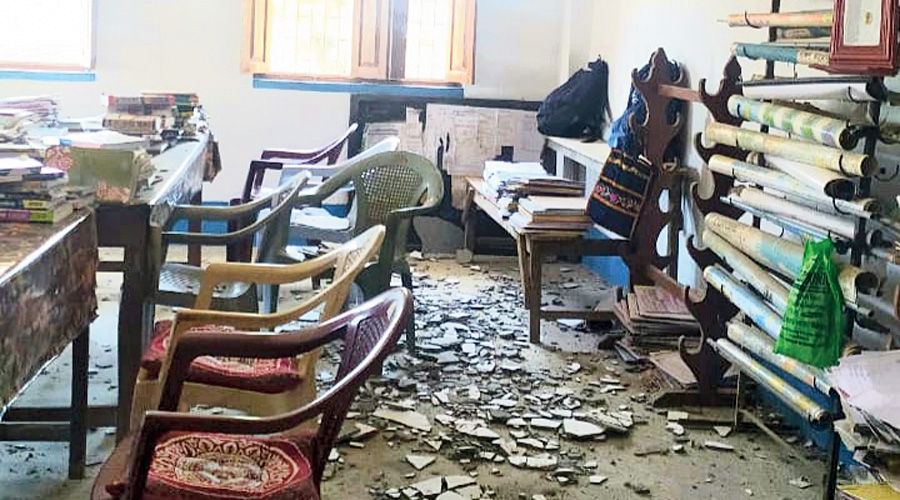 A view of the staff room where the plaster has fallen.
Saikat Santra
---
Midnapore
|
Published 02.03.21, 01:05 AM
|
---
Plaster from the ceiling of a government high school staff room collapsed from a height of 13ft on the heads of two students and two teachers, grievously injuring one of them, at Dhangbhara near Salboni in West Midnapore around 11.30am on Monday.
The injured students and teachers of Sashibhushan High School had to be rushed to the local health centre. One of them was administered four stitches as he had suffered a deep cut in the head.
The incident had raised questions about the quality of construction as the building is less than six-months' old. Sources said the building was constructed under the Paschimanchal Unnayan Parishad scheme approved in the 2018-2019 state budget. The building was completed in September 2020 under the monitoring of the panchayat samiti. Sources said a chunk of plaster from a 5ft radius of the ceiling collapsed.
Sandip Singha, member of the Salboni panchayat samiti and in-charge of the construction, said an explanation had been sought from the contractor following the collapse. "This building is not even six-months' old. This has happened because inferior materials were used to construct the building," said headmaster Tapas Bhattacharya.
"We had asked the contractor in February last year to improve the materials but he didn't listen to us. And this is the price we had to pay for lapses on part of the contractor," the headmaster added.
Responding to the charges of lapses in construction, Singha said: "It is a new building and the incident is being probed by our engineer. The contractor has been asked to explain the reason for the collapse and if found guilty his security deposit will be forfeited. He will also have to repair the damage."
Asked, district inspector of schools Chapeswar Sardar said he was responding to the incident and "would look into how the incident occurred". Sources said all four victims were stable as of Monday evening, including the teacher who was seriously injured in the head.