Pharma boss's $8 million for Calcutta hospital
He pledged another $5 million to a research centre that will be built in Calcutta over the next 18 months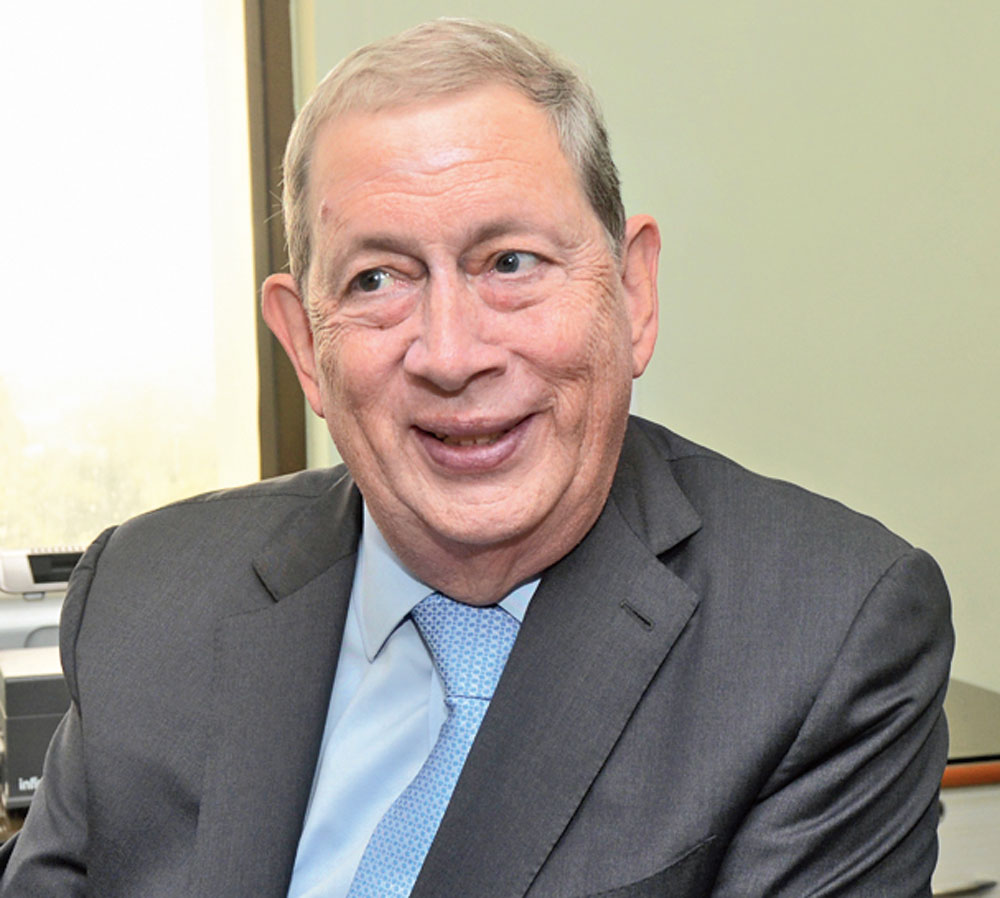 John C. Martin the Chairman of Gilead Sciences, San Francisco
Telegraph picture
---
Sonarpur
|
Published 09.12.18, 11:03 PM
|
---
The chairman of a San Francisco-based biopharmaceutical company that developed the first oral drug for the treatment of hepatitis C has donated $3 million to a liver hospital in Calcutta and pledged another $5 million to a research centre that will be built there over the next 18 months.
John C. Martin of Gilead Sciences was at the Indian Institute of Liver and Digestive Sciences in Sonarpur on Sunday to hand over $1 million to the hospital, completing the first round of funding that had started after his two visits to the city in 2012.
Martin's pledge to donate another $5 million to the research centre raises the rupee equivalent of his total contribution to more than Rs 56 crore.
"I had first heard about this intended hospital for liver diseases where the underprivileged would receive special benefits from (co-founder) Abhijit Chowdhury in 2010, whom I met at a conference in Barcelona. After that, I met him during different seminars in Europe and the US and my interest in his project kept growing," Martin said, recalling the beginning of his association with the institute.
According to Martin, seeing first-hand the work that the Liver Foundation was doing for tribal people and in villages convinced him to support the cause.
"I had also seen when I first came to Calcutta that there were not enough facilities for the treatment of liver diseases, especially in the area around Sonarpur. I heard from doctors that a lot of patients go to other parts of the country, especially south India, for treatment. These were the main factors that prompted us to make the contribution," he said. On returning to the US from his first trip to India, Martin had sent down a team of assessors to scrutinise the project and find out exactly how Chowdhury and his co-founders intended to run the hospital. The focus was on making sure that patients would be charged for medical investigations and procedures at reasonably lower rates than elsewhere.
Martin said he had decided to now make a contribution to building a research centre because the institute needed to develop "cutting-edge technology for the treatment of liver diseases", especially in superspecialities like immunotherapy and cell therapy.
His Gilead Sciences has issued licences to 11 drug manufacturers in India to develop generic versions of Sofosbuvir, the first patented oral drug for hepatitis C. Increased competition has apparently led to the drug being priced much lower in India than in the US, where Gilead is the lone manufacturer.
India figures among the top five countries in terms of hepatitis C incidence.
The event in Sonarpur on Sunday had been organised to lay the foundation of two buildings, one of which will house the research centre to which Martin has pledged around Rs 34.5 crore through his foundation. A second building called Mandira, to be built with contributions from multiple donors, will have the emergency ward, blood bank and the outpatient department.
Mandira has been named after a woman from the locality whose family donated the four-acre plot on which the hospital stands.
"Liver Foundation, West Bengal, had procured the four-acre plot in 2009. But it was only after we received an initial contribution from Gilead Sciences in 2013 that we could start constructing the five-storey hospital building. It has 100 beds, including an ITU, and OPD that has been operational since 2016. Consultants are associated with us in an honorary capacity and so they work without any remuneration," said Jayanta Dasgupta, head of clinical gastroenterology and hepatology at the hospital.
Chowdhury said the target was to make the two additional buildings operational in one-and-a-half years.
Patti Hoffman, the US consul general in Calcutta, Arun J. Sanyal, chair, hepatology, at Virginia Commonwealth University, Shiv Kumar Sarin, founder of the Institute of Liver and Biliary Sciences in New Delhi, and Asokananda Konar, director of the Indian Institute of Liver and Digestive Sciences, were at the foundation ceremony.