Pet burial now round the clock
The Pet Dog Creche and Clinic is in Action Area 3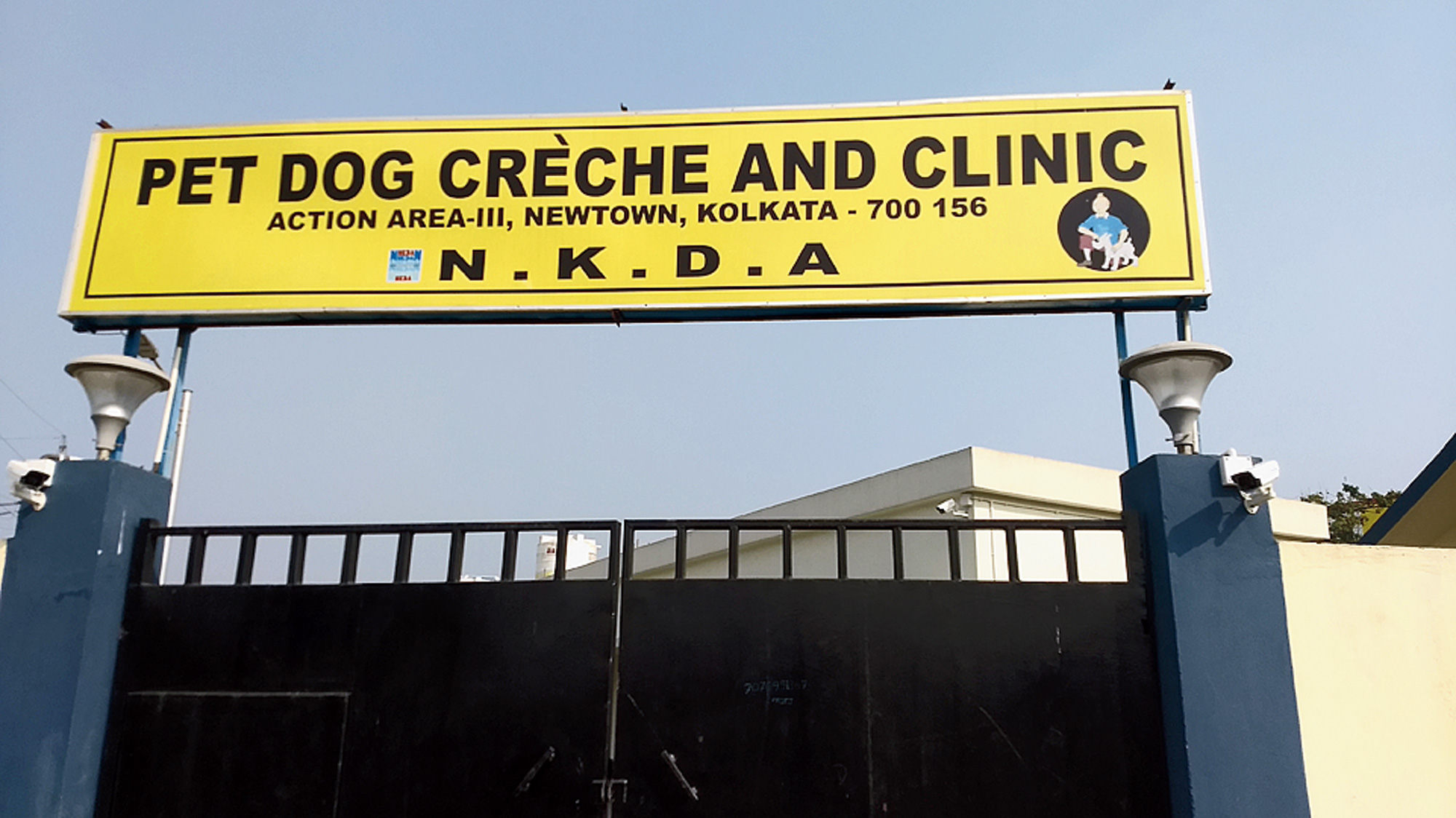 The entrance to the pet creche and clinic in New Town. The burial ground is inside the same compound.
The Telegraph picture
---
Calcutta
|
Published 29.04.19, 11:31 AM
|
---
The pet burial ground in New Town, that was formally inaugurated in February, was used for the first time on April 21. The first pet to be buried, a cat, was rushed in at about 11pm and judging from the urgency of the case, the authorities have now decided to keep the facility open 24 hours a day.
The 12-year-old male pet cat belonged to former state chief secretary Basudeb Banerjee, a resident of south Calcutta. "We received a phone call from Banerjee on Sunday night. He said he had vaguely heard about a pet burial ground in New Town. He needed the information as his cat had died and he wanted to bury him," said an official of New Town Kolkata Development Authority (NKDA) that has built the facility.
"Our ground had closed for the day but it was a sensitive matter so we pooled in available manpower and completed the procedure. With this case we realised that if a pet dies at night, owners would be helpless for several hours till the ground reopens the next day. The body would start decomposing by then. Our staff will now work in three shifts to provide round-the-clock service."
The ground covers about half of the 45 cottah pet complex that also includes a clinic and dog creche. The ground has a separate rear entrance to avoid the risk of spreading infections to pets at the clinic and creche.
Burial rates are Rs 2,500 per pet and owners may spend extra to fix a plaque on the land. They can also submit the pet's pictures at a digital gallery at the reception for the management to play a montage on the pet's birthday or the like.
The Pet Dog Creche and Clinic is in Action Area 3. When approaching from Rabindra Tirtha, cross the Unitech building and take the first right to reach the plot. Road signs will guide you.
The pet complex will soon get a landline phone number. Till then, pet owners can contact them through the numbers on the NKDA website.
Besides this ground, there are pet burial grounds at Thakurpukur, the vet college in Belgachhia and a plot behind Sector V that is a part of the Mollar Bheri dumping ground.