People in 100 villages from flood-hit districts remain inaccessible
Officials said relief teams had been unable to reach several areas due to high water level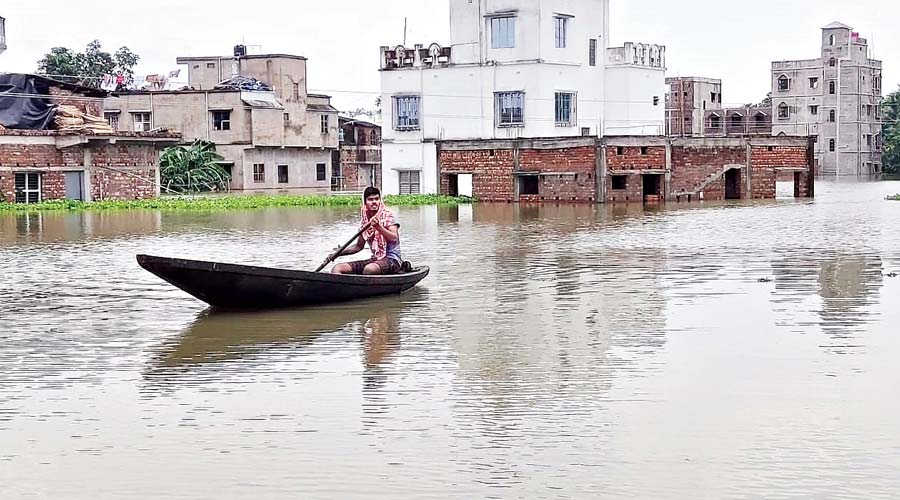 ---
Khanakul, Ghatal
|
Published 05.08.21, 01:52 AM
|
---
Thousands of people in at least 100 villages in the state's three flood-hit districts —Howrah, Hooghly and West Midnapore — remained inaccessible to the administration as water levels stayed high owing to incessant rain in south Bengal since Tuesday night.
Sources said at least six gram panchayats in Hooghly's Khanakul, five in West Midnapore's Ghatal and three in Howrah's Udaynarayanpur stayed under water and administrative officials failed to reach them.
The situation is worst in half a dozen gram panchayats in Khanakul's Dhanyaghori, Kishorepur and Thakuranichawk where no relief team has been able to reach despite appeals for drinking water and food from thousands stranded on rooftops of two or three-storey houses, said sources.
Ranjit Maiti, a farmer who runs a seed shop in Khanakul's Bamunghata village of Kishorepur gram panchayat, is stuck on his roof with his wife since Saturday night.
"We have managed to place the LPG cylinder on the staircase leading to the roof of my house. We are staying on the roof. When it pours we run under the shed of the staircase. We have some rice but there's no water to boil it. We are making do with only 4 litres of drinking water since Saturday," said Maiti. "No relief has reached us," he added.
District officials admitted that relief teams had been unable to reach several villages of Khanakul because of high water level, often 30 feet or more, and prevailing strong current in many flooded areas.
"There are at least six gram panchayat areas in Khanakul I and II blocks that remain inaccessible. We are trying our best to send NDRF teams to those areas with relief items," said Hooghly district magistrate Deepap Priya P.
"This year, the water level in rivers is at least 4 feet higher compared to previous years. Many elders said they had not seen such a flood since 1978," said Abhijit Bag, a local Trinamul leader in Khanakul.
Many officials said they had no other option but to wait for the water level to drop. They said fresh rain from Tuesday night had compounded the problems.
Apart from Khanakul, several villagers under five gram panchayats like Ajaynagar, Birsingha and Mohanpur were inaccessible.
In Howrah, several parts of Amta and Udaynarayanpur were submerged mainly as water was released from DVC's barrages. Flooding triggered a severe drinking water crisis.
"As DVC released huge amounts of water from its barrage, the situation in Howrah is unmanageable. Chief minister Mamata Banerjee on Wednesday visited Amta but could not visit Udaynarayanpur or Khanakul as several roads are under water. Our department has arranged lakhs of pouches of drinking water for the flood-affected people," said Pulok Roy, the state public health engineering (PHE) minister and an MLA from Uluberia South in Howrah. "We have sent drinking water pouch manufacturing machines to all flood-affected blocks in the state and our officials are reaching out to remote areas in boats." .
Officials cited another problem, that of many people refusing to leave their homes. "Many are refusing to leave home, fearing theft of property," said Suman Biswas, the SDO of West Midnapore's Ghatal.