Past haunts party: Bengal BJP plans to shun outsiders in campaign
The decision, sources said, is directly linked to the BJP's experience in the campaign for Assembly polls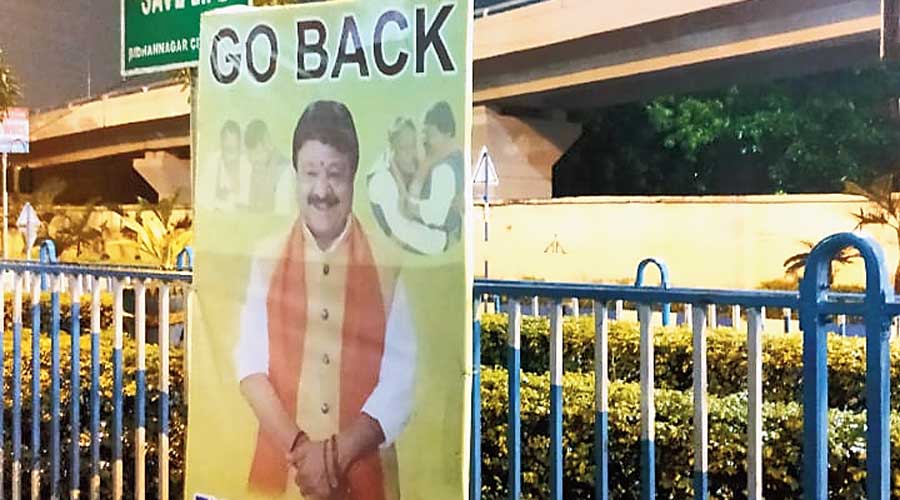 Bengal party chief Sukanta Majumdar hinted that the campaign would be primarily restricted to state leaders
File photo
---
Calcutta
|
Published 13.12.21, 01:59 AM
|
---
Bengal BJP has decided against inviting any leader from outside the state to campaign for Calcutta Municipal Corporation polls.
The decision, sources said, is directly linked to the BJP's experience in the campaign for Assembly polls.
"The list of star campaigners we have prepared does contain names of some central ministers and leaders from other states. However, we have decided in principle not to call them," a state BJP functionary said.
The names of central ministers Smriti Irani, Giriraj Singh and Ramkripal Yadav and chief of BJP's Delhi unit Manoj Tiwari feature on the campaigner list. The Bengal unit of the BJP has always fallen back on leaders from outside the state to connect with the people of Bengal, though unsuccessfully.
Although state BJP office-bearers didn't concede that they were unwilling to invite outside leaders to the CMC poll campaign, Bengal party chief Sukanta Majumdar hinted that the campaign would be primarily restricted to state leaders.
"We have kept their names on our list of star campaigners. However, we all know that they are all ministers and central leaders who are very busy. We are going to fight this out under the leaders of Bengal. If they come in the future, we will let you know about these plans," Majumdar said.
Ahead of the Bengal Assembly polls, the BJP had brought in hoards of leaders from other states to campaign for its candidates. Eighteen leaders — apart from the likes of Prime Minister Narendra Modi, Union ministers Amit Shah and Smriti Irani and Uttar Pradesh chief minister Yogi Adityanath — other heavyweight leaders flew into Bengal to campaign against the Trinamul Congress and Mamata Banerjee.
However, the regular advent of leaders from other states evidently failed in front of Mamata's narrative that the BJP is a party with no connection to Bengal and which depends largely on "outsiders".
"What help did outside leaders do? We lost anyway. And when our workers were attacked by Trinamul, none of these leaders was there to stand by us. It is better that we will fight it out on our own," a BJP leader said.
Another state BJP leader held the party's co-observer for Bengal Amit Malviya for the inclusion of outsider leaders' names on the list of star campaigners.
This person told The Telegraph that initially it had been said that no leader from outside the state would come to campaign for the civic polls. However, later, when the final list of star campaigners came out, the names of three central leaders and a state unit chief were included on the list.
"We are still okay with Smriti. She has a connection with Bengal. What help will people like Giriraj Singh and Manoj Tiwari do for us?" this person said.