Paintings tell a story of protest and hope
Art Attack camp started on the ground where women have been sitting to register their protest against CAA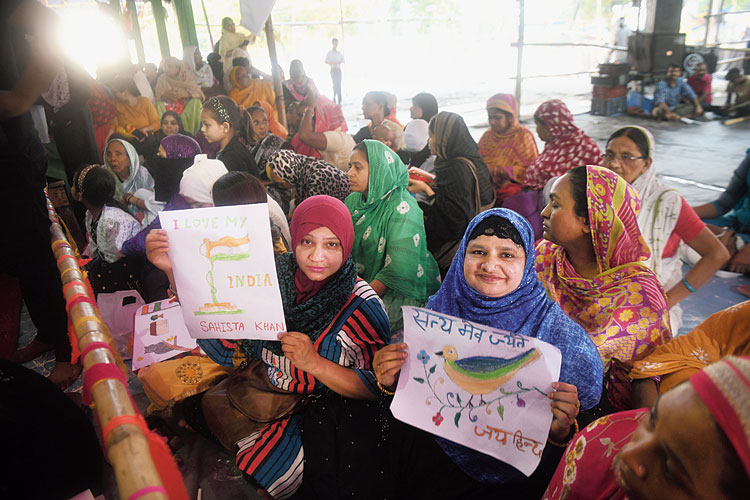 Truth alone Triumphs, is what 42-year-old Razda Khatoon (in blue) from Topsia said after she finished her painting. She had picked up a paintbrush almost after 20 years because she felt the message of peace could be communicated through art.
---
Calcutta
|
Published 04.03.20, 08:55 PM
|
---
Students, women who picked up a paintbrush after almost two decades and professional artists converged at Park Circus Maidan on Wednesday evening and expressed their fears, concerns and hopes through art.
Not all who sat down to draw were good at it but each of the paintings had a story to tell. The art camp called Art Attack started on Wednesday evening on the ground at Park Circus where women have been sitting for close to two months to register their protest against the amended citizenship regime.
Razda Khatoon, 42, who has been coming to Park Circus regularly from Topsia after completing household chores, attending to her aged in-laws and cooking for her children, chose to speak with colours.
"The last time I drew was when I was in school. Today, I wanted to draw again to send across the message of peace and Satyameva Jayate (Truth alone triumphs). So many of us are sitting here day after day. Ultimately, it will be the victory of truth alone and we will win this battle over lies," the homemaker said. It was the resolve of many like Razda that fashion designer Sarfaraz Nawaz, 36, depicted in her painting.
Sarfaraz, who has been part of the protest at Park Circus, painted a "dabang dadi (fearless grandmother)" sitting on a dharna and saying: "Nahin hatenge (We will not move)", a message that he wants to convey through his painting.
Many of the children who have been accompanying their mothers to the protest ground day after day took to painting on Wednesday to spread the message of unity and peace — their way of protesting the amended citizenship regime, which has been the talking point in all their homes.
The paintings will be put up in one corner of the ground.
Sazia Shahid, 17, drew a map of India with protests all over the country. Two hands coming together in a bond of friendship stood for hope in Sazia's painting.
"One of my classmates one day said that Muslims should be asked to leave the country. I was very upset. But then the teacher, who is Hindu, explained to him that people of all religions have always lived together in India and all of them fought together for the country's freedom. There is hope still, even in the midst of so much unrest," the Class XI student said.
Sayantan Maitra, an art curator, was there to see the artworks. "Many of the artists are shying away from what is happening now. But this kind of an art camp will give rise to a new generation of artists who will use colours to communicate their thoughts," said Maitra.