Outreach on menu in Mamata's sudden lunch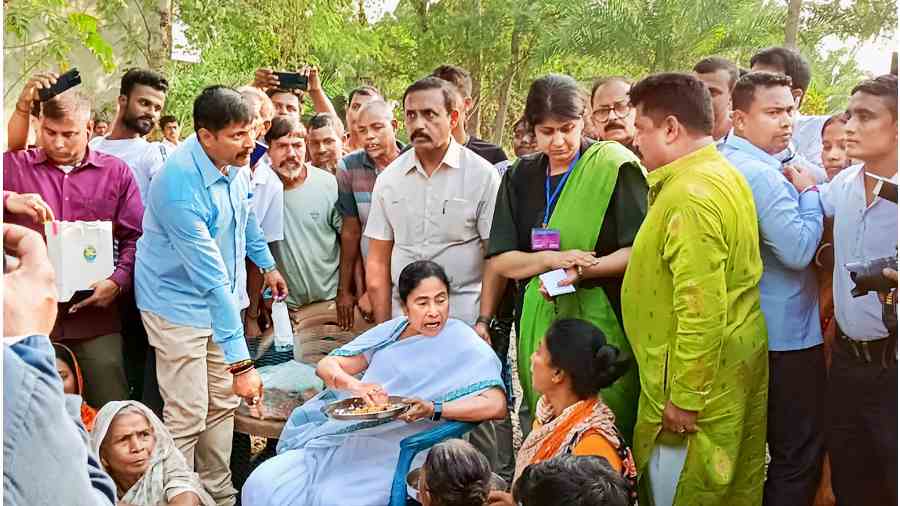 ---
Khanpur (North 24-Parganas)
|
Published 01.12.22, 05:01 AM
|
---
Mamata Banerjee on Wednesday had an impromptu lunch of rice and fish curry in a remote village of Hasnabad block, North 24-Parganas, when the hostess offered to share her household's meal with the chief minister. 
Mamata, who was scheduled to fly back to Calcutta on Wednesday, changed her plan in the morning and took a boat ride to visit the far-flung Khanpur village of North 24-Parganas.  
After distributing woollens and saris to women in Khanpur, Mamata told officials that she wanted to visit a rural household to understand the problems better.
Officials identified the home of Namita Mondal, a 44-year-old Scheduled Caste woman, for the chief minister to visit.
When Mamata reached the house, Namita was stitching a mat of date tree leaves. Mamata asked Namita and two other women present about the skill involved.
Amid the chat, Mamata asked Namita if she had her lunch.  "Have you had your lunch?" Namita asked the chief minister in turn. When Mamata said she had not, the woman said: "Will you please have the food I have cooked?"
Mamata readily agreed. Namita served her "olkochu  diye tyangra machher jhol (fish curry made with elephant foot yam)" and rice in her courtyard. Seated on a chair, the chief minister finished her lunch in the presence of villagers, officials and the media.
"When I learnt Didi had not had lunch, I offered her to eat the food we had made for ourselves," said Namita after Mamata left her courtyard around 3pm on Wednesday.
 "Any guest who visits us during lunchtime is offered food. As Didi came during lunchtime I asked her to have food with us," Namita added. 
She said that like most people of the Sunderbans, she caught the fish from a local creek. She later told reporters that Mamata had asked her why the rice was "hard", and said that she told the chief minister it was that of the ration.
Mamata's unplanned lunch prompted many, including political observers, to contrast it with the "lunch diplomacy" of the BJP.
Before the 2021 Assembly polls, Union home minister Amit Shah and BJP national president J.P. Nadda visited remote areas of Bengal for lunches planned in advance at homes of people from tribal or Scheduled Caste communities.
"Mamata is a mass leader and can connect with people spontaneously. The lunch was an outreach bid with an eye on next year's rural polls but it is in a way different from the lunch diplomacy practised by other leaders," said Subhamoy Maitra, a political observer in Calcutta. 
Maitra, however, said the chief minister's outreach also sent the message that the benefits of government schemes had not reached all and Mamata wanted to reassure villagers that she was with them.
Maitra's observation was corroborated by Namita who told Mamata she had not received most government benefits such as Lakshmir Bhandar as she did not have a few documents. "Didi promised to resolve it within a week," added Namita.
The BJP called Mamata's lunch a publicity stunt. "It was nothing but a publicity stunt by the chief minister as she realised rural people are not happy with her government. If she did the right kind of development in these areas, the drama wouldn't have been required," said BJP's Basirhat chief Ganesh Ghosh.