One of India's oldest Royal Bengal tigers in captivity dies
He had been staying at the centre for the past 14 years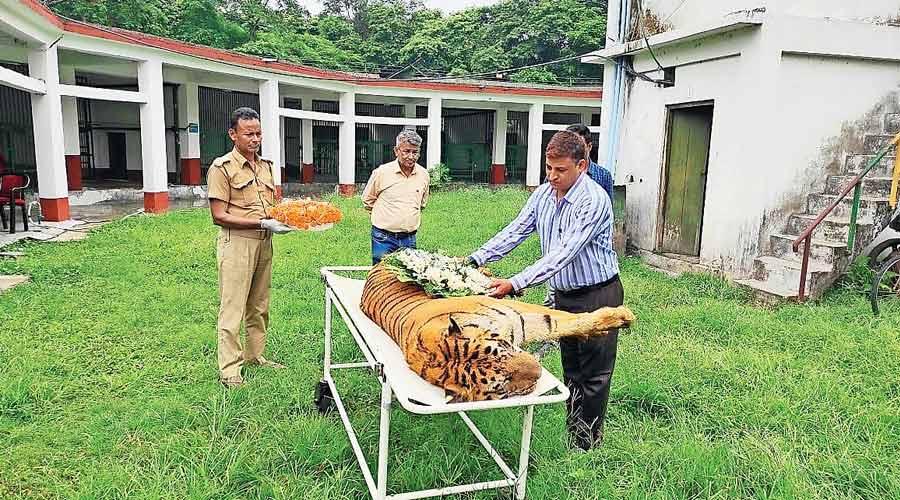 Alipurduar DM Surendra Kumar Meena (in blue striped shirt) pays homage to Raja, the deceased tiger.
Picture by Anirban Choudhury
---
Alipurduar
|
Published 12.07.22, 02:25 AM
|
---
Royal Bengal tiger Raja died at the South Khairbari rescue centre in Alipurduar district early on Monday.
Nearly 26 years old, Raja was one of India's oldest surviving tigers in captivity.
He had been staying at the centre for the past 14 years. He was the last tiger to be brought to the centre and the last to die.
"Last year, we celebrated Raja's twenty-fifth birthday. He was one of the longest surviving royal Bengal tigers of the country in captivity. We paid him homage and carried out his last rites. Raja was the last tiger at the centre in Khairbari," said Deepak M., the divisional forest officer of Jaldapara wildlife division.
Surendra Kumar Meena, the district magistrate of Alipurduar, also paid homage to the tiger before cremation.
The tiger, sources said, was 25 years and 10 months old. Sources at the centre said it was a "natural death". 
Royal Bengal tigers, experts said, have an average life span of around 10-15 years in the wild and around 20 years in captivity.
"Raja was an exception," a forest official said.
According to senior forest officials, Raja was a habitant of the Sunderbans and was bitten by a crocodile in the Matla river in 2008. The tiger, whose left hind leg was in bad shape, was rescued by foresters and shifted to an enclosure in Dankuni of Hooghly. "There, he was under treatment, but eventually, veterinary doctors had to amputate the injured leg to save his life. At that time, it was also decided that the tiger will not be released into the wild again. In August 2008, Raja was sent to Khairbari," said a forester.
The Khairbari rescue centre was developed by the state government in 2003 after a ban on display of tigers in circuses. In all, 19 tigers from circuses were kept at the centre. Later, Raja also joined them. With his demise, the rescue centre has no more tigers.