Chief secy in eye of brewing storm
On Bhowanipore bypolls, high court has a few questions
Can a chief secretary write that the CM wants to get elected from a particular constituency therefore bypolls be held, asks acting Chief Justice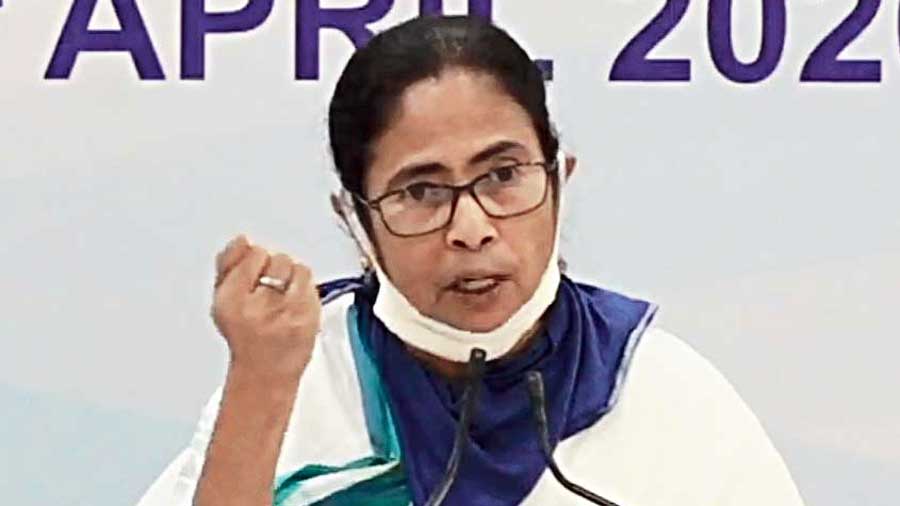 Bengal CM Mamata Banerjee
File picture
---
Calcutta
|
Published 24.09.21, 02:33 PM
|
---
Less than a week before the Bhowanipore Assembly by-elections, a set of questions raised by the Calcutta High Court has left the Election Commission of India as well as the Mamata Banerjee government scurrying for answers.
A division bench of the high court, comprising acting Chief Justice Rajesh Bindal and Rajarshi Bharadwaj, reserved its judgement in the matter but questioned the necessity of winning candidates resigning from their constituencies to force bypolls, which could lead to wider electoral reforms once the matter comes to its logical conclusion.
The Bhowanipore bye-election is scheduled for September 30.
In its note issued on September 4, the election commission had referred to the West Bengal chief secretary's claim, "…in view of the administrative exigencies and public interest and to avoid vacuum in the state bye-elections for 159 Bhabanipur-Kolkata from where Ms Mamata Banerjee Chief Minister intends to contest elections may be conducted."
The acting chief justice questioned whether the central poll panel agreed to the bye-election because the chief minister had expressed her desire to contest from a particular seat.
"Can a chief secretary write that the CM wants to get elected from a particular constituency therefore bypolls be held?" asked acting chief justice Bindal.
From 2011 onwards Mamata has represented the Bhowanipore Assembly seat twice. She moved to Nandigram this year, but there, she lost to BJP nominee Suvendu Adhikary.
Soon after Mamata took oath as chief minister, Sobhandeb Chattopadhyay resigned from Bhowanipore to pave the way for his party chief to get elected to the Assembly. Unless Mamata gets elected by November 5, she would cease to be the chief minister.
Soon after the EC's announcement of the bypoll in Bhowanipore (along with Shamshergunj and Jangipur where elections were deferred), excluding 31 other Assemblies and three Parliamentary constituencies lying vacant across the country, Sayan Banerjee, a Calcutta high court  advocate, had filed a petition questioning why a particular constituency was being favoured.
Chief secretary H.K. Dwivedi had also argued before the Election Commission that a "constitutional crisis" will prevail in Bengal if the Bhowanipore bypoll was not held.
On Thursday, the high court asked the Election Commission to submit an affidavit on whether the CS could make such a recommendation. The commission could not give a satisfactory reply to the division bench's question.
"What is the role of the chief secretary behind writing this letter? The petition was filed on September 13, why couldn't a satisfactory response be elicited till now? Why did the CS refer to a "constitutional crisis", what is the constitutional crisis? Why is the exigency only for one constituency and not others?" asked the acting chief justice.
To a query on poll-related expenses, the Election Commission had replied that Rs 3 crore was  spent on an election.
"There is a growing trend of winning candidates resigning and money being spent unnecessarily on bypolls," the bench observed.
Hearings on this issue will continue.