CM vows to step up testing, tracing, tracking in Bengal
Number will rise a little: Mamata Banerjee on Covid-19
State records 1,589 new cases in the past 24 hours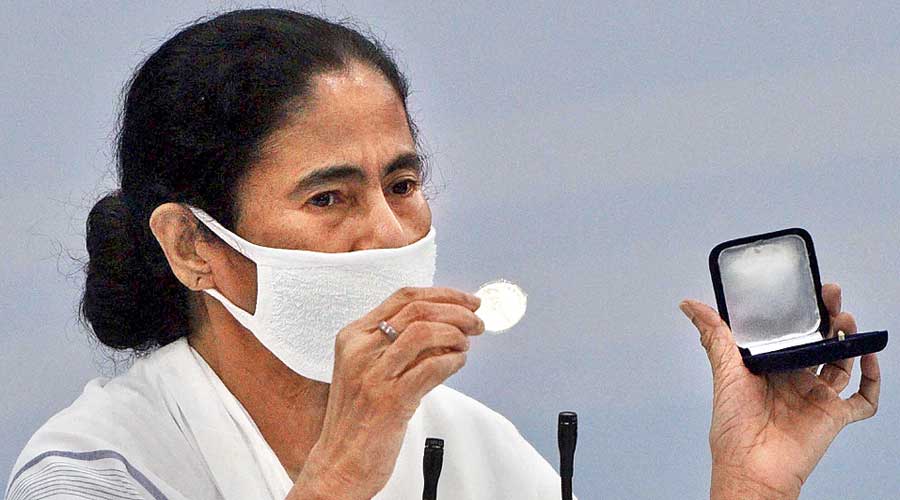 Mamata Banerjee shows a medal that has been awarded to Covid-19 frontline workers. The Bengal cabinet has approved a policy to offer jobs to the next of kin of the state government employees who die from Covid while on duty to fight the spread of the disease.
PTI
---
Calcutta
|
Published 16.07.20, 02:53 AM
|
---
Mamata Banerjee on Wednesday underscored that the Covid-19 outbreak was a global affliction and said Bengal knew of no "magic spell" to keep it at bay when the number of patients was rising everywhere.
The chief minister's comments came on a day the state set new 24-hour records for fresh cases — at 1,589 — as well as recoveries, with 749.
Mamata vowed to increase the "three Ts" of testing, tracing and tracking in Bengal while citing expert opinion that the volume of cases would peak over the next couple of months.
"Every effort is being made but this (number of cases) will increase for some time. This is because we are going to further ramp up testing, tracing and tracking," she said at Nabanna.
"Testing, tracing and tracking — when these increase, the number (of cases) will naturally rise a little."
Bengal reported 11,388 tests on Wednesday, raising its overall test count to 649,928, which comes to 7,221 tests per million.
With a total count of 34,427 patients, the overall ratio of positive results to tests in Bengal has worsened from 4.34 per cent a week ago to 5.3 per cent. A month ago, it was 3.35 per cent.
"These couple of months, experts everywhere have been saying it (the epidemic) will peak. Everywhere there are more cases now," Mamata said.
"Calcutta's population and its density, one must remember, is very high. Bengal is a huge state in terms of population," the chief minister said.
With 1,589 new cases reported till 9am, the state has recorded 9,604 cases in just a week and 18,779 since June 26, when the surge began.
Almost three-fourths of Wednesday's new patients were from Calcutta and the four surrounding districts, known for their high population density. The city alone reported 425 cases on Wednesday, while North 24-Parganas threw up 347, South 24-Parganas 174, Howrah 151 and Hooghly 74.
"In these 20 days since June 26, these five districts have reported 14,941 new cases. That's 80 per cent of the state's total in that window. We are now focusing on containing the outbreak in the urban and semi-urban hubs in these districts," a senior minister said.
Mamata said that awareness and alertness would go a long way in containing the epidemic.
"It's a global outbreak; the whole world is in its grip. We cannot cast a magic spell and stop it. Our awareness and alertness are the biggest magic," she said.
"Whatever we can do is being done. It (the solution) won't fall from the sky. The cure is yet to be found. Despite the limitations (her government faces) and no help from the Centre, whatever was possible for us to do in these few months, we did."
Wednesday's 749 fresh recoveries have pushed the state's overall count beyond 20,000.
"We now have 20,680 recoveries out of the 34,427 total Covid-19 cases. That's a recovery rate of 60.06," the minister said. The national rate is 63.17.
Bengal has now set new 24-hour records for recoveries for four consecutive days. The figure was 718 on Tuesday.
With 20 deaths reported till 9am, the Covid-19 fatality count has risen to exactly 1,000. Of the dead, 815 or 81.5 per cent had co-morbidities, the government says.
Calcutta alone accounts for more than half the deaths with 525, of which 9 took place on Wednesday. North 24-Parganas has reported 186 deaths, 6 of them on Wednesday.
"Over 71 per cent of the deaths have been reported from Calcutta and North 24-Parganas alone," the minister said.
"But Bengal's (overall) mortality rate has been less than 3 per cent for the past two days. On Wednesday, it stands at 2.9. The national rate is 2.58 per cent."
The mortality rate in Calcutta is 4.78.
Nearly 7.16 lakh people have successfully completed their quarantine while 29,000-odd remain in quarantine.
Durga Puja
Mamata on Wednesday referred to the Durga Puja for the first time since the Covid-19 threat assumed serious proportions in Bengal.
She said everybody must do their bit to defeat the epidemic and that the clubs could play a role locally.
"This is everybody's war. See whether everyone is wearing a mask in you area; ensure social distancing. Locally, these things will go a long way," she said.
"The Puja is coming up. The Puja has to be done. For that to happen properly, do enough from now on to contain the outbreak locally."