No ventilator for Covid-19 patients in Darjeeling
They cannot be offered advance care in the district as even the six-bedded High Dependency Unit is closed to them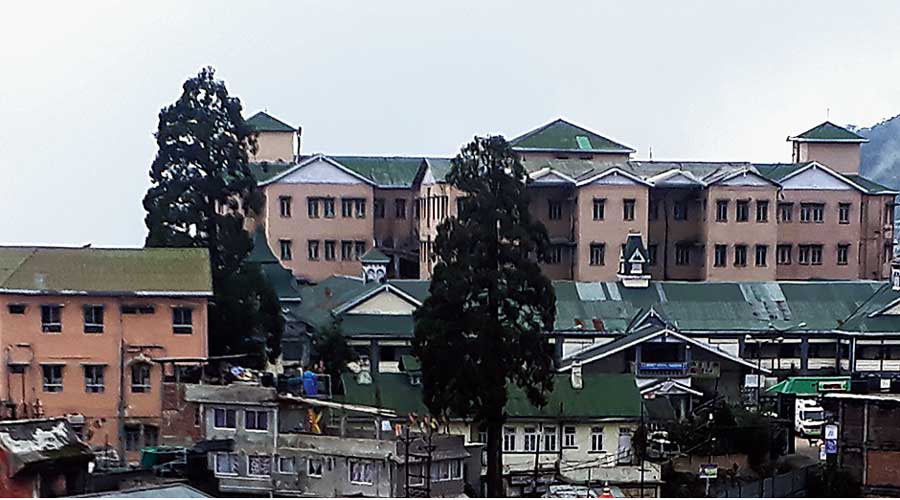 The Darjeeling district hospital.
File photo
---
Darjeeling
|
Published 17.05.21, 12:39 AM
|
---
A Covid-19 patient hospitalised in Darjeeling — a district headquarter — has no access to a ventilator, a situation that is reflective of the health care in the hills.
The Darjeeling district hospital has eight beds in the Critical Care Unit with ventilators but the CCU is not open to Covid patients.
"Separate 10-bedded CCU and HDU (High Dependency Unit) for Covid patients are being set up and they should be ready in the next three-four days," said Subasish Chanda, superintendent, Darjeeling district hospital.
This essentially means severe Covid patients needing life support ventilators need to be rushed to Siliguri, a three-hour drive from Darjeeling, or Triveni Covid hospital, a drive of about two hours from the district headquarter.
Even three private hospitals in the hill town don't have ventilators for Covid patients.
"We do not have a cumulative figure of the number of patients (who were in need of ventilators) but we are referring one or two cases daily," said Chanda.
Severe Covid patients face breathing problems as the novel coronavirus is known to attack the lungs.
In fact, severe Covid patients cannot be offered advance care in Darjeeling as even the six-bedded HDU is closed to them.
"The district hospital also has six beds in HDU (these don't have ventilators but have systems to monitor multiple parameters). But even it cannot be used for Covid patients now," said a source in the health department.
The Triveni Covid hospital, has 10 ventilators, said another source in the department.
Health department officials said work was going on to set up a central oxygen support line system at the Darjeeling hospital that would cater for 20 beds in the general Covid ward, apart from the 10 beds at the CCU and HDU units which were being set up.
The Darjeeling district hospital does not have an oxygen plant but the health department officials said a "proposal" for the same had been drawn up.
Instances that the health care system in the hills needs more focus are coming to light.
On Saturday, relatives of a patient who had died of Covid in Kurseong said they would donate "four stretchers" to Kurseong municipality as civic workers who had come to carry the body neither had a bodybag nor stretchers.
On Sunday, Anit Thapa, general secretary, Gorkha Janmukti Morcha (Binay Tamang camp), which controls the Kurseong civic body, said councillors had decided to remove chairman Krishna Limbu as he was medically unwell and the municipality was not functioning well.
"Facilities for CT Scan, presence of chest physician, facilities for D-Dimer test are some issues that need to be addressed," said a hill doctor who also advised his colleagues not to flout Covid norms while admitting patients to private hospitals as it could jeopardise the community at large.
There is an allegation that a patient who had tested positive in a Rapid Antigen Test (RAT) was hospitalised following questionable procedure and protocols.