Bengal: No road tax and fee for CNG vehicles
Similar exemptions for electric two-wheelers and four-wheelers will also accelerate adoption of EVs in state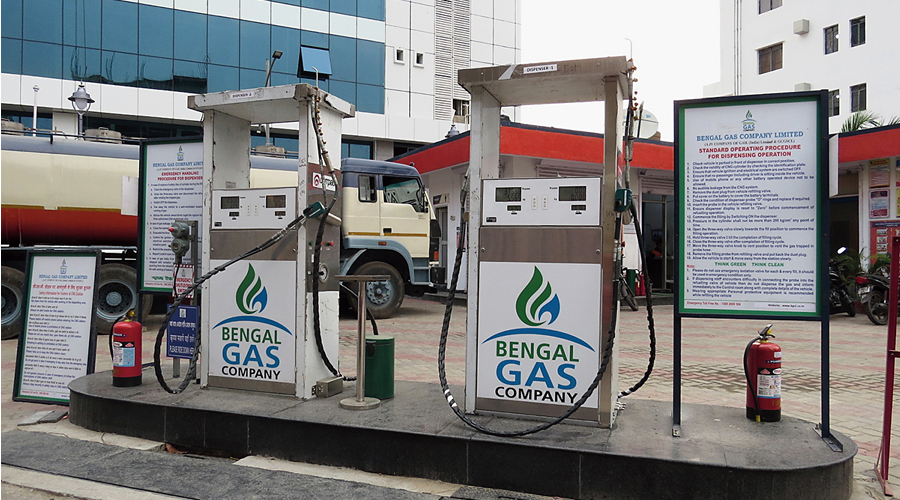 Representational picture
File Picture
---
Calcutta
|
Published 12.03.22, 02:24 PM
|
---
Exemption from registration fees and road tax for CNG vehicles for two years, as declared by the state government in its Budget on Friday, will go a long way in spurring adoption of cleaner fuel in Bengal, said sources in the industry.
Similar exemptions for electric two-wheelers and four-wheelers will also spur demand and accelerate the adoption of EVs in the state, they said. "The rate of adoption of EVs is picking up in the east and such exemption can only accelerate the adoption, particularly in view of the impending price rise in petrol and diesel," said a stakeholder of the industry. 
Maruti Suzuki India Limited (MSIL) sells 60 CNG vehicles per month in Bengal, said MSIL executive director Shashank Srivastava. "We sell 3,600 vehicles per month in Bengal and 60 of them are CNG vehicles. So approximately, two per cent of our sales in Bengal is from CNG vehicles," said Srivastava. 
"Compared to this all India, 17 per cent of our sales come from our CNG fleet," he added. 
But this low contribution from Bengal is because of less number of CNG stations. While Calcutta has 23 stations, Delhi has 440, Mumbai 260, Pune 117 and Chennai 24. Maruti sells 120 CNG vehicles in Chennai per month.
Hailing the move on exemption from registration fee and road tax for the CNG vehicles for two years, Srivastava said: "This is a huge exemption. Registration fee is 5.5 per cent for five years. Not many states have such exemption. This will definitely boost demand for CNG vehicles as they have only one-third the running cost of a petrol or diesel vehicle."
However, such exemption has to be matched with increasing CNG stations in Bengal. At present, the number of such stations stands at 23. There are plans to increase the number of stations to 173 next year and by 2027, the number will be 503. A gas pipeline is being laid from Asansol to Calcutta to bring natural gas to south Bengal. Once completed, the number of stations are likely to go up.
For EVs, Bengal joined all other states in granting exemption from registration fee and road tax. "This will boost adoption and is a very welcome step  by the state government. Most states have exempted registration fee and road tax for  EVs. Buyers will have more money in their hands to spend on other things as they will pay less for EVs but will also save on their fuel bill. They will also contribute to saving the environment by causing less pollution," said Anil Gupta, managing director of Oaya Electric Bikes and Scooters.