Nadda fires 370 salvo at Mamata
Nadda hit out at Mamata Banerjee over her stand on Modi government's abrogation of Article 370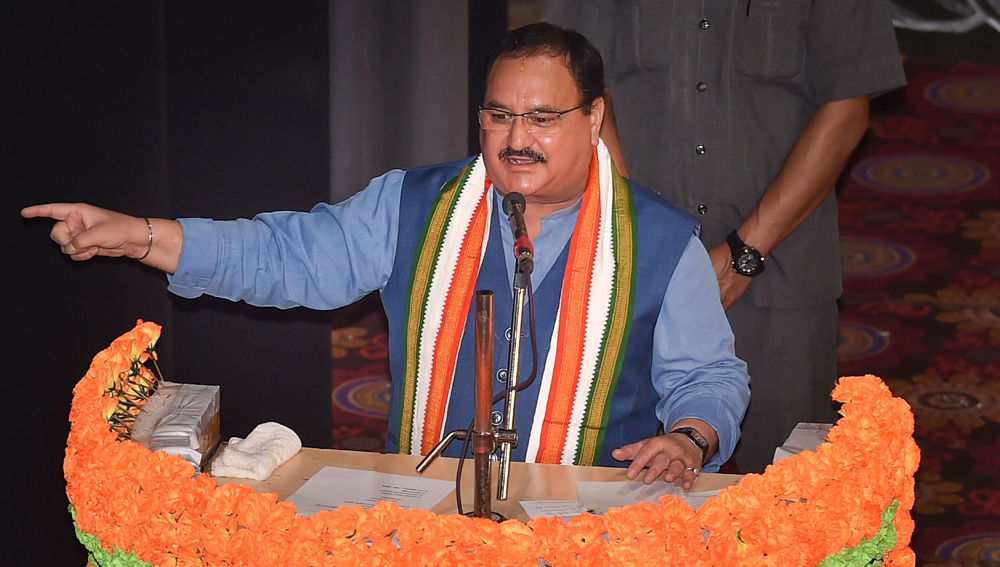 ---
|
Calcutta
|
Published 27.09.19, 08:29 PM
---
BJP national working president Jagat Prakash Nadda on Friday hit out at Mamata Banerjee over her stand on Narendra Modi government's abrogation of Article 370 on Jammu and Kashmir, accusing her of putting "vote bank politics" above "national interest".
"I want to ask Mamataji, is vote bank more important than the country to you? I would like to ask everybody, shouldn't Article 370 been repealed? How can the chair be more important than the country? How can power be more important than the country?" Nadda asked while addressing a party programme in Calcutta.
The BJP is organising several programmes to build a consensus on the abrogation and contest Opposition claims that the Modi government's decision was an assault on democracy. Over the past few years, BJP leaders have been using the phrase "vote-bank politics of Mamata" to claim minority appeasement.
"She is on her way out and we are on our way in. The ground has slipped from under her feet," Nadda said.
Mamata had opposed the manner in which the Centre got the "Jammu and Kashmir Reorganisation Bill" passed. "The Centre should have consulted all parties. There was no vote or discussion on the Kashmir issue. This is not democratic. We will oppose it (the bill) tooth and nail," the chief minister had said on August 6, the day after the government tabled the bill in the Rajya Sabha. Trinamul had joined the chorus of Opposition parties on August 5 when Union home minister Amit Shah tabled the bill.
Trinamul MPs had walked out when Shah was speaking on the bill in the Rajya Sabha, and abstained from voting.
On Friday, Nadda thanked all parties that supported the government in passing the bill.
These included the AAP, YSR Congress, BJD and the Telugu Desam Party. "We had 84 votes in the Rajya Sabha but the bill got passed with 125 votes. I thank all the non-NDA parties who had supported the bill keeping national interest first."
Besides accusing Mamata of vote bank politics, Nadda laid special emphasis on national interest — the party's most potent weapon to divert attention from key questions on democratic rights of people of Kashmir and on the state of the Indian economy under Modi the regime.
Criticising former Congress president Rahul Gandhi for opposing the abrogation of Article 370, Nadda said: "Statements made by Rahul Gandhi in the Parliament opposing our move to abolish special status of J&K had been used by Pakistan to oppose India in United Nations. This can't be nationalism."