Mountain bid to tackle plastic waste better in fragile regions
Legislators felt producers were less interested in taking up cleaning activities in the targeted areas because of high cost and unavailability of land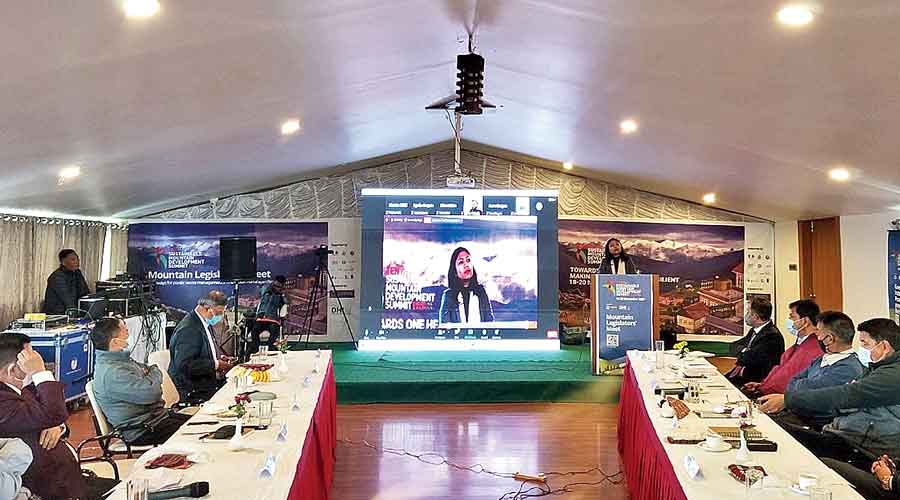 Participants at the meeting in Darjeeling on Saturday.
---
Darjeeling
|
Published 21.11.21, 03:40 AM
|
---
Legislators from the mountain states of India have decided to strongly advocate that the Extended Producer Responsibility (EPR) be made more feasible for better plastic waste management in these fragile regions.
The EPR is a policy under which producers are given a significant responsibility — financial and/or physical — for the treatment or disposal of post-consumer products.
The declaration of intent was made during the Mountain Legislators' Meet held in Darjeeling on Saturday as part of the Sustainable Mountain Development Summit 2021, which is being organised by the Integrated Mountain Initiative (IMI), a civil society-led forum, and the Darjeeling Himalayan Initiative (DHI).
"The participants have decided to advocate for the EPR to be made more feasible in the mountain region. Most legislators were of the opinion that the policy is more plains-centric and such initiatives have not really taken off in the mountain regions," said DHI member Roshan Rai.
Legislators felt producers were less interested in taking up cleaning activities in the mountains because of high cost, unavailability of land and lesser amount of waste collected.
"It was also acknowledged that there is an urgent need for bringing about stringent policies and legislation against single-use plastic due to the fragile Himalayan ecosystem," said Praful Rao, president of the DHI.
Surveys by the DHI and other studies suggest that half of the plastics ever produced in the world have been manufactured in the last 15 years and only 28.2 per cent of it gets recycled.