Mob vandalises 'cheap store' on university campus
'I realised most of the youths were outsiders. Varsity students are known to me'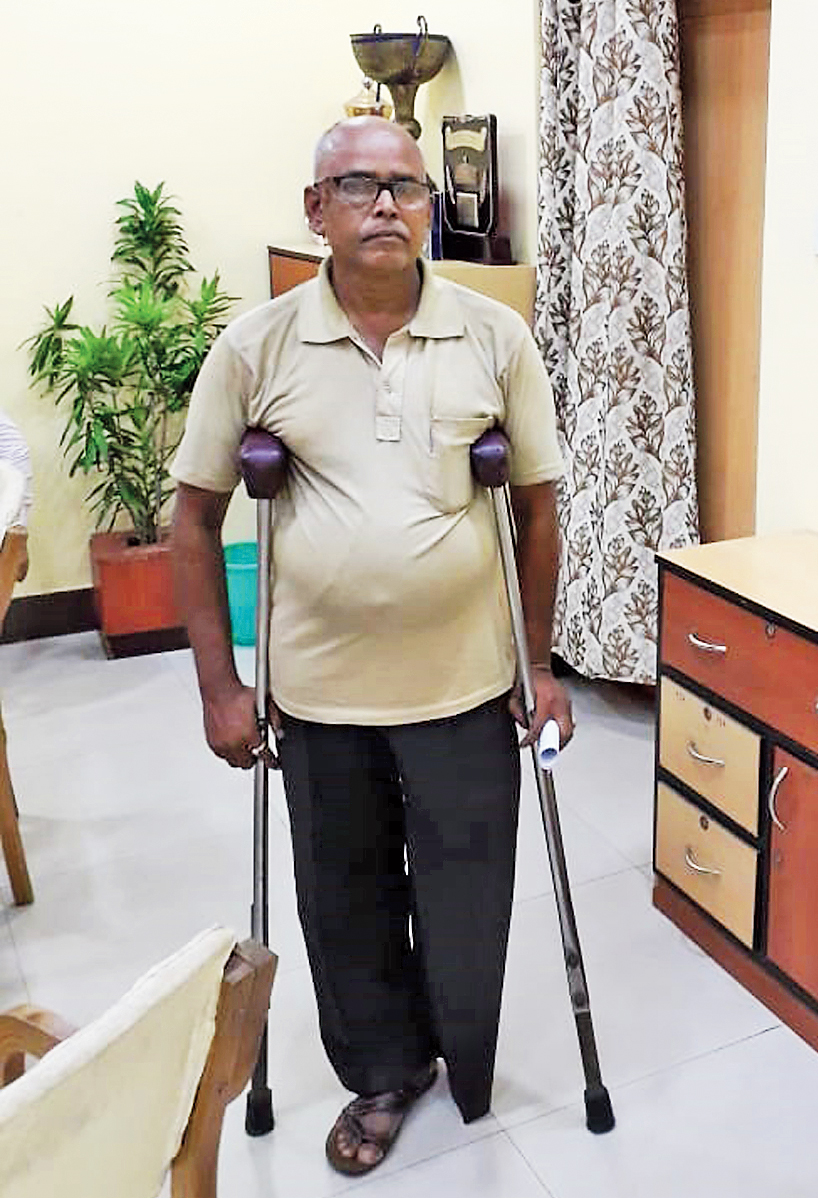 Tarit Baran Das
(The Telegraph picture)
---
Jadavpur
|
Published 20.09.19, 10:51 PM
|
---
An elderly man who needs a pair of crutches to walk sat trembling on a plastic chair counting minutes as glass shards kept falling all over his shop. One of them hit his head and he cringed in pain.
It was around 7pm on Thursday and a group of youths armed with bamboos were shattering the glass windows of his shop, screaming Jai Shri Ram.
Tarit Baran Das's desperate pleas to spare his shop fell on deaf ears.
In the next 10 minutes Tarit Communication — known as "cheap store" on the Jadavpur University campus — was vandalised and Das, who lost a part of his left leg to tumour in his childhood, watched in horror. Pens, pen-drives, books and other stationery items lay scattered all over the shop.
The mob next moved to the SFI's union room.
"I had pleaded with them to spare my shop. After shattering the windowpanes, they picked up the items in the shop and started smashing them," Das recounted on Friday afternoon, fear still writ large on his face.
"I realised most of the youths were outsiders. Varsity students are known to me. They wouldn't have attacked my shop. It has never been ransacked in over two decades."
A resident of Kodalia in Subhasgram, South 24-Parganas, Das passed out of JU in 1992 with a masters in philosophy. In another two years, he set up this shop after the JU authorities apparently agreed to help him for being physically challenged.
Since then, the "cheap store", located adjoining the students' union room, has remained a favourite address for those who want to pick up a stationery item on the go.
A-4 pages, pencil batteries, plastic files, glue, tapes, stick-paste — "Tarit-da" had almost everything a student asked for.
The store would remain open from 8am to 9.30pm every day. The JU campus has witnessed many agitations and instances of vandalism since Das started his business almost 25 years ago but the shop had never been a target before Thursday.
Witnesses said that around 6.30pm on Thursday, a group of youths barged into the campus through Gate No. 4, chanting Jai Shri Ram. Their first target was Das's 8ftX9ft shop.
Das managed to shut the door and lock it from inside by the time the gang had arrived and started attacking the shop with bamboo poles. He alleged that after breaking the windowpanes, some of the attackers thrust their hands through the window and destroyed pens, pen-drives and other items.
Das said the vandalism might not have cost him much but the horror of being attacked despite telling the mob that he was physically challenged would keep haunting him.
He lodged a complaint against "unknown" youths with Jadavpur police station before opening his shop on Friday. "I hope they don't return and attack my shop again," he said.