Middle-aged couple, son end life after 'humiliation' in Bakkhali
Ashoke Naskar, 54, and Rita Naskar, 48, were reportedly attacked by residents of Thanarhat-Sultanpur after being accused of running a ponzi scheme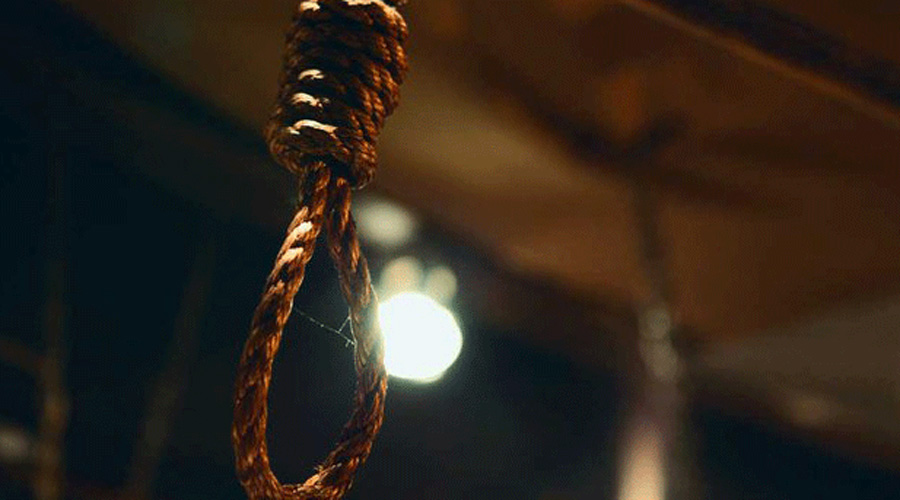 Representational image.
File photo.
---
Calcutta
|
Published 10.01.22, 03:14 AM
|
---
A middle-aged couple from Kulpi allegedly committed suicide along with their son in Bakkhali on Sunday afternoon, a few hours after the latter streamed the family's final words on a social-media stream in an incident that family sources said was the fallout of "humiliation" and "connivance of senior bank officials".
On Sunday morning, Ashoke Naskar, 54, and Rita Naskar, 48, were reportedly attacked by residents of Thanarhat-Sultanpur, where they lived, after being accused of running a ponzi scheme.
"The attackers' ire was focused on this couple's married daughter, who they accused of siphoning a cumulative of Rs. 9 lakh under assurances of being a national-bank agent and then failing to refund the money," said an eyewitness and neighbour.
"They gheraoed the couple's daughter Punam, and did not let her leave. In the meanwhile, the parents and son were able to flee," the neighbour added.
The hanging bodies of Ashoke, Rita and Abhishek, 27, were recovered by Fraserganj coastal police from a wooded area behind a temple near Bakkhali beach. Prima facie, police have said their deaths were suicides. Punam was rescued by police around the same time and was brought to Diamond Harbour police station, whereas five of a group of women who reportedly held Punam against her will have been detained at the same station for interrogations.
Police sources said they had begun a probe on the basis of a the live video footage that Abhishek streamed in which he attributed the day's harassment, as well as the alleged connivance of a "senior bank official," as the reasons for his family's suicide. He also mentioned that Sultanpur residents had been threatening to kill his family.  "We have no way to escape. We are ending our life only to prove that we have not siphoned any money. My sister has also not siphoned any money. She has fallen victim to a conspiracy and was physically and sexually tortured," he says in the footage.
Local sources said that the couple's sister Punam had been an agent of a micro-investment scheme and had collected nearly  Rs.10 lakh from women in neighbouring villages. Irate residents' reported grouse on Sunday was that they found out this amount had never been deposited to the bank.
"On several occasions we had requested Punam to refund the amount. But, she deliberately avoided us every time. She assured us of refunding it on Friday, but escaped from her in-laws' house and took shelter at her paternal home, where she was found out. But, neither she nor her parents were assaulted", said Mamani Das, who claimed to have invested with Punam.
A relative of Punam's family rubbished these allegations. "Punam is a victim of a conspiracy and corruption in which bank authorities and some senior agents are involved. The family were compelled to end their life for the concerted apathy of police and also the banking ombudsman, who did not bother to investigate the allegations of embezzlement once they were informed".
Superintendent of Sunderbans police, Bhaskar Mukherjee, said, "We are closely investigating the incident. We will talk to the daughter of the couple. Nobody will be spared if they are found to have played any part in the tragic demise of this family".