'Meal of love' at Birbhum school
Individuals to celebrate personal occasions with kids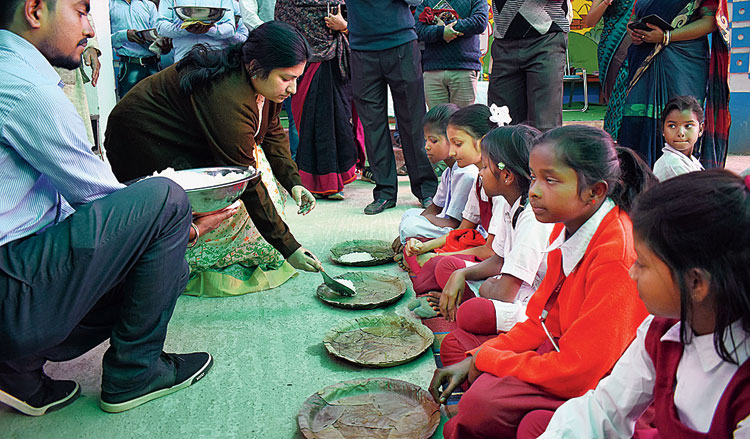 Birbhum DM Moumita Godara Basu serves meals on Monday.
Picture by Himadri Mondal
---
Suri
|
Published 10.02.20, 08:16 PM
|
---
A school here is using the midday meal scheme to serve students a good treat.
As part of its midday-meal scheme, a high school here has launched project "Sneho Bhojan" (meal of love) that will allow residents to specially treat the students on personal occasions such as birthday and marriage anniversary.
Birbhum district magistrate Moumita Godara Basu inaugurated the project at the Karidhya Jadu Roy Memorial and Public Institution on the outskirts of Suri town and praised the initiative.
"It is a very good initiative as the local community will be able to take part in the midday process and build a good relationship with local people and the school," she said.
"We can't force any school to implement it. But it will be good if any school follow the example," the DM added.
The project seeks to approach local residents, including parents of schoolchildren, who are in a position to fund full or a part of the mid-day meal at least once a year.
Teachers said it was difficult to serve delicious food as part of the midday meal scheme as the budget was limited. The scheme will also help students to enjoy a variety instead of the monotonous fare served every day.
"There was a directive from the human resource development department to organise such meals to build up a tie with the local community but it was not utilised. We came to know about the project from our local block development officer and planned to implement it," said Kalyan Bhattacharya, the headmaster of the school.
On Monday, Bhattacharya's wife Alpana sponsored the meal on her daughter's birthday. The 700-odd students of the school were treated to a lunch of dal, vegetables, chicken curry, fish fry, chatni and papad.
"We are really happy with the meal today as it was different than other days. It was delicious and the teachers said such meals will be provided often," said Sumit Bhandary, a Class VIII student.
The teachers said they had already convinced 11 persons, including parents, who would offer meals in the next few months.
"We are trying to communicate with more people than we can," the headmaster said.