Man holds Calcutta Metro doors ajar for talks
Metro had invoked Section 146 of the Railways Act 1989 to penalise offenders who were preventing employees from discharging their duty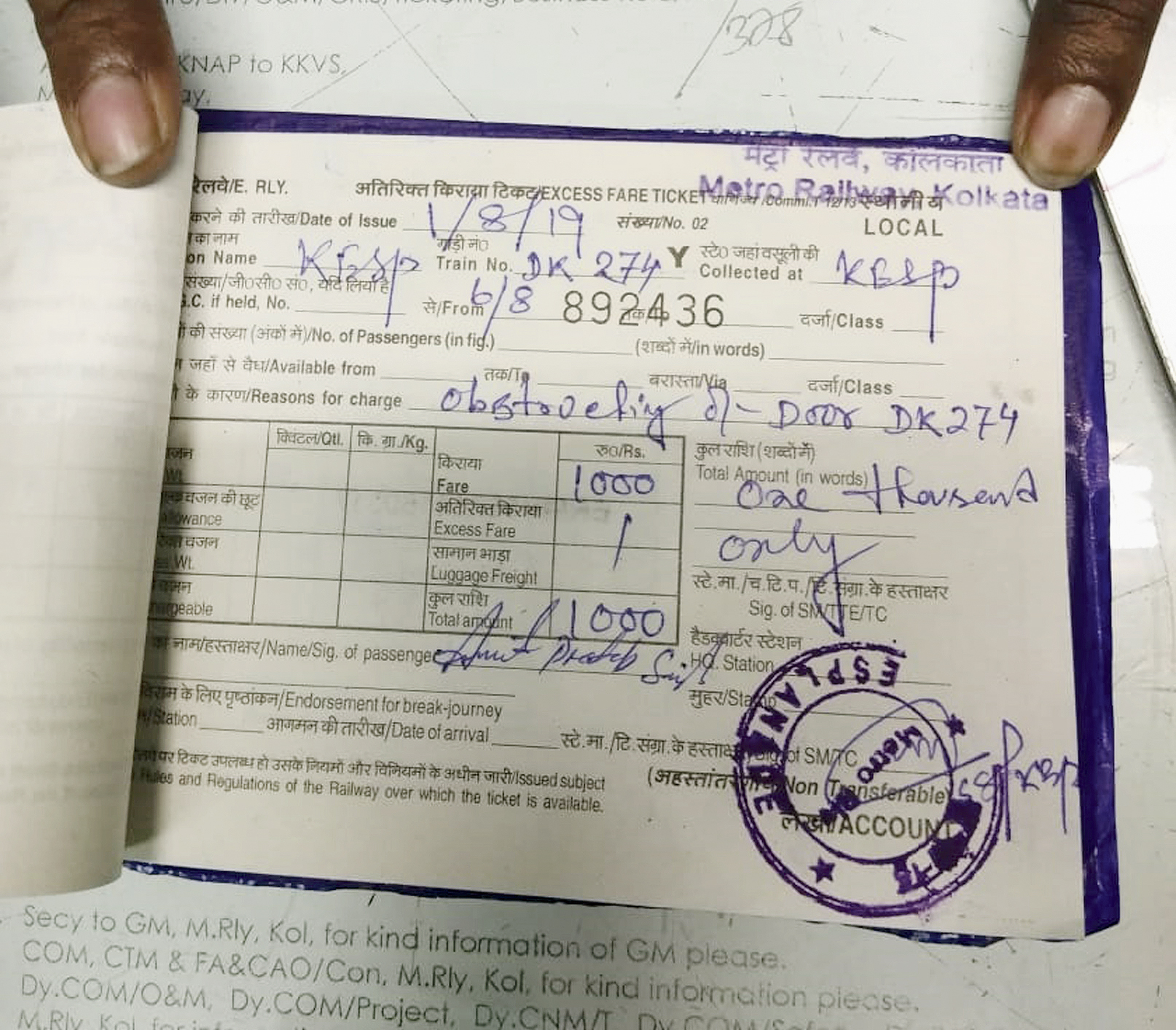 The challan issued to Amit Pratap Singh.
(The Telegraph file picture)
---
Calcutta
|
Published 02.08.19, 09:18 PM
|
---
The man who was fined Rs 1,000 for allegedly trying to prise open closing door flaps of a Metro train on Thursday was not trying to board the rake but talking to a friend who had got on it, an official said.
The fine comes after a long lull and an apparent reluctance of the authorities to prosecute such passengers. It was triggered by an accident on July 13 that claimed the life of a 66-year-old passenger, whose hand got stuck in a train door at Park Street station.
Amit Pratap Singh, who was fined on Thursday night, and a friend were waiting at Esplanade station to board trains in opposite directions. Singh was to get off at MG Road station, while his friend was headed for Tollygunge.
A New Garia-bound air-conditioned train arrived at Esplanade a little after 9.30pm.
The friend boarded the train while Singh was still talking to him. "While the doors were closing, Singh held ajar a pair of door flaps to finish the conversation. That was when RPF jawans intervened," the Metro official said.
The CCTV footage later showed that the train was stuck for over 20 seconds because of Singh. The doors of the AC coach opened again because Singh's hands caused an infringement well above the permissible limit of 19mm, another official said.
The train left the station at 9.36pm. Singh was taken to the station superintendent's cabin and booked for obstructing railway officials from discharging their duty. "The man pleaded ignorance but eventually paid up," said the official.
The death of Sajal Kumar Kanjilal on July 13 had prompted Metro Railway to display audio-visual messages on platform screens to warn passengers that they would be penalised for trying to prise open closing doors to board a train.
In the absence of a specific provision to act against those indulging in such acts, Metro had invoked Section 146 of the Railways Act 1989 to penalise offenders on the ground that they were guilty of preventing railway employees from discharging their duty.
Metro had on July 24 reported that the message on the fine went off the screens and only an advisory remained, urging passengers to avoid last-moment attempts at boarding trains.
Employees at stations had told this newspaper on Tuesday that officials at the Metro headquarters had asked them not to impose the fine on errant passengers without consent from their superiors. Metro officials said the message on the fine was withdrawn after confusion over the legality of the penalty.
The message warning commuters about the fine made a comeback the next day.
On Friday, employees said the headquarters had given them the nod to impose fines on errant passengers.