Mamata's jibe at PM CARES Fund
Her attack, although steered clear of naming parties or people, came 6 days after the SC had upheld the validity of the fund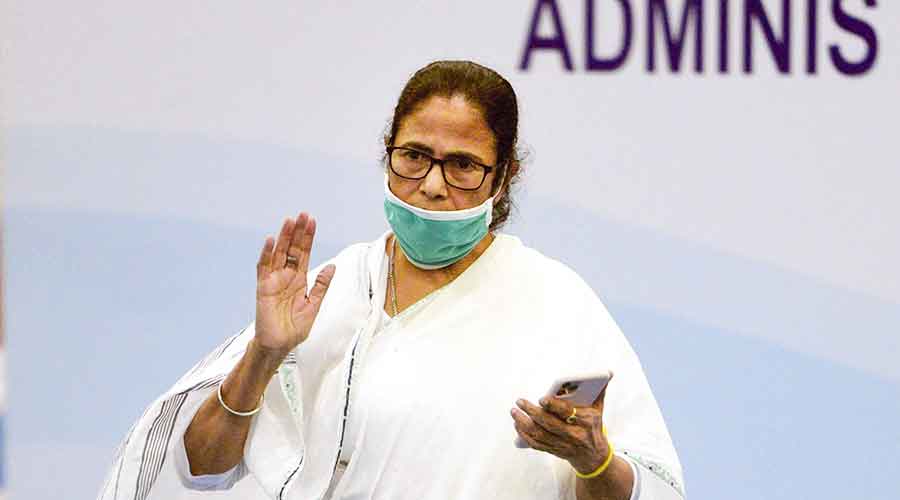 ---
|
Calcutta
|
Published 25.08.20, 02:38 AM
---
Mamata Banerjee on Monday lashed out at the BJP and Prime Minister Narendra Modi's PM CARES Fund, albeit without taking names, and rejected allegations from the saffron camp that purchase of equipment for Covid-19 management in Bengal was a "scam".
The Bengal chief minister said her government probed every allegation of graft from citizens and didn't even spare senior officials or ministers, without any political interference.
"Even once, did you try to find out? Where all the money was coming from… for buying the oxygen, the ventilators, the (high flow nasal) cannulas, crores and crores of masks, lakhs and lakhs of PPE (personal protective equipment)," she said at an administrative review meeting in Nabanna.
"We had set up a Covid-19 fund, openly, with full transparency, we had said how much we got and where it is being spent… every paisa is being spent through the finance department. Over Rs 150 crore (received in donations)," added the Trinamul Congress chief.
"But what the others collected, nobody got to know… with the Take Care fund…. Go, see yourselves in the mirror."
Although she did not take the proper name of the fund and steered clear of naming parties or people, it was clear that the chief minister was mounting an attack on Modi and his PM CARES Fund.
The Prime Minister is the ex-officio chairman of the PM CARES Fund while the defence, home and finance ministers are the ex-officio trustees.
Mamata had on a few occasions criticised alleged lack of transparency in the PM CARES Fund.
Her attack on Monday came six days after the Supreme Court had upheld the validity of the PM CARES Fund, saying the mere fact that the administration of the trust was vested in trustees like the Prime Minister and his cabinet colleagues would not take away its public character and no budgetary allocation had been made for the purpose as it was purely "voluntary".
Mamata on Monday implied that those who had the PM CARES Fund to answer for should not point fingers at her government.
"Nobody should ask where the state government is buying masks from," she said, apparently dismissive of an allegation raised by Bengal governor Jagdeep Dhankhar on Twitter, which was picked up by the saffron camp for noise on social and mainstream media.
The chief minister pointed out that the testing kits had been withdrawn by the Centre's Indian Council of Medical Research, in April, because they were found to be faulty.
"They were caught… fake, faulty kits. The ICMR withdrew them…. When they were caught, there must have been something behind them," she said.
"First, they should answer where these fake kits they bought were from. These things must be remembered," she added.
Mamata then reiterated Bengal's demands for release of funds owed to it by the Centre, which she has repeatedly asked Modi for.
"The Centre's dues, Rs 53,000 crore… Rs 4,500 crore for GST. For Covid-19, where is the money? Has anything come? Those demanding answers, standing on the streets, some giving big lectures, if they stood by one Covid-19 patient and helped, that would have been something," she said.
"So many governments, of so many parties, in so many states…. Which other state government has been able to deliver what we have done, despite the pandemic and the super-cyclone?" she asked.