Mamata wishes Yechury on birthday
Mamata had apparently changed her stand on the CPM after the BJP had wrested 18 Lok Sabha seats in Bengal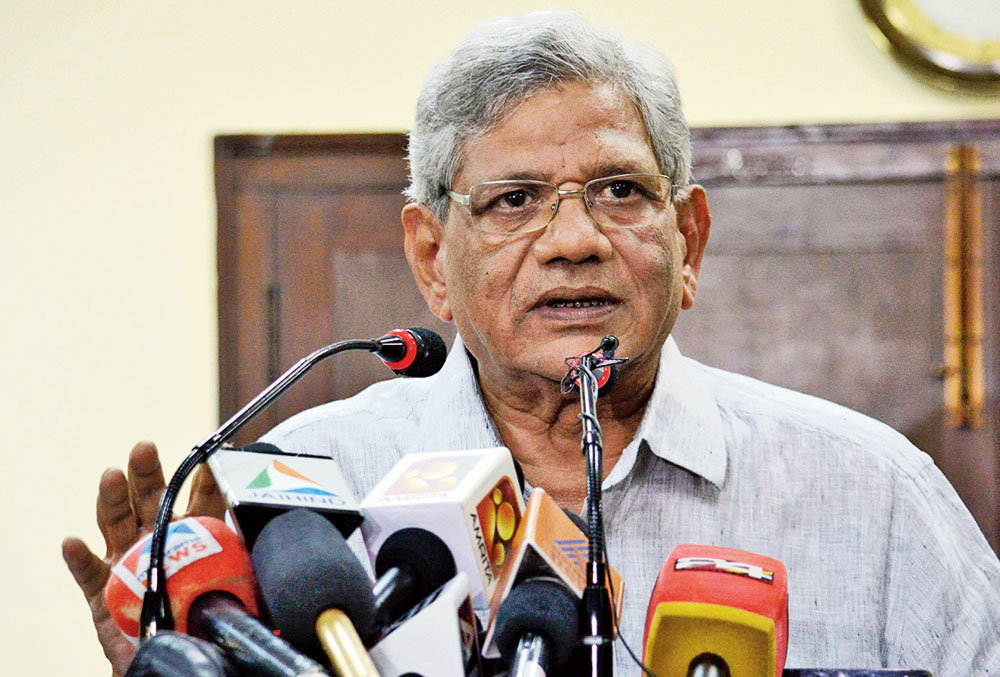 Sitaram Yechury at the news conference in New Delhi on Monday.
Picture by Prem Singh
---
Calcutta
|
Published 12.08.19, 11:10 PM
|
---
Mamata Banerjee on Monday wished CPM general secretary Sitaram Yechury on his 68th birthday — the gesture, some Trinamul leaders said, was a bid by the Bengal chief minister to build cordial relationship with anti-BJP forces.
"Wishing you on your birthday, @SitaramYechuryJi," the chief minister tweeted on Monday morning.
Till late on Monday evening, there was no response from Yechury to the greeting.
The birthday wish surprised several Trinamul leaders given Mamata's anti-CPM stand for years and personal dislike for Yechury, who is believed to be instrumental in cementing the CPM-Congress bonhomie in Bengal.
A minister close to Mamata, however, said she had sent the birthday wish out of courtesy and it would not be proper to read any political message in it.
But everybody didn't agree to this version. "The chief minister had visited Jyoti Basu's residence, Indira Bhavan, once on his birthday. But I cannot recall an instance of the chief minister wishing any other CPM leader on his birthday before this," said a Trinamul leader.
Sources in Trinamul said Mamata had apparently changed her stand on the CPM after the BJP had wrested 18 Lok Sabha seats in Bengal in the general election.
The Trinamul supremo had held several discussions with leaders of the CPM and the Congress in the Assembly during the last session of the House in July and urged the parties to hit the streets against the BJP.
She also asked a couple of ministers, including Partha Chatterjee, to get in touch with the Congress and the CPM on a regular basis.
A source said Mamata had addressed some grievances of the CPM during her meeting with Jadavpur CPM MLA Sujan Chakraborty in her chamber in the Assembly.
The chief minister has also asked urban development minister Firhad Hakim to ensure that the CPM gets a plot at Rajarhat to set up a museum in the name of Jyoti Basu, which was pending following some land-related troubles over the past few years.
"There was a clear sign from the chief minister. She wants a third-front or a CPM-Congress combine to ensure that the BJP alone does not bag the anti-Trinamul votes in the 2021 Assembly polls. So, the CPM is no longer untouchable and that explains her wish to Yechury," said a Trinamul leader.