Mamata steals show at Sonia meeting
The Bengal CM said never before had she seen a Centre behave the way the Modi government did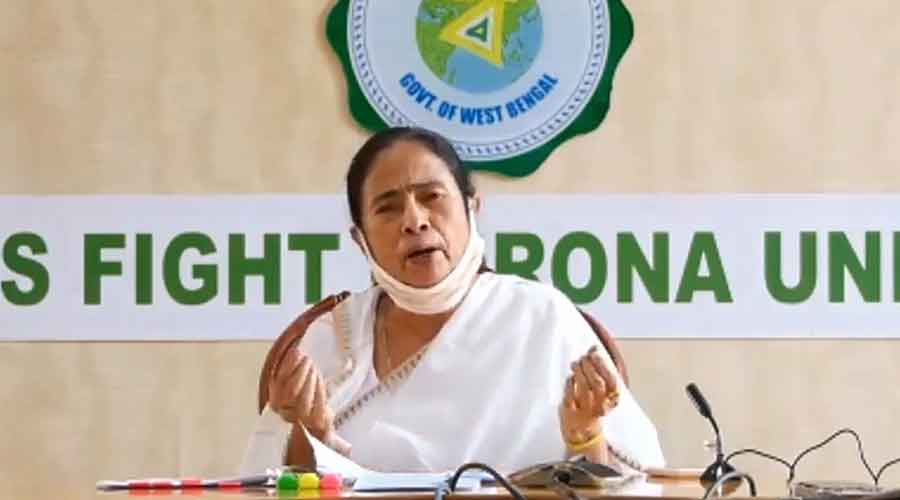 ---
|
Calcutta
|
Published 27.08.20, 02:16 AM
---
Mamata Banerjee was the cynosure of a meeting conducted by Congress president Sonia Gandhi on Wednesday to discuss a bunch of issues as the Bengal chief minister led from the front an attack on the Narendra Modi government.
The 109-minute virtual meeting of some of the chief ministers of non-BJP parties seemed to be an early indicator of a platform taking shape for the anti-Sangh parivar forces to unite on.
The meeting convened by Sonia, purportedly on the basis of an advice from Mamata, started out with issues at hand, such as the conduct of the JEE/NEET exams scheduled for next month. But it became a platform where non-BJP parties rolled out their pet peeves vis-a-vis the Modi regime.
"The situation is very, very serious... If they want to arrest us, let them. We have to speak for the people," said the Bengal chief minister, the first to speak after Sonia.
"If we want to say something, then, of course, there are so many agencies. They will surround us. Let them…. I have not seen in a democracy these types of atrocities. Lots and lots of money being spent on speaking against us, from Facebook to fake news, everywhere… to damage the Opposition. They don't care," she added.
Although the Trinamul Congress chief was to leave after her speech to attend a state cabinet meeting and later a government event, she stayed till the very end.
Urged by Sonia, Mamata took over the reins and conducted most of the exercise, which included Maharashtra chief minister and Shiv Sena chief Uddhav Thackeray and his Jharkhand counterpart and senior Jharkhand Mukti Morcha leader Hemant Soren. Congress chief ministers Amarinder Singh of Punjab, Ashok Gehlot of Rajasthan, Bhupesh Baghel of Chhattisgarh and V. Narayanaswamy of Puducherry were also present.
All of them virtually echoed each other on the core issues, mainly the problem areas being faced by the state governments being run by non-BJP forces in the country.
Mamata started with the JEE/NEET issue, taking it up in the public domain for the third consecutive day.
Then, she moved to other issues like non-payment of GST dues to Bengal, alleged attacks on cooperative federalism, the bulldozing of non-BJP state governments and the "atmosphere of fear" in the country.
"Every meeting (with Prime Minister Narendra Modi), I raise these issues. Where will states get money? Our taxes we give to the Centre. The Planning Commission no longer exists. Nobody is there to talk to," she said, reiterating the Centre's dues to the state to the tune of Rs 53,000 crore.
Mamata said never before had she seen a Centre behave the way the Modi government did.
"All central schemes, states will have to give half the funds. But the names of the schemes, they will decide and they will impose. We will have to share all data with them so that they can send letters to every individual, saying your state government is doing faltoo (rubbish) work, only the BJP is working, nobody else. This horror is going on," she said.
Later, in response to a question from this newspaper on whether the meeting was the start of a new formation, Mamata said: "It was an issue-based meeting…. This unbearable situation, some have to speak out. Today, these chief ministers spoke in one voice."
Mamata said there was a limit to intimidation and the people could no longer be kept back with fear.
"Democracy will survive if all the democratic systems survive. If its pillars are destroyed, bulldozed, then a states-versus-Centre conflict is inevitable, which will not be good for the nation. We don't want it. We want a united, inclusive India, abiding by the Constitution and its processes. That is what everyone agreed on," she added.