Didi: Khalid arrest 'not correct in democracy'
The Trinamul Congress chief had in the past called the Delhi riots a 'planned, state-sponsored genocide'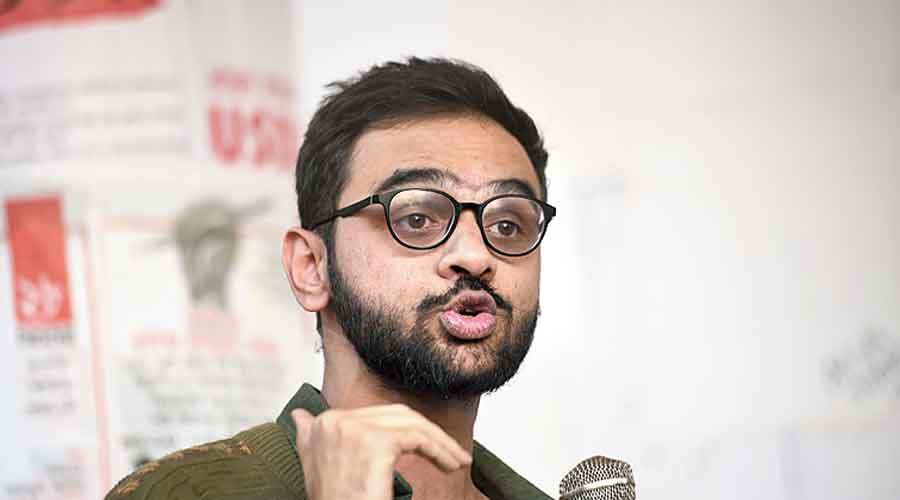 ---
|
Calcutta
|
Published 15.09.20, 02:16 AM
---
Mamata Banerjee on Monday attacked the BJP-led Centre and the Delhi Police, albeit without taking their names, over the arrest of Umar Khalid, and the likes of Sitaram Yechury and Yogendra Yadav being named as responsible for the February riots in Delhi, saying it was "not correct" in a democracy.
The Bengal chief minister, in a news conference at the state secretariat, was asked regarding the arrest of former Jawaharlal Nehru University student leader Khalid and Opposition figures and academics being named in the riot case, while the likes of BJP's Kapil Mishra — deemed to have played a pivotal role in triggering the violence in northeast Delhi — roamed free.
"This is true, I read about it in the papers. They had even put (CPM general-secretary) Yechury's name in the charge-sheet…. Even (Swaraj India chief) Yogendra Yadav and others, their names," said Mamata.
"What happened in the Delhi riots, when they happened, everyone knew what was up. Had Covid-19 not taken centre-stage soon after, it would have all come to light…. Against the NRC, NPR, CAA, those who protested, they were targeted for violent turmoil…. It is not correct in a democracy."
The Trinamul Congress chief, who had in the past called the Delhi riots a "planned, state-sponsored genocide" that was deliberately painted in a communal colour later, had said the buck had to stop with Union home minister Amit Shah.
On Monday, she said the law and its processes had to be adhered to. "If somebody is wrong, if there is evidence, then there should be action. But if somebody hasn't done anything wrong…. Whatever is correct according to the law, must be done. Whatever is not correct according to the law, it must not be done. That's it," said Mamata.
She then went on to bring up the BJP's alleged activities in Bengal.
"See here now, every day, what they do all day, with nothing but fake news?
Even going to the extent of saying Covid-19 is over, so conducting political meetings is okay…"
"Now they won't even give Covid-19 priority," the chief minister said, referring to a recent assertion by BJP state unit chief Dilip Ghosh.
"What more will they do? They are a party that only considers itself right and everybody else liars. This is just not correct," she added.